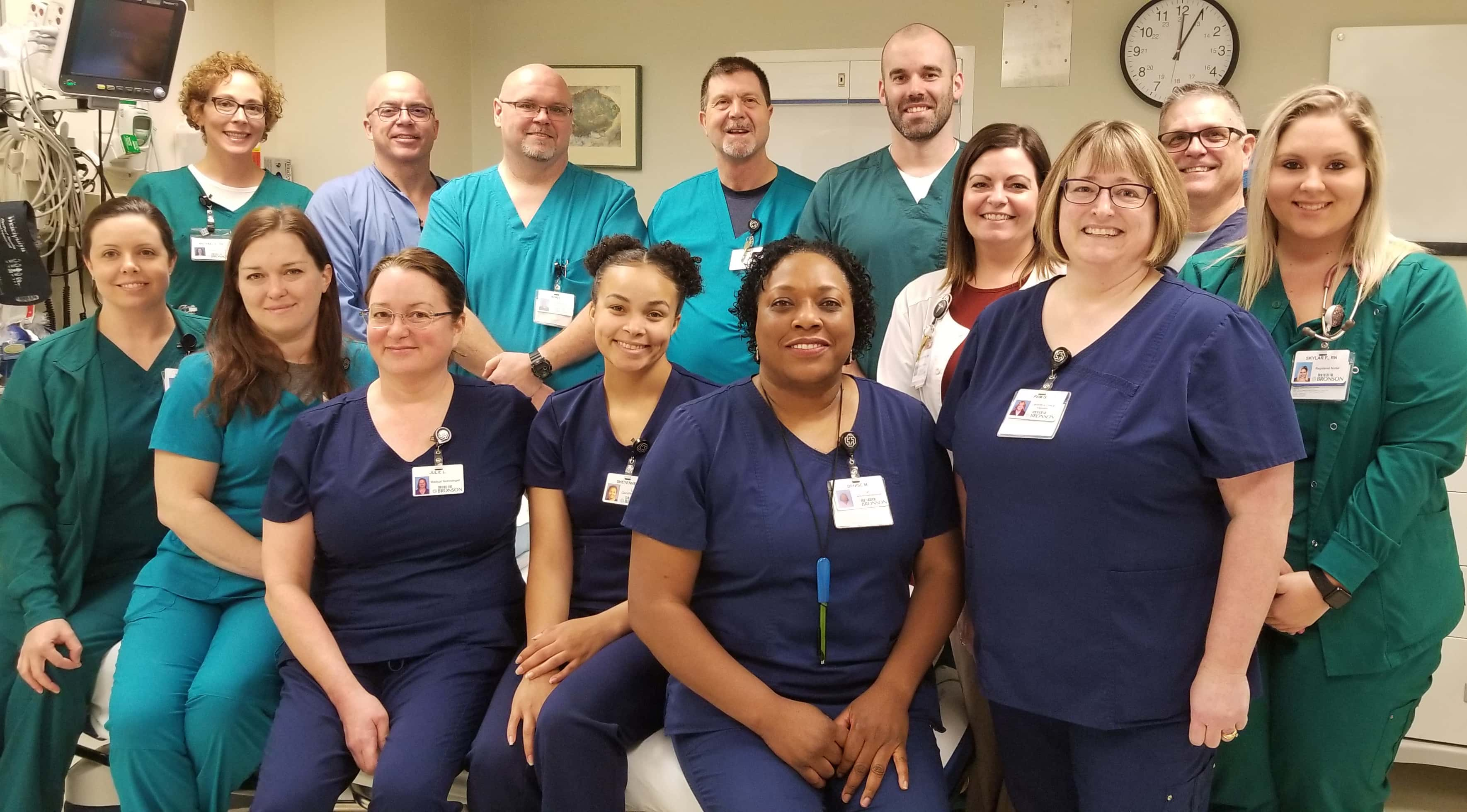 Emergency medical teams at Bronson South Haven Hospital are in celebration mode following word from the Michigan Department of Health & Human Services that they are now designated as a Level IV Trauma.
The new three-year designation recognizes the important role Bronson South Haven plays as part of a regionalized, coordinated and accountable trauma system in the state of Michigan. The designation was awarded after an extensive review process and onsite survey.
Kirk Richardson is Chief Operating Officer at Bronson South Haven. He says, "We are very pleased to receive this recognition from the MDHHS. Thanks to dedicated work by Bronson South Haven Hospital staff and providers, we are now verified for our ability to receive trauma patients in our emergency department and initiate optimal lifesaving care."
Richardson went on to say, "Working toward and receiving this designation is just the latest step for Bronson South Haven Hospital. Since becoming part of the Bronson Healthcare system in 2017, we have made significant investments to continually improve quality and service for those living along the lakeshore." He also notes, "This designation is the perfect cornerstone as we embark on the construction of an all new hospital in South Haven later this year."
Bronson South Haven works in partnership with local EMS providers to ensure those living in Van Buren County receive prompt transportation to the hospital. The state review team specifically highlighted this expedited transfer process and EMS relationship as one of the strengths supporting the designation. Both Bronson hospitals in Van Buren County are now designated as Level IV Trauma Centers. Bronson LakeView Hospital in Paw Paw received Level IV status last spring.
According to guidelines established by the American College of Surgeons, a trauma center's ranking is measured based on the facility's commitment, readiness, resources, policies, patient care and performance improvements. As a Level IV Trauma Center, Bronson South Haven has demonstrated its ability to provide advanced trauma life support (ATLS) prior to transfer of patients to a higher level trauma center and has met strict criteria for:
Basic emergency department facilities to implement ATLS protocols and 24-hour laboratory coverage
Available trauma nurses and physicians upon patient arrival
Transfer agreements for patients requiring more comprehensive care at a Level I Trauma Center
A comprehensive quality assessment program
Prevention efforts and an active outreach program for referring communities
Rita Cox is System Trauma Program Director at Bronson, and Thomas Mikulski is Trauma Medical Director at Bronson South Haven Hospital. Both both recognized by MDHHS as assets to the program.
Cox says, "We are proud to see our regional trauma system continue to grow," and adds, "Program strengths identified by the site surveyors include the system support of trauma at Bronson South Haven Hospital and the commitment of the ED nursing and physicians to trauma care." She tells us, "Van Buren County patients can confidently go to either Bronson South Haven Hospital or Bronson LakeView Hospital for trauma or emergency care knowing that Bronson's trauma system and electronic health record connects them to all the resources they might need including the Level I Trauma Center at Bronson Methodist Hospital."
Bronson Methodist Hospital is the only Level I Trauma Center in southwest Michigan, a designation it has held since 1989. As a regional referral center, it is home to southwest Michigan's only burn center, only comprehensive stroke center and only children's hospital. Across a nine-county region, Bronson Methodist Hospital serves as the hub of the system and coordinates the safe, timely transfer of patients who require the advanced level of care it has to offer.
To learn more about trauma and emergency services at Bronson, you can visit online at: bronsonhealth.com.
Bronson South Haven Hospital in South Haven is a full-service, nonprofit community hospital. As a 49-bed critical access hospital, Bronson South Haven offers a wide range of inpatient and outpatient services, including emergency care, medical services, surgical services, testing and diagnostics, and rehabilitation. Bronson South Haven also has medical practices at South Haven and Bangor.
Pictured in photo accompanying this story on Moody on the Market, as provided by Bronson are:
Back row, left to right:  Rachel Small, RN; Brian Reitz, Radiology Manager, Ron Craft, PCT; Chester Wilds, PCT; Kiel Reidenbach, ED Manager; Jaimee Mentink, Director of Nursing, Mike Szucs, Cardiopulmonary Tech; Skylar Fucile, RN. Front row,  left to right: Sommer Fields, RN; Jacqueline Zurwalski, PCT; Julie Lee, MT; Sheyenne Delaney, Phlebotomist; Denise Mitchell, Phlebotomist; Pam Goff, Laboratory Clinical.