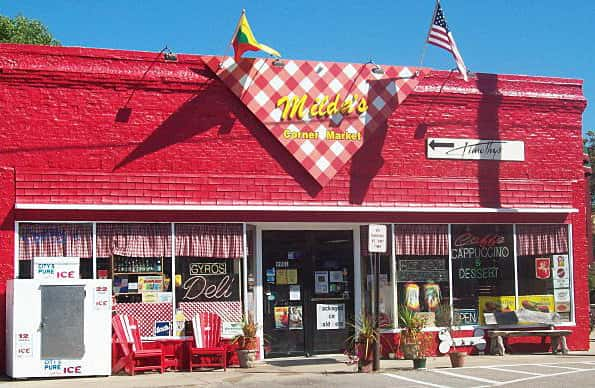 The eclectic home of Milda's Corner Market & Deli in the enclave of Union Pier fell victim to thieves early Saturday morning before Milda herself could even get to the shop to put the coffee pot on. The result is a manhunt for the burglar who smashed out a window in the popular business, waltzed in and stole an undetermined amount of cash in the process.
Berrien County Sheriff's Department investigators are on the case, and they are seeking the help of the general public in helping solve the crime as they have made it the Crime Stoppers Crime of the Week this week.
According to Deputy Marcelo Perez, somebody took it upon themselves to break a plate glass window at approximately 5:10am on Saturday morning, January 30th, and ventured inside to steal cash receipts from the business.
Authorities are asking for anybody who might have seen anything that morning to step forward with the offer of a reward of up to $1,000 for information leading to the arrest of whoever is responsible for the burglary at 9901 Townline Road just off of Red Arrow Highway at Union Pier.
Milda's Corner Market is a unique destination attraction-style ethnic shop and diner featuring Lithuanian, European and Asian specialties with products from more than 40 nations inside. The market, which is a tourist favorite throughout the summer season is open year round featuring a full deli, bakery, and grocery offerings including homemade soups and sandwiches, pastries, breads and more. The international flair has made it a crowd favorite for years.
Owner Milda Rudaitis has been holding court from her color little corner along the Red Arrow Ride for nearly 16 years now. She is a graduate of Kendall College in Evanston, Illinois and hails originally from the Chicagoland area. Her shop also offers catering service.
Anyone with information regarding the early morning break in at Milda's Corner Market of Union Pier is asked to contact Crime Stoppers. You can submit an anonymous tip online at www.michianacrimestoppers.com, or through a link on their Facebook page. Or you can submit a tip through the same secure link using your smart phone. Look for the free P3 Tips mobile app. You can still call toll free at (800) 342-STOP. You will be given a code number and they won't ask your name.