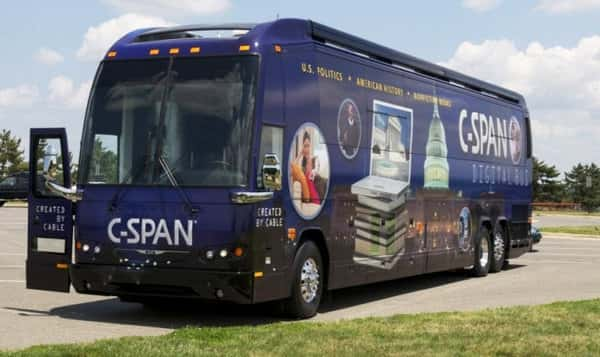 Imagine for a moment that you are Buchanan High School Principal Stacey DeMaio. You learn that the cable-TV network C-SPAN has a Campaign 2016 Bus traveling across America to share civics and history lessons alongside current events with classrooms from coast to coast. So, one day you send in a request for the bus to appear at Buchanan High. Then, another day you get an e-mail saying essentially, "we're on our way!"
That's what has happened as excitement is palpable with word that the C-SPAN Campaign 2016 Bus will wend its way to Buchanan on Friday, June 10th. C-SPAN Marketing Representative Vanessa Torres has notified Principal DeMaio that her application was found in the C-SPAN database and they'd like to make the trip if the school is still interested. Clearly, they are, and thus the C-SPAN Digital Bus is planning a stop on Friday, June 10th from 9am until 11am for a visit with Buchanan High School students.
What a cap for the students, inasmuch as that is the final day of the school year, and an open bus event is being arranged so organized classes from the high school can climb aboard.
Students will be allowed to tour the bus for 15-minutes each in groups of 10-to-12 at a time. Social studies, history, journalism and video production classes will likely have the highest priority as the best audiences for the bus tour. According to Torres, students will learn about ways C-SPAN can help them stay informed about the federal government. Web resources include C-SPAN's Video Library, American History TV,and Book TV. Students will also learn about StudentCam — C-SPAN's annual video documentary competition for middle and high school students with $100,000 in prizes slated to be awarded.
Teachers at Buchanan High will also have the opportunity to learn about C-SPAN Classroom, a free primary online resourced for educators that offers timely teachable videos, Constitution clips, and much more. C-SPAN crew members would like to schedule an educator workshop which could be applicable towards continuing education credits for Buchanan teachers.
The photo of a C-SPAN Digital Bus shown above is courtesy of C-SPAN's Flickr file, and does not necessarily depict the exact bus that will be coming to Buchanan.