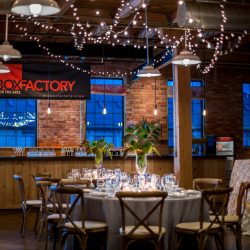 For at least 20 years, Kristen Patzer has been involved in some way or the other with the arts and history, and now she's making a little history for herself in her homecoming as the new Executive Director at The Box Factory for the Arts.
The 44 year old St. Joe native who now lives in Bridgman was selected recently following an extensive search by the Board of Directors for The Box Factory and started back on Monday.
What likely won over the Board, beyond her connection to the arts and history, is Kristen's extensive work in and around non-profit corporations with an emphasis on operations, financial processes and fundraising — all key issues for the local institution.
Patzer comes to The Box from her recent 3-year stint as General Manager of the Frank Lloyd Wright Building Conservancy, and takes over the full-time position of Executive Director at The Box Factory.
Prior to her time with the Frank Lloyd Wright Conservancy, she worked nine years at the History Center at Courthouse Square in Berrien Springs, and before that she was with the South Bend Museum of Art for some 4 to 5 years.
The Box Factory Board of Directors says they "Feel that Kristen's skill set will be a complement to the direction and needs of the organization to continue our journey as a place that continues to Nurture the Arts and Creativity."
Board President Laura Goos tells us, "We had many great candidates for the role, which we were excited about, but Kristen Patzer has that extra experience and focus on operational excellence that the Box Factory for the Arts needs." She adds, "We're excited to see what Kristen does over the course of her first few months."
Kristen is pumped about the new job, saying, "I am excited to apply the knowledge I have acquired as an arts administrator to an organization in my hometown. The Box Factory for the Arts is truly a gem, and I look forward to working with the Board of Directors, staff, and members of the community to realize its full potential." She concludes, "Southwest Michigan is fortunate to have such a multi-faceted space to foster the arts and creativity."
While some say that getting a new job can be "like Christmas," for Kristen, Christmas already has special significance in that it also happens to be her birthday each year.
The Box Factory for the Arts is a 501(c)3 Not for Profit organization focused on the Arts and Creativity with a focus on accessibility to the Arts for our Community.  The Box Factory for the Arts offers low-cost programming, artists studios and free public gallery shows featuring regional and local artists. Please visit www.boxfactoryforthearts.org for more information.