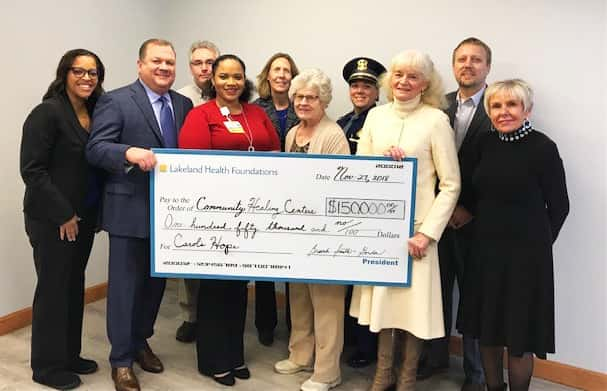 When Carol Stockman's 23 year old grandson, Sam, died of a heroin overdose, she grieved like any other grandparent, but she also refused to sit idly by and watch the same thing happen to other people's children, grandchildren and family members. She launched a full-fledged effort to do something about it. She helped found the Voice.Change.Hope Alliance support group designed to eliminate the barriers for people in search of help for loved ones engaged in substance abuse.
Now, that support group is creating an engagement center in Michigan's Great Southwest which is focused on such people and helping them navigate local resources efficiently. Called Carol's Hope and anchored in the Pater True Value Hardware Shopping Center along M-139 in Royalton Township, the forthcoming center has garnered a huge infusion of capital from the Lakeland Health Foundations, who recently donated a $150,000 grant to help fund establishment of Carol's Hope, named in Stockman's honor.
Carol's Hope, destined for 4032 M-139 in St. Joseph will be an engagement center designed to help those suffering from substance abuse disorders.
As an alternative to emergency room care, the center will provide clients a supervised, safe, and supportive environment where they can develop a recovery plan and connect to services that will lead them to a better way of life. All services are available at no cost to the client or their family.
Brandi Smith-Gordon, the Vice President of Philanthropy and President of Lakeland Health Foundations, says, "Lakeland Health Foundations felt compelled to support our friends and neighbors impacted by misuse of drugs and/or alcohol." She adds, "Engagement centers have been used for years across the country in an effort to support clients experiencing an alcohol or drug problem and get them the help they need. Carol's Hope will help people in their current stage of change, tailoring options and services to best meet the need of the individual. We are pleased to be part of this important work right here in Berrien County."
Community Healing Centers will handle day-to-day operations of the organization with oversight from a local advisory board consisting of representatives from Spectrum Health Lakeland, Voice Change Hope Alliance, Michigan State Police, YMCA of Southwest Michigan, and the Berrien County Health Department. A grand opening event is scheduled for noon to 2:00 pm on Wednesday, December 12th at Carol's Hope.
Shown in the photo accompanying this story on Moody on the Market are:
First row (left to right):
Brandi Smith-Gordon, Vice President of Philanthropy and President, Lakeland Health Foundations
Dana Wales, Chair, Lakeland Health Foundation Board of Directors, Benton Harbor/St. Joseph
Tasha Turner, Program Director Trauma Informed Initiatives, Spectrum Health Lakeland
Carol Stockman
Lissa Hartridge, Board Chair Community Healing Centers
Sally Reames, Chief Executive Officer, Community Healing Centers
Second row (left to right):
Mike Pioch, Chief Operating Officer, Community Healing Centers
Kerri Teachout, Substance Abuse Prevention Services Supervisor, Berrien County Health Department
Lt. Melinda Logan, Michigan State Police Niles post
Kendall Troyer, Vice President, Organizational Excellence and Quality, Spectrum Health Lakeland
(Not pictured: Denise Peters, Chief Operating Officer YMCA of Southwest Michigan)