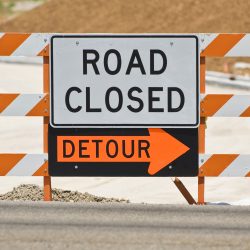 It was simply way too much rain in far too short a period of time and the result is chaos for some folks across stretches of Cass County today.
Cass Sheriff Richard Behnke reports that his office continues to take a large number of complaints regarding flash flooding around the county. A number of roads have been closed because of flooding over the road or culverts failing and washing out. Several residents in the area of Oil City Road and Davis Lake Street had to be evacuated from their homes over the weekend because their homes were under water and the current from washouts was moving propane tanks, sheds, boats and other large items causing a hazard to anyone in the immediate area.
There were two separate water rescues that occurred where people became stranded in or on top of their vehicles in large fast flowing bodies of water. There were 17 weather related calls dispatched to Sheriff's Deputies and Fire personnel during a three hour period between 4:00pm and 7:00pm on Saturday alone.
People are urged to stay off of closed roads and proceed cautiously and slowly through areas where there there might be water over the road. If the water is flowing at a fast rate or appears to be more than a few inches in depth you should always turn around and go back the way you came finding a safer route to proceed.
Numerous roadways have washed out completely some were completely underwater for hundreds of yards across.
The Cass County Sheriff's Office has worked with the Cass County Marine Division, Cass County Road Commision, Pokagon Band Tribal Police, the Michigan State Police and numerous Fire Department throughout Cass County during the flooding according to Captain Thomas Jacobs with the Cass County Sheriff's Office.
The following roads are closed from the 6 plus inches of rain in a short amount of time causing road or culvert failure over the weekend:
Oil City from  Davis Lake Street to Ashton
Mt Zion from Stewart to Calvin Center
Cassopolis from Crooked Creek to Osborn
Mason Street from Calvin Center to Tharp Lake
Bulhand from Lamb to Calvin Center has 1 lane closed
Roads previously closed and continue to be closed due to prior flooding:
Carter Lake Street from Birch to Baldwin Prairie
Wade Road from Chain Lake to Mt Zion
McKenzie Street from Lawrence to Goff Lake
Water over the Road Signs had been posted on these roads:
Davis Lake from Lane to Ashton
North Shore from Davis Lake to Calvin Hill
Chapel Hill from Tharp Lake to Calvin Center
Tharp Lake from Chapel Hill to Hawks Street
The Sheriff's Office says, "More rain is being forecast for the next several days and weeks, so similar flooding activity is expected if rain totals are substantial. The traveling public is urged to use caution during upcoming rain events and anticipate water over the road in these areas in particular or any other areas that are known to commonly flood during excessive rain.
Attempting to cross areas where water stands more than a couple inches deep or is running over the road can cause damage to the roadway due to washouts and sink holes in the gravel under the pavement. This can be dangerous. Several people were stranded over the weekend and had to be rescued. In situations such as these you are recommended to turn around and find an alternate route when ever possible."