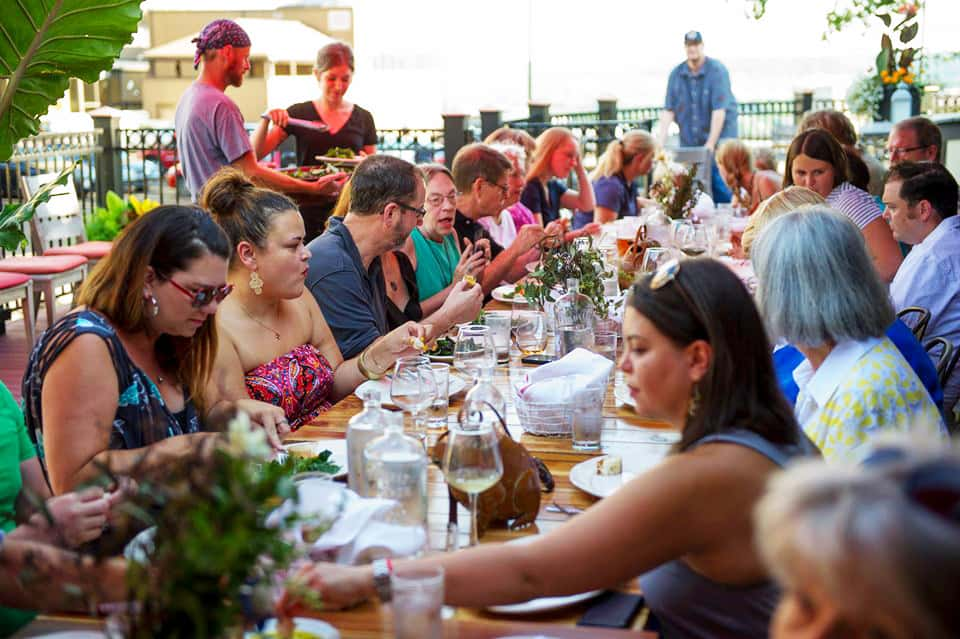 Harvest season in a huge agriculturally rich environment such as we have in Michigan's Great Southwest should be celebrated in a joyous and appreciative manner, and that's why the people who comprise The Collective in the Benton Harbor Arts District are gearing up to do the harvest proud.
Emma Hearth & Market and the Rebel Cafe at The Collective are leading the way by hosting a series of top notch Fall Harvest Dinners in the District over the next three Sunday evenings.
Together they will roll out an amazing spread featuring (and celebrating) local, organic, healthy, farm-fresh food prepared by Italian rustic Chef Steve Zieverink, and served Italian family-style while being paired with local and Italian beverages.
The cost is just $65-per person, and the menus will be shared each week before the event including multiple courses plus dessert. The Fall Harvest Dinners will be hosted on Sundays, October 13th, 20th, and 27th from 5:30pm until 9pm at The Collective, located at 234 Territorial Road in the Benton Harbor Arts District.
Here is the first amazing menu and following it, a link to the EventBrite option to get yourself some tickets for it:
Roasted Root Salad made with our maple sap vinegar, maple syrup glazed, local root vegetables and heirloom wolf river apples. Paired with an herbal shrub made like an Italian soda.
Handmade Ravioli stuffed with local Shiitake Mushrooms (possibly wild Hen Of The Woods mushrooms dependent upon availability) pan fired in organic extra virgin olive oil, oregano and topped with Pecorino Romano cheese. Paired with savory fresh juice shot.
Fall variety plates of smoked white fish spread, smoked brisket, our giardiniera (assortment of pickled peppers and vegetables that is typically eaten as an antipasto), local goat chèvre, fall currants, our organic pickled tomatoes and wood fired crostini.
Italian Meringue dessert sampler made with organic herbs and flowers from our farm (dependent upon availability Anise hyssop, lavender, borage). Paired with Rebel cafe cold brew.
Other beverage pairings will be available upon request.
Here's a link to the EventBrite invitation information to reserve your space at the dinner table:
https://www.eventbrite.com/e/fall-harvest-dinner-series-tickets-74895495443