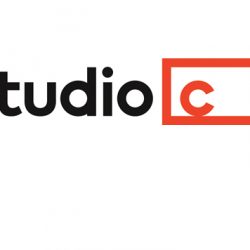 The place "Where Story Happens" has a new story to tell...and it's an exciting one for the entire Loeks family of companies that operates Celebration! Cinema of Benton Harbor, multiple other communities around the state and other facets of the entertainment company that continues to grow its footprint across the Great Lakes State. Introducing Studio C.
Studio C is the new name that the company will do business under as they continue to broaden the scope of their business ventures headquartered in Grand Rapids, but the local theatre and others will continue to operate under the Celebration! Cinema flag.
In a presentation to the company during their annual meeting on January 18, CEO John Loeks announced that Studio C will serve as an overarching brand for the company's theatre and consumer show divisions (including the Celebration! Cinema network of motion picture theaters and ShowSpan) as well as for new divisions dedicated to music, dining, and investments.
As Chief Creative Officer for Studio C, Eric Kuiper says, "We believe stories are a fundamental part of what it means to be human; they help us make sense of the world and understand who we are, where we come from, and what we believe." He points out, "The name Studio C draws on the company's history of both presentation and production, creating space where the community draws together and story happens."
Speaking to employees after John's announcement of the Studio C brand, J.D. Loeks affirmed that "Studio" serves as both an homage to his grandfather's crowning achievement in the original Studio 28 theater in Grand Rapids, and a mission for the organization to embrace an identity as a place where people create together. The new name's "C" represents the vital role his father played in using Celebration! Cinema to establish a foundation of community engagement, entrepreneurship, and innovative thinking that underpins the Studio C brand.
This announcement arrives on the heels of the theatre company revealing plans for a new location in downtown Grand Rapids, slated for completion in mid-to-late 2019. Dubbed Studio Park, the complex will be the company's first major venture as Studio C—with plans for dining, office spaces, a hotel, apartments, a 9-screen theatre, live events, parking, and more.
In the company's new model, theatre locations, including the new downtown location in Studio Park, will be built under the name Studio C. There are no immediate plans to change the name of any of the company's existing theatres. Similarly, ShowSpan will continue to serve as Studio C's brand presence in consumer shows.
Of the company's decision to expand its focus, John Loeks said, "A lot of people think of creativity and associate it with artists or musicians or painters, but what I came to realize gradually in my life is that business is a creative enterprise—it requires bringing together many different elements to make something new. You can't be focused on just one thing and be creative. Studio C's future will depend on continuing to learn, innovate, and contribute to the communities we serve."
Studio C creates space "where story happens," giving diverse communities a place to gather around movies, music, dining and events. Studio C companies, including Celebration! Cinema movie theatres in west and central Michigan and ShowSpan, the premiere producer of consumer shows in the Midwest, are owned by John D. Loeks.