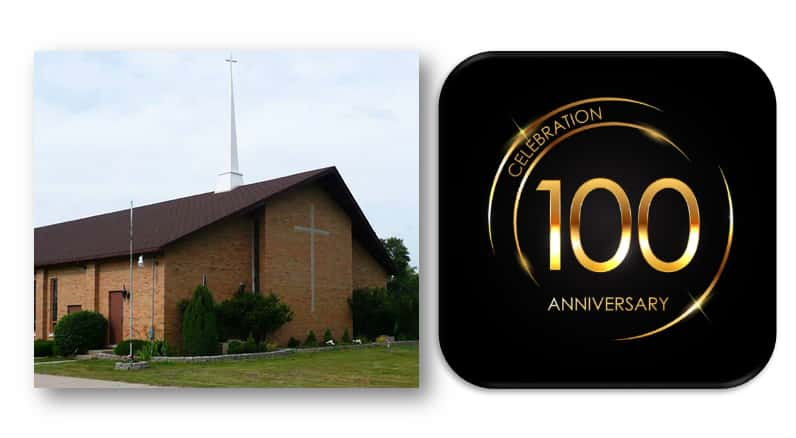 Launched a century ago by rural families in search of spiritual inspiration in Michigan's Great Southwest, the congregation of Glendora Trinity Evangelical Luthern Church is gearing up for a 100th Anniversary Celebration, and the entire community is invited.
Glendora Trinity Evangelical Lutheran Church, anchored at the corner of Cleveland Avenue and Glendora Road — 1733 W. Glendora Road to be exact — in Buchanan, is celebrating their 100th Anniversary this summer. The congregation comprised of several rural families was organized as a mission church started by Trinity Lutheran Church in St. Joseph back in 1919 with a Christian Day school that began a year later in 1920. The Rev. Albert Krug was the very first Pastor called to Trinity Glendora in 1920.
The first church building was dedicated "to the Glory of God" on May 21st, 1921, and the new church at its present location was dedicated in 1973.
The theme for the 100th Anniversary Celebration is '100 Years Cultivating the Lord's Harvest.'  Many special services are planned for the entire year including the ongoing preparation of a history book of past and present families of the congregation.
The Congregation is planning a weekend anniversary celebration honoring their German heritage with a Polka Fest on Saturday, June 29th from 5 -9pm.
Wil Smaka's Music Connection will be providing the polka music…and music for all ages to enjoy, for that matter.  There will be a tent and dance floor staged on the church grounds, while extra tents and picnic tables will be set up for those who prefer to simply listen to the music and visit, or perhaps challenge someone to a game of bags.
A German Buffet will feature grilled bratwurst or hot dogs on a bun, warm homemade German potato salad, sauerkraut, with sausage, green beans, and potato chips. Visitors can also enjoy delicious cake and homemade ice cream for dessert. Additionally, they will be selling snacks during the event including water, pop, a keg of Sprechers root beer, and potato chips.
Tickets for the fun-filled event are $10 for adults and $5 for kids aged 3 – 10 years and that includes both the dinner and the dance. For tickets call Roberta at 269-429-3854. For more information about Trinity Evangelical Lutheran Church of Glendora click this link:  http://www.tlcglendora.org