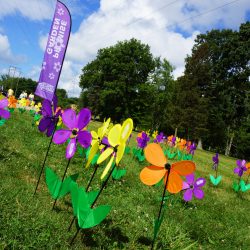 Several hundred people rode the rollercoaster at Riverview Park in St. Joseph today. Now, before you climb into you car and head for Niles Road in search of the next adventure, understand that today's ride was purely an emotional rollercoaster ride through the many and varied moods of the dreaded disease we know as Alzheimer's.
Those several hundred people ventured to the riverfront park at mid-day today to participate in the 2017 Walk to End Alzheimer's…an effort that had established a $60,000 goal as one of the first, and one of the best attended for a community of its size anywhere in America.
They came as victims of Alzheimer's themselves…supporters, family, friends and colleagues of those who have been lost to the disease over the years…caregivers of those who are afflicted with the disease…and simply those who support the efforts to eradicate the always fatal disease that more than 50,000 people in Michigan alone are currently diagnosed with and the 150,000 caregivers who help them cope.
Colorful pinwheel flowers were signed and dedicated to people in each of those categories today, with purple flowers reserved for those who have lost someone to the disease, yellow for those who are caring for someone suffering Alzheimers, blue flowers for those who actually have the disease and orange flowers for the myriad supporters helping search for a cure.
This year Kristin Burt, who serves as the Walk Manager for Southwest Michigan through the Great Lakes Chapter of the Alzheimer's Association of Michigan, says they introduced a white pinwheel flower accompanied on stage by a mom and her young child representing the hoped for prospect of someday introducing white flowers for people who could be classified as survivors of Alzheimer's. That someday can only arrive when research successfully finds some form of care regimen to curtail and cure the disease. That's the still elusive part of the equation and the reason behind the annual Walk to End Alzheimer's efforts.
This was the first year for the walk to be moved to Riverview Park and it seemed to win substantial approval from those who turned out, versus the former site at the Silver Beach Carousel and the ensuing beach walk.
By the time of today's opening ceremonies keynoted by Doug Wall whose grandmother succumbed to Alzheimer's and comments from State Representative Kim LaSata, organizers, donors, walkers, corporate and private teams and individuals had raised more than two-thirds of the $60,000 goal, reporting numbers north of $42,000…but money was still be counted, donations were still being texted, e-mailed, and turned in to teams and they technically have until October 1st to achieve the goal.
All money raised is designed to help the Alzheimer's Association continue to provide critical care and support programs to help all those affected, while at the same time helping move toward methods of treatment, prevention and, ultimately, a cure.
The beautiful weather helped the hundreds on hand today to focus on the highs and lows of the fight against Alzheimers as cheers would go up for major new donations, and tears would fall for victim's stories told either from the stage or one-to-one while walking and preparing for the walk today.
If you weren't able to make it to today's walk in St. Joseph, or if you were there but didn't bring your cash, check or credit card…you can still donate to the cause and help score the success everyone is hoping for. Click the link below…or you can text 2endalz to 51555 on your smartphone and follow the instructions when you do.
Lori Copeland worked diligently as the 2017 St. Joe Event Chair, and she told the crowd today, "By coming together, like we have today and are doing across the country, we can — and I truly believe we will — end this disease."
Donna Lippert was lauded today as the top individual fundraiser having collected $2,110.00 by the opening gun of today's walk. The top team effort honor went to Team Kortlandt, anchored by Annie Johnston, which collectively pulled in $3,411.01.
Here's the link to donate to the St. Joseph version of the Walk to End Alzheimers:
http://act.alz.org/site/TR/Walk2017/MI-MichiganGreatLakes?fr_id=10518&pg=entry