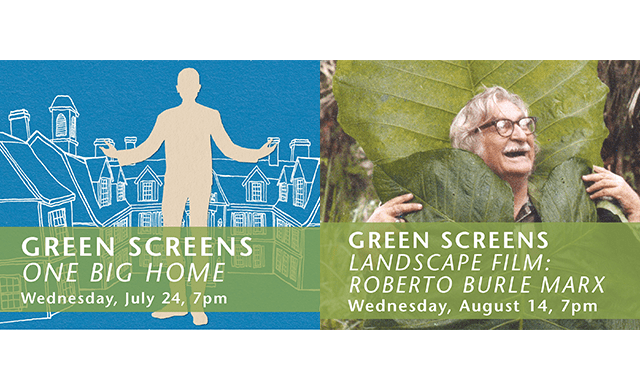 Chikaming Open Lands and Fernwood Botanical Garden are joining together to host an environmental film festival featuring two powerful films, One Big Home and Landscape Film: Roberto Burle Marx.
One Big Home will be presented at the Vickers Theatre in Three Oaks on July 24 at 7:00 p.m. Gentrification comes in many forms. On the tiny island of Martha's Vineyard, where presidents and celebrities vacation, trophy homes threaten to destroy the island's unique character. Twelve years in the making, One Big Home follows one carpenter's journey to understand the trend toward giant houses. When he feels complicit in wrecking the place he calls home, he takes off his tool belt and picks up a camera. Bumping up against angry homeowners and builders who look the other way, he works with his community and attempts to pass a new bylaw to limit house size.
Landscape Film: Roberto Burle Marx will be presented at the Vickers Theatre in Three Oaks on August 14 at 7:00 p.m. A journey through the art and life of the Brazilian landscape architect and painter best known for the iconic black-and-white mosaic promenades that line Rio de Janeiro's Copacabana Beach.
This documentary shows the full contribution of the landscape artist to the national flora. Directed and written by João Vargas Penna, the film is a walk through the art and personality of Roberto Burle Marx, who was also a painter, cook and singer, facets little known to the general public. Born in São Paulo, Burle Marx was a forerunner of ecology and defense of the environment. The landscaper valued native plants and discovered many new species on collecting and research trips. Based on Burle Marx's writings and images of his landscape works. Highlights include the Burle Marx Site, Flamengo Park and Moreira Salles Institute in Rio de Janeiro, Tacaruna Farm and Vargem Grande, in addition to Euclides da Cunha Square in Recife, the Ministry of Foreign Affairs in Brasilia, and projects in France and Venezuela.
Registration is required, as seating is limited for both screenings. Cost is $10 (Fernwood and COL Members $8) per movie or $15 (Fernwood and COL Members $12) for both movies.
Register by calling Fernwood at 269.695.6491 or online at www.fernwoodbotanical.org
Fernwood Botanical Gardens is a special place where nature blends with gardens and art to create an experience of wonder for all ages. Fernwood comprises 105 acres on the St. Joseph River near Buchanan, Michigan, at 13988 Range Line Road, Niles. Hours are Tuesday through Saturday, 10:00 am to 6:00 pm Eastern time, and Sunday, noon to 6:00 pm. Café hours are Tuesday through Saturday, 11:00 am to 3:00 pm, and Sunday, noon to 3:00 pm. Call 269.695.6491 or visit www.fernwoodbotanical.org for more information.
Chikaming Open Lands is the local land conservancy dedicated to preserving the open spaces and natural rural character of southwest Berrien County. COL works to protect and restore native plant and animal habitats, improve water quality, and permanently preserve ecologically significant forests, prairies and wetlands, as well as prime farmland and other open spaces in this area. COL serves nine townships in southwest Berrien County, and has been instrumental in preserving more than 1,650 acres of open space since its founding in 1999.