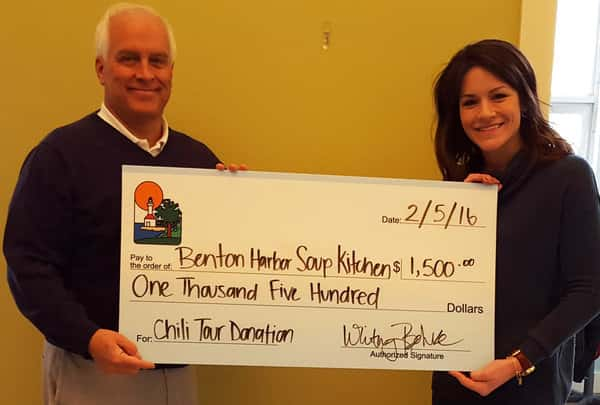 If you can read that headline really fast ten times in a row, your friends might just take you to Coach's Bar & Grill to celebrate your amazing linguistic talents on this fabulous Friday. If not…you can certainly bask in the glow of the great news of St. Joe Today's Chili Pepper Award winner, and the fact that the bottom line on the chili championship actually accrues to the Benton Harbor Soup Kitchen in the form of a $1,500 donation this year.
One week ago, on Friday, January 29th, 23 downtown businesses competed head-to-head for the Chili Pepper Award during the 4th Annual Chili tour. Nearly 1,000 visitors (993 to be exact!) logged into the St. Joseph Today Welcome Center during the tour for this year's festivities allowing them to enjoy a wide array of chilis, sweets, and much more.
Following the compilation of the votes, the winner has been declared to be Coach's Bar & Grill's "Brisket Chili & White Chicken Chili" which were actually featured at the Welcome Center this year. As a result of their victory, both Coach's and the Welcome Center will host the Chili Pepper Award trophies throughout the coming year. It marks the second consecutive victory for Coach's, as they were the defending champions from the 2015 event.
This year's runner-up honor goes to the Lazy Ballerina Winery where the second highest tally of votes went to their "Michigan Chili." Caffe Tosi, who hosted the winner of the 2015 Lake Michigan College Chili Cook-off — the St. Joseph High School Frosted Chilis — took third place honors. Their offering was their "White Chicken & Sausage Chili."
This year's Chili Tour also featured the charitable give-back opportunity through the $2-to-$5 suggested participation donation wherein the net proceeds were targeted for the Soup Kitchen in Benton Harbor. As a result, the donation of $1,500 will be presented this week to the Soup Kitchen's Executive Director, Merry Stover. In the photo accompanying this story on Moody on the Market.com, St. Joseph Today Executive Director Whitney Behnke presents the ceremonial check to Soup Kitchen Board Member KC Gast.