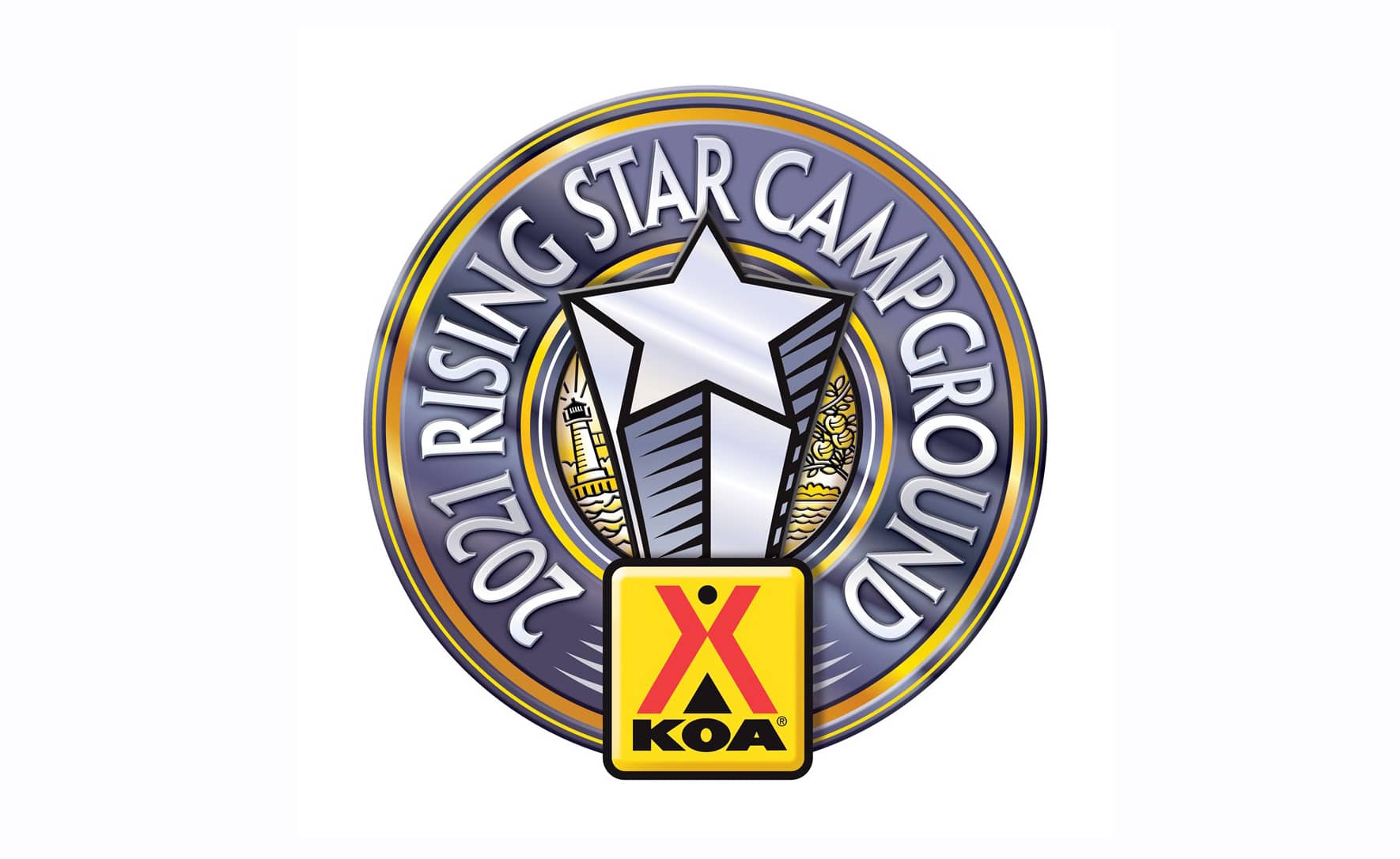 What started out for Mark & Karla Lemoine of the Coloma/St. Joe KOA Holiday Kampground at Hagar Shores as a dismal year of forced closure heading into prime season, is coming to a close on a decidedly upbeat note as they garner national recognition with a prestigious industry award.
During their annual convention this week, Kampgrounds of America (KOA) continued its tradition of recognizing one of its franchisees for a highly sought-after, prestigious award.  Despite the convention being conducted virtually online due to ongoing pandemic, the accolades were very real for Mark & Karla when they were named as the 2021 Rising Star Award recipients.
According to KOA, the award has been given annually since 2000 to franchisees that display a special inner drive to succeed from the beginning of their KOA experience. Award recipients institute smart business practices right from the start to ensure growth and profitability; have a desire to invest in their facilities and services to improve guest satisfaction; and have owned their KOA campground for five years or less.
Darin Uselmen, Vice President of Franchise Services for KOA, says that "while in past years the selection is competitive between several franchisees that are all doing great things, this year, the Lemoines kept rising to the top of our discussions and became the obvious choice."  The Lemoines are also the first KOA in Michigan to ever receive the high honor.
Uselmen makes special note that since taking the helm of their KOA in 2016, the Lemoines dramatically improved camper nights and revenue in their park. He attributed their success to the detailed improvement plan they have in place, such as a complete renovation of their General Store & Café in 2017, and investing in their site inventory with the deluxe patio RV sites added in 2018 ands the Luxury Glamping Tents in 2019. They also made enhancements to their services improving guest satisfaction scores and addressed numerous core infrastructure projects that guests rarely see, but are critical to the overall success of the operation.
Uselmen says that Lemoine also leveraged his past government affairs career experience, by jumping right in to play a role in the opportunity that occurred in the spring during the early stages of COVID-19. Through his active participation in the KOA family, he was tremendously helpful in KOA's "Reboot, Rebuild and Revitalize" efforts, which demonstrated to state and federal policy makers the industry-based solutions that were developed by the outdoor hospitality industry to promote the health and wellness of our staff and guests.
Uselmen says, "Mark and Karla are so very deserving of KOA's Rising Star Award," and adds, "I have full confidence that they both will not only continue to be rising stars, but will be shining stars for their peers to emulate and follow as the seasons go by."
Upon receiving the award, Karla said, "To us owning a KOA is so much more than just owning a business, we treat our guests and staff like a family."
Mark concludes that feeling blessed with having served more than 50,000 guests over the past four years from all across the United States and 15 international countries, "It's amazing what God can do through us when we get out of the way and don't let fear stop us from pursuing a dream."
The Coloma/St. Joseph KOA Holiday Kampground is located at 3527 Coloma Road just off of I-196. Learn more at this link: https://koa.com/campgrounds/coloma/