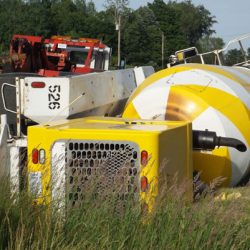 You'll have to admit that whenever you see a cement-mixer truck traveling a tight corner you wonder if the shifting load will take its toll and cause an imbalance. Well, it happened for real this time.
Baroda-Lake Township Police Chief Shawn Martin says a cement truck traveling southbound on Red Arrow Highway Thursday evening, June 7th, around 5:15pm rolled over while turning onto Floral Lane just north of Captain Mike's Fun Park near Bridgman.
Martin tells us that 43 year old Adam Trapp of Coloma was operating the cement-mixer at the time of the accident, and fortunately was wearing his seatbelt when the truck rolled-over.
The vehicle, registered to High Grade Materials of Greenville, Michigan, sustained damage in the roll-over, but Trapp was reportedly uninjured in the incident. No other vehicles were involved in the mishap, which remains under investigation.
Photo courtesy of Shawn Martin, Baroda-Lake Township Police Department