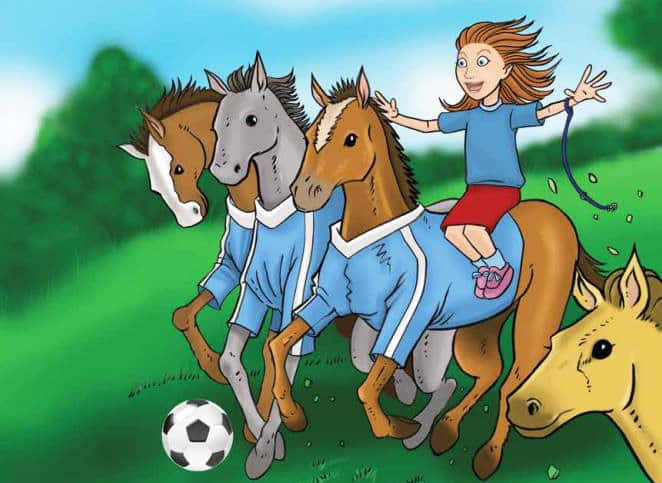 Walk into a meeting, a restaurant, an airport, or seemingly anywhere anymore and the thumbs are flying across tiny, hand-held keyboards and screens in the world of text messaging. So it's no surprise that a debate with her 14-year-old son about whether or not 'Prolly', 'Nother , or 'LOL'' were actually real words in the age of text language, became the genesis of the new book Lola and Lazlo: Into the Woods from a couple of Southwest Michigan residents.
The rise of cell phone texting as communication, the use of touch screen devices at a young age, and shorter attention spans for reading, inspired the creators to try to find a new way to instill a love of reading in children. Lola and Lazlo incorporates collective nouns into an amazing adventure with exciting and fantastic illustrations to keep young readers engaged.
Lola and Lazlo, written by Julee Laurent and illustrated by Dennis Anderson, is a 'Where the Wild Things Are' style of adventure about a little girl named Lola who was counting the minutes until the school day ended so she could get home to play with her new puppy, Lazlo. When she got home she realized she had left the gate unlatched and Lazlo was gone. She decides to journey into the woods next to her house to find him. On Lola's epic adventure she gets unexpected help from collective noun animal groups like a sleuth of bear, a bask of crocodiles, a mask of raccoon, a tower of giraffe; literally translated in a way to explain the meaning visually.
Local residents Julee and Dennis met through the Michiana artist's community of musicians, artists and actors. Julee has been a freelance writer since 1998 and has been published in Gannett Press Newpapers, Redbook, Marie Claire, Village Voice Media, Tribune News Papers, DiG Magazine, Censored Magazine, InReview, as a copywriter for Diesel Clothing and Coca-Cola, and is author of the novel 'Small Town Politics' due for release in the Fall of 2018.
Dennis, who serves on the visual arts committee for South Bend's 'Art Beat', is a graduate of The Art Institute of Fort Lauderdale. His first comic book 'Sinister' was published through Hall of Heroes. His next comic book effort, Gypsy Company was self-published and eventually picked up by Diamond Distributing. Dennis' art and sculpture have become a favorite at Motor City Comic Con. His featured sculptures in 2013 and 2014, 'Zombie Toes,' have sold out every year with a special run being requested for cast members from 'Walking Dead.'
Their book release party took place at Chartreuse Art Co-Op in downtown St. Joe on Small Business Saturday, last week, however, there will also be a book signing and reading at the New Territory Arts Association's Holiday Art Hop on Friday December 8 at 3 Pillars Music located at 198 Water Street in the Benton Harbor Arts District from 6pm to 9pm.
The new book is also available for sale online right now by clicking this link: