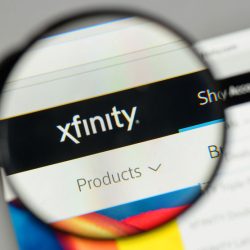 With any luck your online streaming of radio and television products and many other Internet connect points will be noticeably faster, cleaner and more efficient in the near future according to executives at Comcast in the region.
Officials with Comcast say today they are increasing download speeds of some their most popular Internet tiers throughout the local footprint in Michigan's Great Southwest and Northwest Indiana.
Beginning this month, download speeds for the company's Xfinity Blast! tier are jumping from 100 Mbps to 150Mbps, while Extreme 150 speeds will nearly double from 150 Mbps to 250 Mbps.
Officials report that as of today, about 75-percent of Comcast's Internet customers in the regional footprint subscribe to one of those two tiers and will see their download speeds upgraded at no extra charge. Current and new customers can subscribe to those and all Xfinity speed tiers on a stand-alone basis or as part of a package.
Last December, Comcast also increased download speeds of its Blast!, Performance, and Performance Starter tiers in the Michiana region.
John Crowley is Senior Vice President for the Greater Chicago Region of Comcast. He says, "Faster speeds help ensure that customers can continue to power the growing number of devices they're connecting to and controlling in their homes – everything from computers, smartphones and gaming consoles, to more sophisticated home automation services and smart appliances." Crowley adds, "Comcast constantly works to enhance the value of its Internet services, whether that's by boosting speeds, adding more WiFi and fiber networks, or introducing industry-leading innovations, like Xfinity xFi."
Today's announcement follows a number of moves the company has made recently to enhance its high-speed Internet service, including:
Rollout of Xfinity xFi, "the industry-leading platform that lets customers personalize, manage, and control their home WiFi experience"
Expansion of the national Xfinity WiFi network, which now includes nearly 19 million hotspots
Doubling network capacity every 18 to 24 months
Launching both 2 gigabit and 1 gigabit-per-second home internet services
Comcast reports they have increased internet speeds 17 times in the past 17 years.
To get the new speeds, most customers, including all xFi users, will simply need to re-start their modems, which either can be done via the xFi app, through the Xfinity My Account app or manually.
Customers who lease modems from Comcast and need a new one can upgrade to an xFi Gateway for no additional cost. Other customers who purchased their own modems should check online to see if they need a new device (http://mydeviceinfo.comcast.net/).
Comcast will notify customers and provide instructions before the changes take effect.