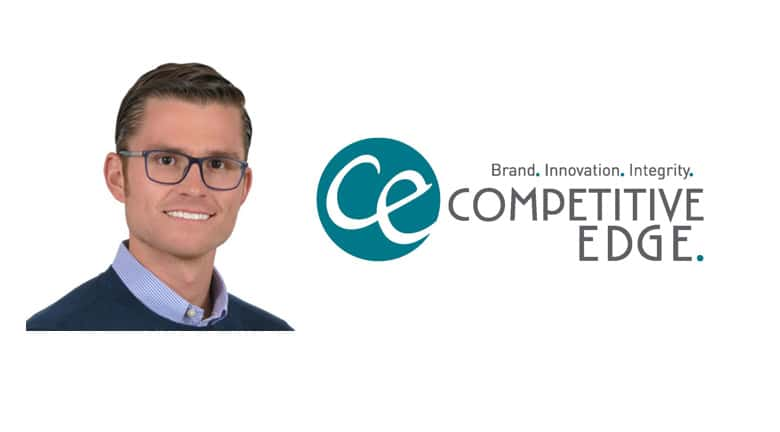 Having activated regional offices in both Denver and Grand Rapids in recent months, Competitive Edge of Stevensville is ramping up for increased momentum on multiple fronts including through their new hire of Account Manager Stephen Wittenbach in Grand Rapids.
Competitive Edge, the dynamic promotional products company headquartered in Stevensville, has added Wittenbach as a new team member at their newest location in Grand Rapids. Effective as of April 30th, 2019  Wittenbach was appointed Account Manager and will serve the company's target market expansion by developing new business in Grand Rapids, and surrounding areas. Wittenbach will report directly to Vice President of Sales, Lisa DeJong.
DeJong tells us, "Stephen brings a fresh perspective to our organization at a time when Competitive Edge is poised to expand our presence in the Grand Rapids market," and adds, "We are delighted to add Stephen to our talented group of promotional product professionals. His background and experience will be instrumental in helping lead Competitive Edge into its next stage of growth."
For his part, Wittenbach says, "I am extremely excited to join a team of such intelligent and driven professionals in the promotional products industry. Competitive Edge is an incredible company that is set up for continued sustained growth."
Wittenbach received his Bachelor's Degree in Business and Psychology from Hope College in 2016, where he played varsity basketball for four years. Wittenbach's father, Steve Wittenbach, has been in the promotional product industry for years. Wittenbach says, "I have always been interested in the industry and I am beyond excited to bring my experience and skillset to help CE grow its market presence throughout Grand Rapids and surrounding areas."
Wittenbach lives in Grand Rapids, and loves sports, exploring nature and anything team oriented. He also enjoys giving back by coaching youth basketball in the winter.
Competitive Edge is one of the largest full-service promotional product distributors in the United States. The company was started in a basement by Mary Jo Tomasini. Today, Competitive Edge employs 27 people.
Always mindful of developing a successful business within the promotional products industry, Ms. Tomasini and Competitive Edge have been the recipients of many awards locally, regionally and nationally, including the Best Places to Work for several years, the 2019 Cornerstone Chamber Small Business of the Year and the 2019 Promotional Products Association International Gold Pyramid Award in client programs.