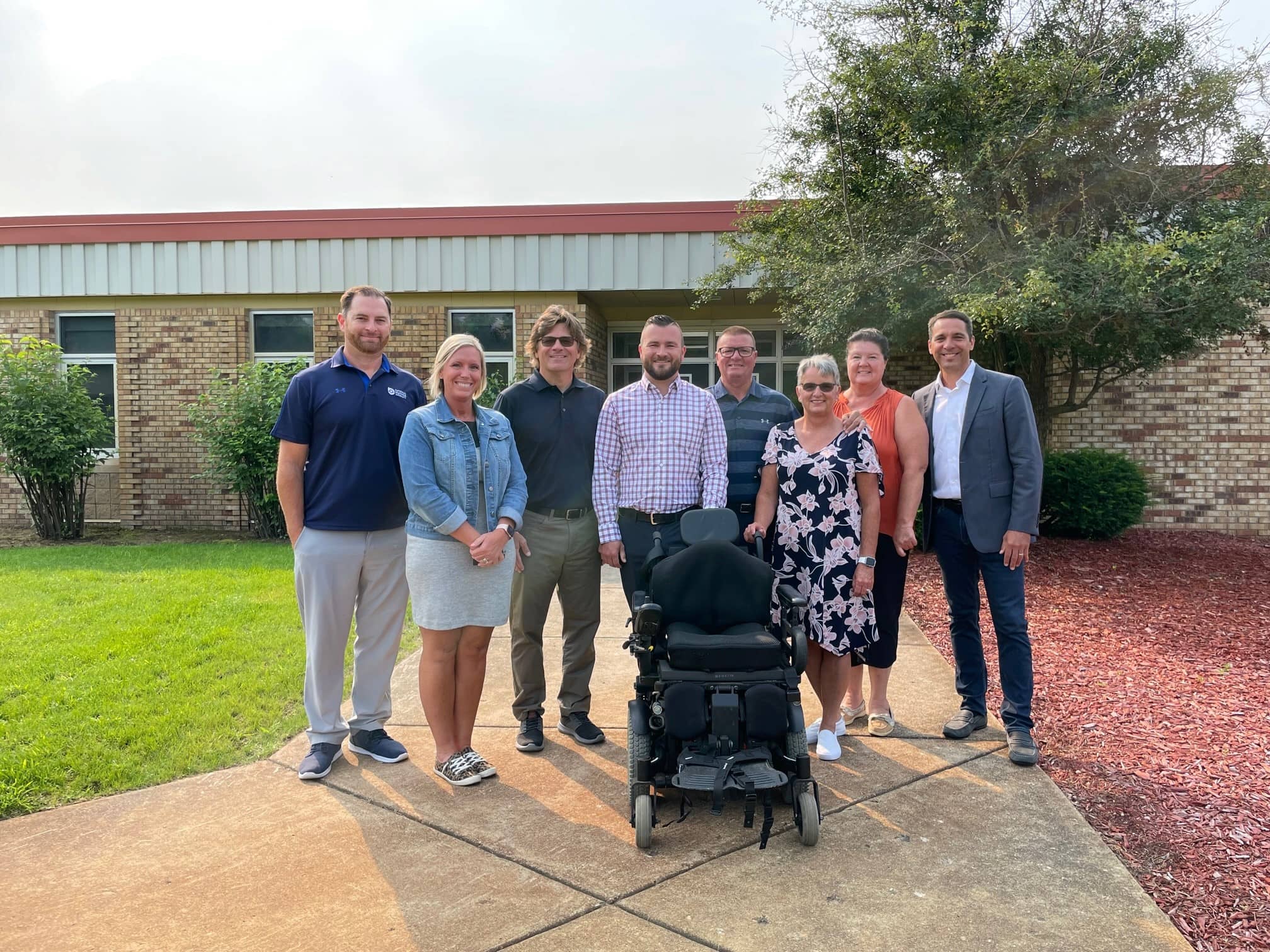 It's the job of personal injury law firms to represent the interests of injured persons, often going up against large insurance companies who represent big corporations.  Usually the story ends with a cash settlement or occasionally with a a long, sometimes dramatic Court trial.  One of the leading personal injury lawyers in Southwest Michigan recently saw an opportunity to go beyond just the money, to help leave a lasting legacy for the victim of a tragic auto accident.
In 2016, Kolten Fullenkamp, an 18-year-old Pennfield (Battle Creek) high school student with Duchenne Muscular Dystrophy, died tragically in a car crash. He was riding as a passenger in his family's wheelchair-accessible van when his father stopped to make a left turn at an intersection. A pickup truck struck the vehicle from behind and, within a few hours, Kolten died from injuries sustained in the crash.
Described as a tender-hearted young man who always smiled and had a quick wit, the news of Kolten's death devastated his family and the community. Southwest Michigan's Conybeare Law Office did extensive research to convince the truck driver and his insurance carrier to offer Kolten's family a significant cash settlement rather than go to trial.
In most circumstances, the story would have ended there, but it did not. A Calhoun County Intermediate School District (ISD) student with mobility challenges now has new freedom because Conybeare Law continued Kolten's legacy of compassion.
"When we were preparing for the Fullenkamps' case, we learned that their insurance company sold Kolten's wheelchair accessible van and specially designed, lift-wheelchair for salvage," said Attorney Barry Conybeare. "Our firm chased them down and purchased them before they were turned into parts."
Attorney Conybeare's law firm stored the damaged van and wheelchair for three years until the case resolved.
"In our hearts, we knew that Kolten's wheelchair still had a purpose. It was only two years old when the crash occurred, so we reached out to the Calhoun County ISD to see, if we paid for the repairs, could someone else benefit from it," Conybeare said. "We received a resounding yes."
The law firm contacted National Seating & Mobility (NSM), the company that had customized Kolten's chair, to make the needed repairs and refurbishments. NSM recently delivered the "like-new" chair to the Calhoun County ISD office, and a small ceremony was held with Kolten's family, the student now using the chair, and representatives from NSM, Calhoun County ISD, and Conybeare Law Office.
"Our goal is to have our students be as independent as possible in their daily lives," Christine Kusler, Physical Therapist, Calhoun Intermediate School District said. "This piece of equipment can help them pursue their dreams."
The refurbished wheelchair was adapted for a student who faces mobility difficulties and obstacles similar to Kolten's. Like Kolten, this student also brings a light and smiles to those around him.
"Kolten's family is happy that we were able to honor his life by donating the chair to the ISD so another student can use it every day," Conybeare said. "Kolten would have been the first to suggest this."  Based on the student's beaming smile as he put the wheelchair in motion, Kolten's legacy lives on.
About Conybeare Law Office:
Conybeare Law Office is one of the largest full-service personal injury firms in Southwest Michigan. It is headquartered at 519 Main Street, St. Joseph, Michigan, and has an office at 5955 W. Main Street, Kalamazoo, Michigan. The firm's attorneys provide representation for victims of automobile accidents, medical malpractice, premise liability and animal attacks, and also handle employment law, civil rights, worker's compensation and social security disability claims. To discuss a claim, please call (800) 983-0561 or visit ConybeareLaw.com.