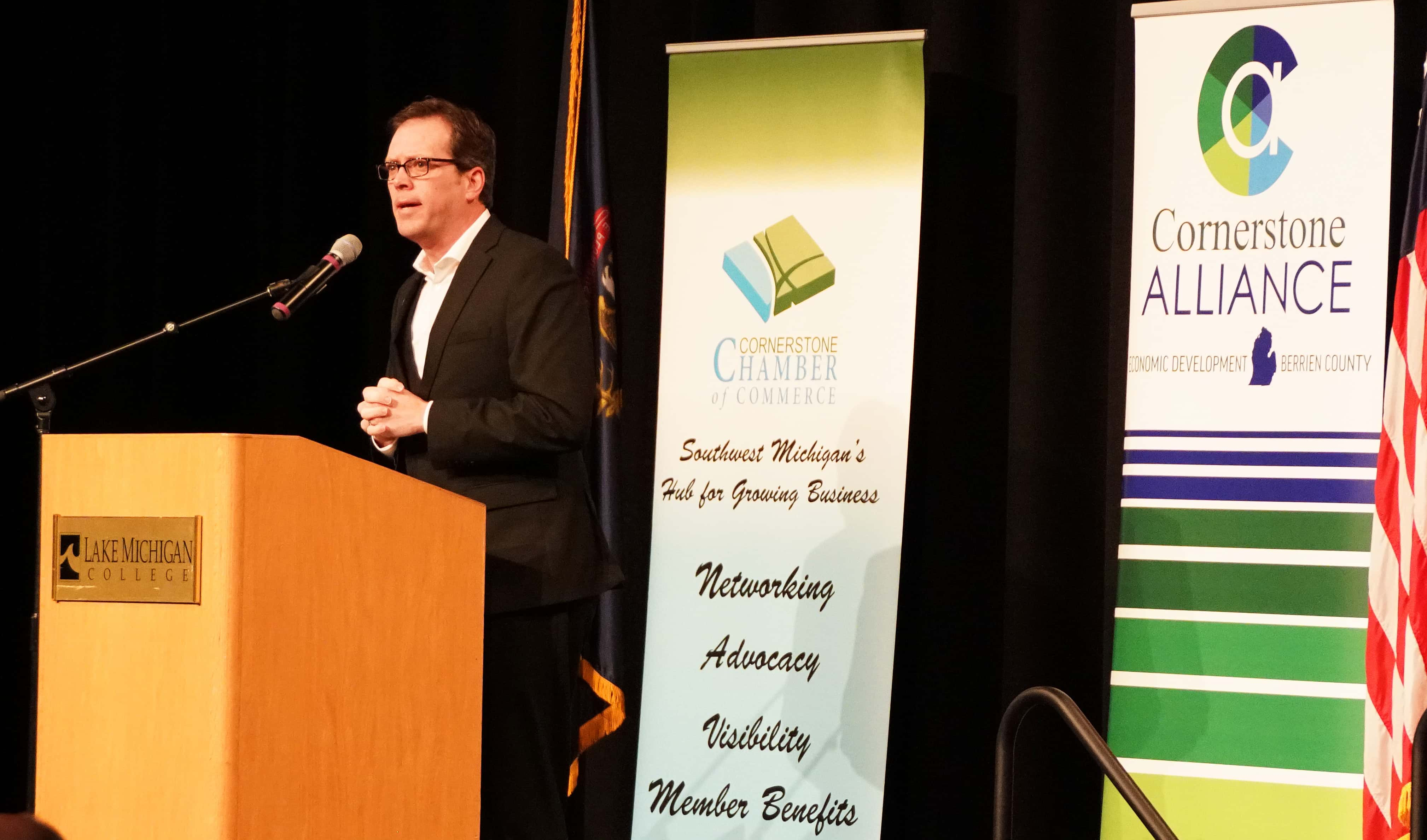 A revolutionary concept posed in recent weeks by Cornerstone Alliance President & CEO Rob Cleveland is making waves, and he couldn't be happier because, as he puts it, "Something has to be done, and it needs to be drastic!" Cleveland's proposed Michigan HUGE Incentive – Homegrown Undergrad and Graduate Education Incentive was published as an editorial first in Crain's Detroit Business and subsequently shared with The Herald-Palladium locally. You can read the intriguing concept yourself below.
Cleveland argues that we can't waste any more time, saying, "I can't stress how dire of a situation this will be. It's a real problem now, but nothing compared to what it will be like a decade from now if we don't do something drastic. Earlier this week, Bridge Magazine published an article that showed that Michigan births are the lowest since 1944, and an 18.2-percent decline since 2000, which is the worst in the country other than Illinois. We have to recruit more people to live and work in Michigan."
Even Gov. Whitmer reportedly referenced Cleveland's concept in a recent media roundtable in Detroit. Beyond that, Cleveland tells me, "The feedback I've received has been mostly positive. Most people have stressed the need to do something – anything – to make it easier to keep young people in our state. While I don't think my plan is the complete answer, it can be part of the package."
As word gets around and the Michigan HUGE Incentive is shared across the landscape, Cleveland says, "I'm looking forward to a great debate with my economic development colleagues. There are some really bright, experienced people doing economic development in the State of Michigan. In the limited conversations I've had with some of them since I shared my idea, I've heard several other ideas that are better than mine. I'm optimistic that there will be a very impactful set of ideas that are created from this discussion."
Here is Rob Cleveland's concept, as written in his own hand:
It's remarkable how economic development, and the process of locating a new facility, has changed in the last decade. Just 10 years ago, with a national unemployment rate of 10%, companies had little problem finding available employees and most site location decisions were based on available buildings or land.
Today, talent is the driving force in most, if not all, site location searches. Talent was the key factor in the most publicized site selection project in history, the recent Amazon HQ2 project. Quite simply, there are not enough people in most places to do the work that companies need.
It is a problem facing nearly every part of the country, and it is why communities are doing some radical things to attract and retain people. And, it's why Michigan needs to step to the plate and give young people one more reason to choose Michigan.
Like most Midwest states (except you, Illinois), Michigan offers companies a "safe" place to locate. Moderate taxes, decent weather and an above-average business climate put Michigan in the mix for most site location projects. But we're falling behind in a number of key areas, and we have to find a way to increase our population.
We aren't alone, and there is an arms race for talent. Larry Gigerich is a globally-recognized site location consultant who is a member of the Site Selectors Guild and Executive Managing Director at Ginovus, a site location firm based in Indianapolis. In a February 23, 2019 article, Gigerich implored the state of Indiana, "it is time to realign organizational structure and increase financial resources for talent development." The people making the site location decisions have been screaming this to the masses, mostly on deaf ears.
Many communities in Michigan have gone to extraordinary lengths, and become successful, at recruiting talent. In Benton Harbor, we have provided more than 4,000 community tours in the last 10 years to prospective employees. And in 2018, Cornerstone Alliance created a Dual Career program and partnered with Kinexus (our local Michigan Works office) to align career opportunities for the significant others of new people to our community.
In order for Michigan to be a top-10 state, we have to be aggressive, do things differently and understand our competition. The state of Michigan could jump to the top of any site location search based on the ability to maintain the majority of its college graduates, and "Reverse the Brain Drain."
So, in an attempt to move the talent discussion along, I propose the Michigan HUGE Incentive – Homegrown Undergrad and Graduate Education Incentive.
Michigan's HUGE Incentive is a five-year income tax phase-in for recent graduates of Michigan colleges and universities. In the first full year following graduation, the eligible graduate would pay no Michigan income tax. In the following year, the graduate would pay one percent income tax, two percent the following year, three percent the year after that and four percent in the final year of the incentive.
The HUGE Incentive is different than traditional economic development tools, as it will go directly to individuals – not to companies. The incentive will be available to anyone who has graduated from a qualified Michigan University or College between January 1, 2019 and December 31, 2023, having earned an Associate's, Bachelor's, Master's or a Doctoral Degree. You must be a Michigan resident and you must file a Michigan tax return. It's that simple. Graduate from a Michigan school, live in the state of Michigan and work in the state of Michigan.
The entire point of the Michigan HUGE Incentive is to give Michigan students a head start over their peers by providing tax savings that can be used to pay down student debt. For real world purposes, here are a few examples of the impact of Michigan's HUGE Incentive. An Engineer at Whirlpool in Benton Harbor, making $75,000 annually, will have $29,000 more to pay down student debt than the exact same Engineer at 3M in Minneapolis.
A Marketing Manager at General Motors in Detroit, making $50,000 annually, will have $7,375 more to pay down student debt than the exact same Marketing Manager at Caterpillar in Illinois. And, a Project Manager at Dow in Midland, making $75,000 annually, will have $42,000 more to pay down student debt than the exact same Project Manager at Oracle in California.
Michigan HUGE Incentive recipients will be ahead of same-situation graduates in nearly every other location in the country. The HUGE Incentive rewards our best and brightest.  It rewards those students who choose to stay in Michigan to work and who make a positive impact on the Michigan economy.
Many economic developers, workforce development professionals, legislators and educators have been a part of this discussion for a long time. Let's be the first state in the Midwest to prove to our graduates that Michigan wants them to stay by passing legislation that makes it easier for them to pay down student debt. Let's send a message to the rest of the country that we'll happily take their best and brightest, educate them, and then give them a reason to stay in Michigan. Most importantly, let's take the conversation up a notch and lead.
The Incentive
A phase-in of Michigan's Personal Income Tax for up to five years.  (*capped at the first $100,000 of income)
Year 1 (first year following graduation) – Zero Income Tax
Year 2 – 1% Income Tax
Year 3 – 2% Income Tax
Year 4 – 3% Income Tax
Year 5 – 4% Income Tax