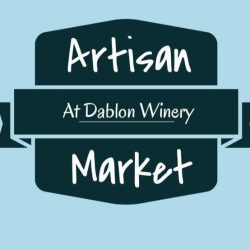 Tasting Room Manager Cassondra Rudlaff and her team at Dablon Vineyards wanted to welcome the change of seasons this year with a fun new Pop-Up Artisan Market, and they hope that it's a popular attraction so they can repeat the adventure on a more regular basis.
Five local vendors from Michigan's Great Southwest and Northwest Indiana will be on hand to welcome the change of seasons with a showcase of their wares, while Dablon's team offers wine tasting opportunities accompanied by complimentary hors d'oeuvres while supplies last.
Here's who you'll find "in the house" at the event next Thursday evening:
No Wake Zone Outfitters — A Watervliet company providing stylish clothing designs in simple apparel for your freshwater lifestyle. The company donates 10-percent of all net profits to Stand Up for Great Lakes.
With Love Cupcakes and Cakes — A Buchanan company providing beautiful quality cupcakes and cakes that look and taste amazing, for birthdays, weddings, and any other special moments in your lives.
Works by George — A Benton Harbor Arts District vendor providing handmade furnishings & jewelry made using reclaimed and reused wood.
Tenden — A Grand Haven company providing classic design clothing for men, women and children that is focused on lines, movement, and color.
Wendlewood Designs — A vendor who is turning a hobby into a business, by building upon request all types of tables, from farm tables to end tables as well as charcuterie boards, serving trays, signs, coasters. Anything.
The Spring Artisan Market will take place from 5pm until 8pm next Thursday evening, April 19th, at Dablon Vineyards and Winery Tasting Room located at 111 West Shawnee Road in Baroda. It's a great time to either spend some of your tax return or have a glass of wine to help forget the money you just sent to the IRS a couple of days earlier. Either way, it's a win-win event at the tasting room overlooking the estate vineyards. Check it out.