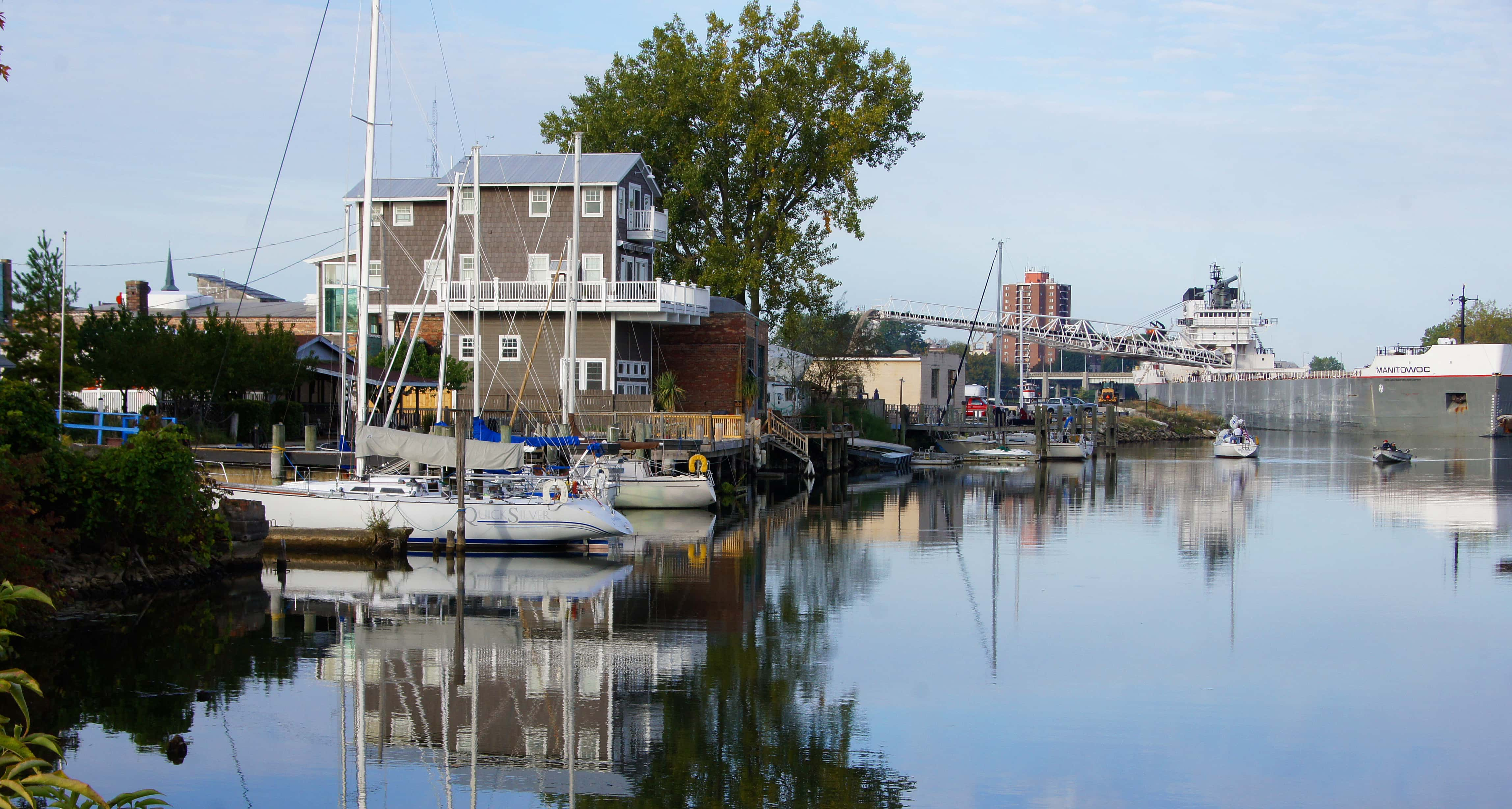 A vital and significant piece of land at the confluence of the St. Joseph and Paw Paw Rivers along the harbor front in Benton Harbor and St. Joseph has changed hands for the first time in 85 years at a critical juncture and will dramatically increase the cargo tonnage of aggregate materials arriving by Great Lakes freighters over the next several years and beyond.
Jack Kinney, owner of Central Dock alongside the Twin Cities Bicentennial Bridge carrying Main Street and Business Loop-94 over the St. Joseph River proper and the Morrison Channel, announced this afternoon the sale of that deep water dock and contiguous land to Rieth-Riley Construction Company, headquartered in Goshen, Indiana.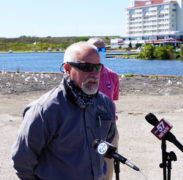 Rieth-Riley President & CEO Keith Rose called the acquisition, "A natural extension to our business to provide aggregate materials to the market." It is especially critical to Rieth-Riley at this juncture because they are a major contractor for the upcoming construction project that will complete the link between US-31 and I-94 in Benton Harbor. In fact, Rose says, "The first boatload of materials is scheduled for as early as next Friday, to come in here with materials out of Ontario, bringing limestone and other aggregates" for the connection project, and adds, "Over the course of the project running into 2022 there will be a lot more coming through."
Kinney says that his father bought the Central Dock almost 85 years ago and it has been in his family ever since. He says, "It started out as a coal operation, and my dad had the biggest coal business in the area."
The Kinney's have been dealing with Rieth-Riley Construction for many years, and Kinney noters, "We sold our asphalt plant to them about 15 years ago, and in addition to this dock, we also sold them several buildings in Benton Township next to the asphalt plant." Kinney calls the Indiana firm "an outstanding company that has served this community and well beyond for many years."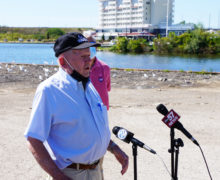 Scanning the large empty dock-land, Kinney says, "They're going to start filling this site up again very soon." He tells us, "It is the deepest water dock in the city of Benton Harbor and one of only three such docks in the local harbor that can handle the freighters that come in off of the Great Lakes." Inasmuch as the U.S. Army Corps of Engineers dredges commercial harbors in a priority system based on the sheer tonnage of aggregate materials that are brought into the docks, Rieth-Riley's role in the highway project will be a major boon for the market.
Materials that land at the docks there are and have been used for construction all across Michigan and beyond according to Kinney. By definition, 'deep water dock' means they can handle ships with 23- to 25-foot drafts.
Kinney was highly appreciate of Congressman Fred Upton who joined the two businessmen at the Central Dock this afternoon for an onsite press conference regarding the sale of the land. He says, "Our Congressman has worked for many years to keep the docks dredged by the Army Corps," and adds, "The amount that gets brought into these three deep water docks is the main reason we have a commercial harbor, which is also a direct benefit to recreational boaters." By way of explanation. he says, "If we don't bring in the volume of material necessary to keep the port active, the dredging stops."
Pointing to Rieth-Riley's leader, Kinney said today, "I am so happy to be able to provide one of the biggest asphalt construction companies in this area a place to bring in a whole lot of new materials and fill this space up again. That way Fred can go visit his people in Washington to keep us justifiably dredged and open." He joked, "People tend to forget the importance of dredging when the water is so high, but in my 80-years on this dock, I've seen the water go up and down many times, and if it goes down three feet, this dock would be in jeopardy without federal dredging. It has to be continually dredged and Fred Upton has done a great job of getting that done every time."
Having access to a deep water dock also saves thousands of dollars when materials arrive by ship, because otherwise those materials would have to be hauled in by trucks or trains at a much higher expense." Kinney reports, "These ships are bringing in 15- to 18,000 tons at a time, and you can imagine how many trucks it would take to accomplish that same amount up and down our roads, so we want to keep these waters open." He adds, "I'm so glad that Keith Rose and Rieth-Riley Construction are the ones to take over. My dad and grandfather operated before me, and as hard as it is for me to give it up, I wouldn't consider selling it to anyone other than these fine operators at Rieth Riley. I couldn't be happier with the company that I'm selling it to. We've had a long running relationship with them, and I think its going to be a great thing for the city of Benton Harbor."
Rose says his company is a 100-percent employee owned company, and adds, "We cover the markets from Indiana all the way to the Mackinac Bridge. We're extremely grateful for the opportunity to acquire this dock and extremely grateful to those who continue to dredge this harbor, because that also impacts us in Ludington and Manistee."
Rose made Jack Kinney's days by saying, "We're happy to tell Jack that we're keeping the Central Dock name, and if it's within our power it will reach the 100 year mark which is quite a milestone for a company like this. We're grateful for the opportunity and look forward to advancing the project."
Fred Upton says, "I want to not only thank Jack, but his whole family. The Kinney family, every one of them, have been instrumental partners in community development here in Southwest Michigan, in a major, major way. Their name has meant excellence, we're all proud to know them, they are not leaving this area, they're here to stay."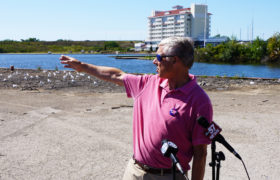 Regarding the Central Dock, Upton says, "This has been a wonderful spot for the Kinneys over these 85 years, and really as you look at virtually every structure within probably 50 or 60 miles something came through this port to the Kinney property." Upton notes, "If it's not a commercial port, it is a recreational port, and nowhere close to the priority that the Corps of Engineers develops for dredging. Because of the St. Joe River meeting the Paw Paw River here, and even in times of low water a lot of silt gets dumped right here. The dredging cost is usually somewhere between $1-and-$3-million that the Corps has in a limited budget to get the work done."
Upton reminisced, "When I was first elected I got onto the transportation committee in Congress, and I remember State Senator Harry Gast coming to me with his hands on my shoulders, and as head of the Appropriations Committee he told me 'If there's one thing you can do for economic development here in Berrien County, it's getting 31-done.' Earlier this week I participated in the public forum that MDOT had on the completion of US 31 for the last segment essentially from LMC to I-94. In 2018, Secretary of Transportation Elaine Chao called me and said, 'Fred we've got the last $20-million here now. It's good. The money's there, you're going to complete it.'"
This summer work on the route is being do to relocate a major natural gas pipeline out of the way so they can finish the last mile or two and connect 31 to 94, and Upton says, "As they committed in the public forum, MDOT says it will all be done by the end of 2022. So the ship that's coming in maybe next week, is going to start the last couple of miles by bringing in the limestone and the gravel and the aggregate to really get this project done, and complete the dream that all of us wanted to see happen in Berrien County literally taking 31 from Indianapolis all the way up north and completing a major transportation link for west and southwest Michigan."
Upton also commented on the significance of the deal, calling Rieth-Riley "one of the premier construction companies not only in the Midwest but frankly in America." He adds, "Their commitment to buy this land to make sure that they've got a resting spot for their sand and gravel and aggregate yet to come means that they know that the future is bright in Southwest Michigan. This is going to save them money. Bringing it in by truck would take up to 150 truckloads that we will save from being on the road from Canada or the Upper Peninsula, or wherever it's coming from, versus coming across the lake in a much cheaper cost per ton and landing here. So, it's a good thing. It's a great thing for Southwest Michigan, but it also means the continued commitment knowing that we're going to continue to grow, and our needs in the construction industry are here at home."
St. Joseph Mayor Mike Garey spoke on behalf of himself and Benton Harbor Mayor Marcus Muhammad, saying, "The idea of having both a commercial harbor with this operation, and the Harbor Shores residential area nearby is a great blend for all of the area." He adds, "Mr. Kinney's family has been a leading family in the business community here for nearly 100 years," and turning to Jack Kinney said, "I'm sure that your father is happy because you got a good price from Rieth-Riley, and your family's contributions to our greater community over all these years has been just tremendous. I understand your emotional feelings in making this deal after 85 years, but thank you for your contributions to our region."
So begins a new era on the waterfront in the local harbor, at a key time when the Central Dock will be needed far more than it has been in several years.
In the photo at the top of the page, Central Dock is accepting aggregate material from a Great Lakes freighter several years ago at the end of the Benton Harbor Ship Canal.