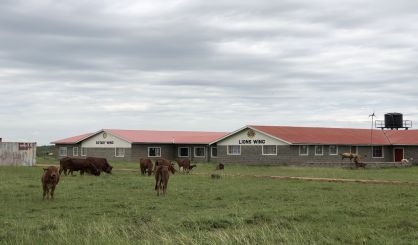 It took a lot of work, but the Rotary Club of South Haven has been able to raise the funds and find the partners needed to help provide clean water to a hospital in Kenya. Rotarian Art Ayers tells us he got to work on the project for the construction of a 600,000 liter concrete water storage cistern for the Ngoswani Maternal and Child Hospital after being inspired by Rotarian Dr. Marty Graber. Graber has worked for decades to help people in Africa, and Ayers says he's learned about the need for clean water in some places.
"Poor sanitation has strong links to the transmission of life threatening illness like cholera, diarrhea, dysentery and so forth, and those diseases kill 3.4 million people every year," Ayers said. "40% of those deaths are children under five years old."
The South Haven Rotary got a grant from the Rotary International Foundation and local support to pay for the more than $70,000 water project. Ayers tells us he has been to the area it will serve, and he's glad to make a difference.
"The people are so very friendly and welcoming, but to see how they live and to have the perspective that we do is so very sad."
To complete the project, the South Haven Rotary teamed up with the Milimani Rotary Club of Nairobi. Ayers says the construction of the solar powered water system will begin in the coming months.