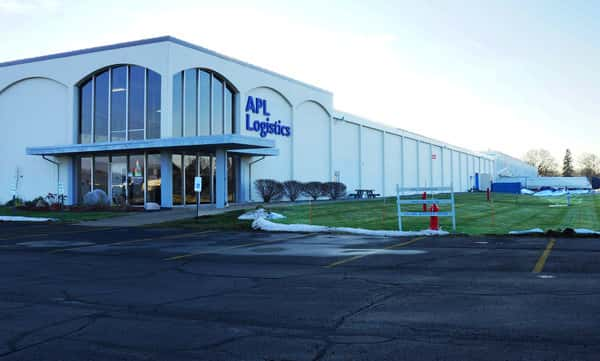 A couple of weeks ago we reported that Cornerstone Alliance was working diligently to land a major prospect that had the potential to create 100 new jobs in Michigan's Great Southwest. Now, we can tell you the rest of the story.
Cornerstone Alliance, Berrien County's lead economic development agency, confirmed today that Dicastal Logistics Group (DLG) will locate a new operation in Hagar Township, and will create 100 new jobs for Southwest Michigan at the site of the former APL Logistics facility on Coloma Road.
Dicastal Logistics Group is the North American distribution organization for CITIC Dicastal Co., Ltd. which is based in Qinhuangdao City, China and has a subsidiary in Greenville, Michigan called Dicastal North America. Dicastal is the world's largest manufacturer of aluminum wheels for the auto industry.
Izzy Dimaggio is Hagar Township Supervisor. He says, "We are grateful that DLG has chosen to locate in Hagar Township," and adds, "They are occupying a building with a significant footprint and we welcome the increased activity they will bring to the area. The new jobs they plan to create will benefit Hagar Township and the region and we will do all we can to help them be successful. Dicastal is a very welcome and an outstanding addition to our Township. Hagar Township and the Southwest Michigan community scored a big victory with the addition of Dicastal."
Dimaggio goes on to say, "Hagar Township has had tremendous success working with Cornerstone Alliance to put together packages that benefit companies locating or expanding their business. I strongly encouraged the representatives of Dicastal to request assistance from Cornerstone Alliance."  As a result, Cornerstone Alliance will be asking the Hagar Board to establish an Industrial Development District at next week's August 13th Board meeting.
DLG distributes aluminum alloy wheels to 46 automotive assembly plants across United States, Canada, and Mexico. These Assembly Plants manufacture vehicles for 11 major original equipment manufacturers headquartered in the United States, Japan, Germany, and Korea. DLG will make a significant investment in the 423,000 square foot building located at 4412 Coloma Road which was the long time home to APL Logistics.
Greg Vaughn, Chief Operating Officer at Cornerstone Alliance says, "DLG is a global leader in supplying the automotive industry, and this Berrien County distribution location will give the company a logistical advantage that makes it easier and more efficient to move its products. Up to 20,000 wheels per day will be shipped from the Hagar Township facility and the company plans to operate two shifts and expect that the eventual 100 new employees will include some of the displaced APL employees." Vaughn adds, "With existing Michigan facilities, DLG knows first-hand the benefits of doing business in the State of Michigan, which includes working with Kinexus to find the talent necessary to be successful. Without the support from Supervisor DiMaggio, and Hagar Township Trustees, this project may not have happened."
Cornerstone Alliance is a non-profit, investor-governed economic development organization primarily focused on increasing employment opportunities, private sector capital investments and the local tax base in Michigan's Great Southwest; with specialized business services offered in economically distressed areas.