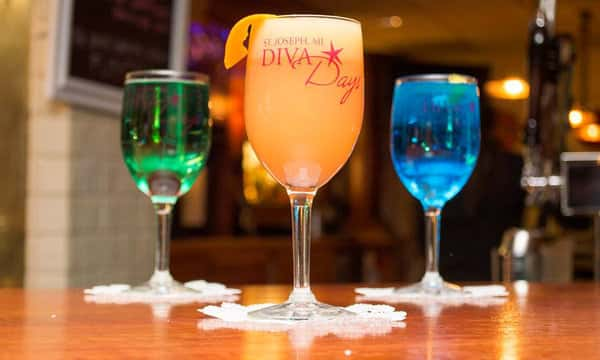 If you count yourself among those who are completely, totally, unequivocally ready to dump the winter season and bring on the spring, it's time to "call your mother, call your sister, call your girlfriends" and get ready to party in St. Joe with St. Joseph Today's Diva Days celebration coming March 11th through the 13th.
Whitney Behnke is Executive Director of St. Joseph Today and she says, "Our downtown is welcoming spring by helping women of all ages embrace their inner Diva!"
Diva Days — A Women's Weekend is a collaborative weekend-long celebration hosted by the community's restaurants, stores and hotels. The weekend gives ladies literally dozens of reasons to come together for pampering, shopping and entertainment.
Behnke says, "While it's fun to plan for a girl's night out, it's really a great excuse for 'the girls' to stay the weekend with each other." She adds that many of the community's lodgings are within walking distance or a short, easy drive of the activities. Reservation information is available at www.StJoeToday.com/Sleep.
Whitney tells us that the first 150 women to purchase their ticket for the Friday night event will earn a dynamite Diva Swag Bag filled with special discounts and offers at participating locations. She says, "This year we have so many great offerings for our divas. We have two main events planned, a fashion show on Friday night and unique entertainment experience on Saturday." She calls it, "A weekend ladies will not want to miss." Ticket prices for the events are $36 for the Spring Fashion Show and Exclusive Shopping and $40 for InnDulgence. Tickets can be purchased online at the link below, and table reservations are also available.
Here's the link for tickets to both the Spring Fashion Show and InnDulgence: http://mwfshopping.com/michigan
Here's what you can expect. On March 11th, the Spring Fashion Show & Exclusive Shopping at The Heritage Museum & Cultural Center at 601 Main Street in St. Joe will begin with doors opening at 6pm and the Fashion Show at 7pm. This premier event showcases the latest spring fashions from downtown stores including DK Boutique, Friends by Design, Grins of St. Joseph, Lana's Boutique, Lazy Daisy, Moxie's Boutique and State Street Stuff. The evening includes a unique window shopping experience, open bar, DJ, swag bag giveaways and exclusive after-hours shopping in participating boutiques.
On March 12th, InnDulgence will be showcased at The Inn at Harbor Shores at 800 Whitwam Drive in St. Joe. The night begins at 7pm and admission includes live entertainment, drink specials, heavy hors d'oeuvres and desserts along with a drag show.
Other weekend activities include tastings of regional wines and beers, special sales, dining discounts, workshops and demonstrations, cooking classes, antique finds and more. For updates and more information, visit www.StJoeToday.com/all-events.