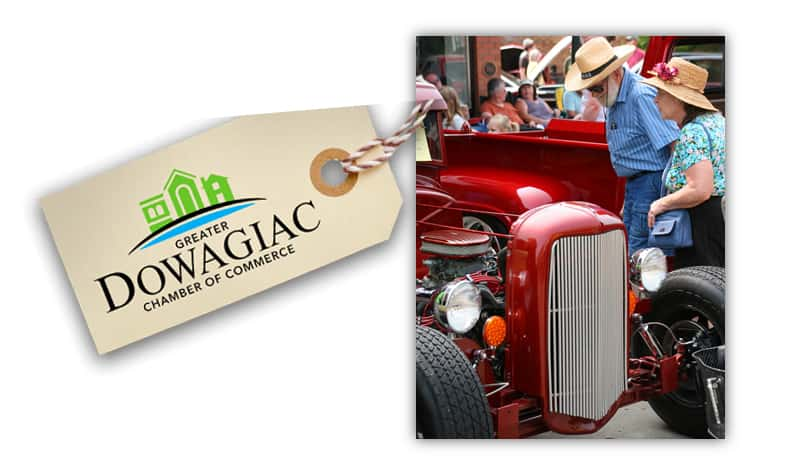 If you've got a classic car you'd like to show off, the Greater Dowagiac Chamber of Commerce would love to hear from you soon. They are currently registering some of the more than 200 vehicles expected to roll into town for the 29th Annual Rod & Roll Classic Auto Show coming on Saturday, August 17th to the Cass County community.
Chamber exec Vickie Phillipson tells us she expects more than 200 classic cars will make the drive in from all over southwestern Michigan and northern Indiana that Saturday,vying for the Best of Show title or a Top 20 finish. You and I, as visitors, can talk shop with car owners, view beautifully-restored vehicles and partake in the French toast breakfast on Front Street, hosted by Jordan Anderson, owner of The Baker's Rhapsody.
Owners of classic vehicles, who would like to register for the show can obtain information from the Greater Dowagiac Chamber of Commerce, which plays host to the event, by calling 269.782.8212.  Registration forms are also available on-line at DowagiacChamber.com and on the organization's Facebook page.
Returning for a second year is the popular Touch a Truck event within Twistees' parking lot, organized by Debenwethek Parent Group of the Pokagon Band of Potawatomi. The Trophy Ride begins at 2 pm. Show gate for cars and registration opens at 7 am.
Kris Soenen, owner of Who Knew? Consignment and treasurer of the Chamber of Commerce, is heading up the event, assisted by Jim Kazlauskas, owner of Jim D's Body Shop; and Schantel Harvey and Mike Joyner of Chemical Bank.
Corporate Trophy sponsors include: Barry's Automotive…Creative Vinyl Signs…Dowagiac Auto Body…Dowsett Chiropractic Health Center…Flint's Auto Repair…John & Curt's Brake & Alignment…Myer's Forklift…Peggy Hamilton…True's Towing…Who Knew Consignment and Wolverine Mutual Insurance.
Corporate sponsors of the event's coffee mugs are: C. Wimberley Automotive Group…Imperial Furniture…Mahar Insurance and True's Towing.
Corporate sponsors of the event's shirts are: Ausra Equipment…Creative Vinyl Signs…Division Tire…1st Choice Automotive…Hale's Hardware…Jim D's Body Shop…Kemner Iott Benz Insurance… Lindy's Restaurant…Mosier Well Drilling…Oil Can Alley…Padnos Sustainable Recycling… Ridge/Napa…Symonds Machine Co….True's Towing and Wings Etc.