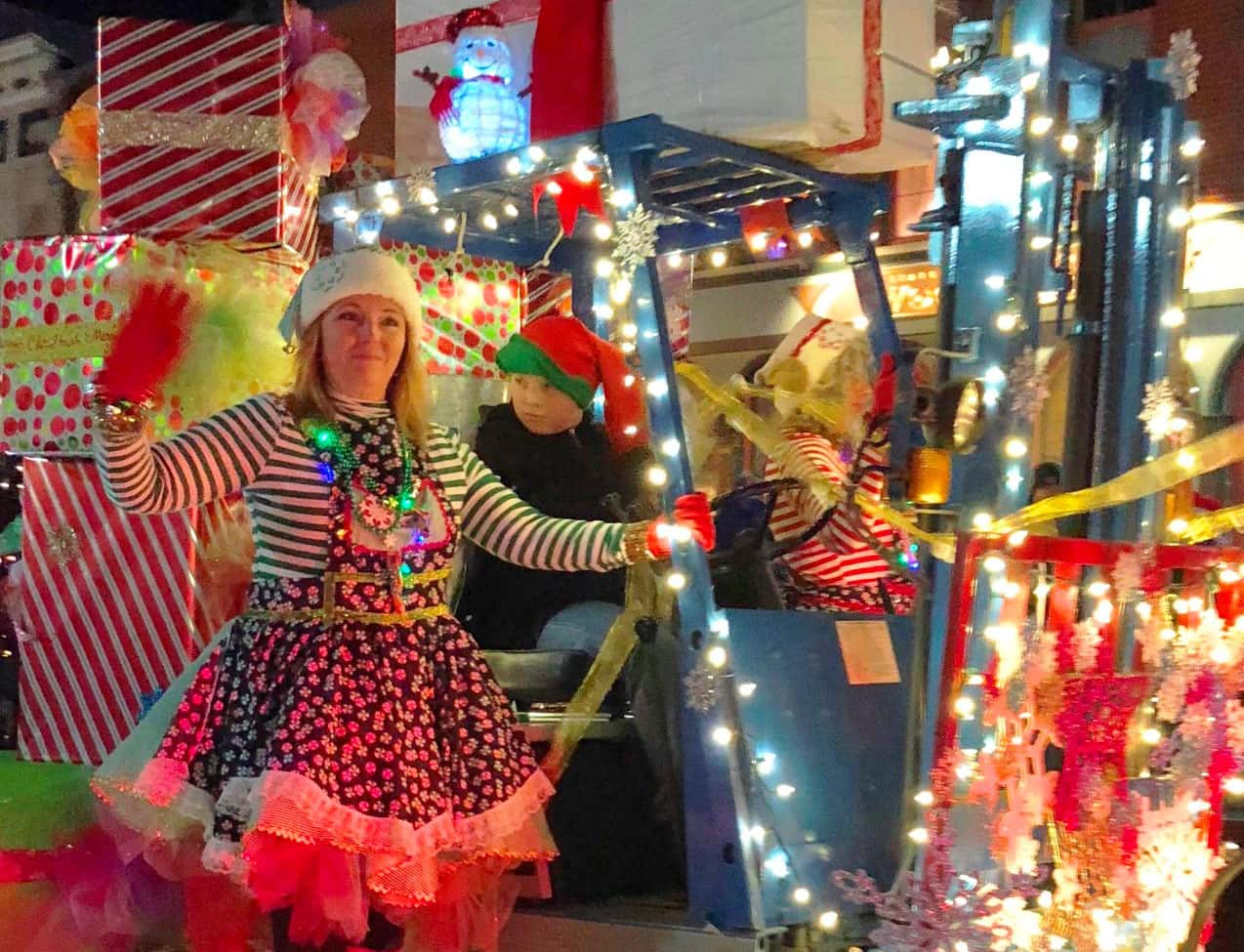 It's one of the region's largest Christmas Parades, and much like the setting of a Dickens' novel, it will transform the community of Dowagiac — with its turn-of-the-century storefronts — into a storybook setting as the 118-unit Dowagiac Candle-Light Christmas Parade steps off next Friday night, December 6th, at 7pm.
The Dowagiac Candle-light Christmas Parade is presented once again by the Greater Dowagiac Chamber of Commerce and Ascension Borgess-Lee Hospital.
Chamber president Kim MacGregor of Edward Jones and Max Sala are heading up the 38th annual event.
Holiday festivities on December 6th begin at an earlier time at 5:30 pm in and around Beckwith Park, where the community tree-lighting ceremony and pre-parade entertainment are presented. Miss Michele & Co. kicks off the evening with its 5:30 performance, followed by Green Dance Academy and Positively Dance at 6.  The Tree lighting and announcement of this year's Grand Marshal will take place at 6:30, with the Lighthouse Choir performing from 6:45 to 7, when the grand procession of the candle lit parade steps off.
New this year, additional measures are being taken to help ensure a safe environment for the public and for parade participants.  Front Street will be closed to through-traffic on parade day beginning at 2 pm. Chamber officials say that will allow adequate room for families to safety watch the event without the fear of motorized units coming too close to the crowd.
Beginning at 7 am, angle parking on the west side of Front Street will be closed. At 2 pm the full street will then close to through-traffic. Any remaining vehicles at 3 pm will be relocated to the former Huntington Bank parking lot. From 10 until 4 pm a volunteer shuttle will transport shoppers to and from city parking lots to their destination.
Sala tells us, "Dowagiac's Candle-light Christmas Parade is one of the largest and finest parades in southwest Michigan, if not the entire state," and adds, "I am truly honored to be a part of it.  Our central business district is beautiful during Christmas time. A big tip of the hat to those involved in showcasing our city during the holiday season."
MacGregor encourages everyone, "Make sure to take time out to come downtown for this special event," noting, "You will be so surprised by all the lights on the floats, trucks and other vehicles. It is truly something to see."
Known as one of southwestern Michigan's largest lighted parades, Dowagiac's holiday procession is part of the community's four-part Christmas Celebration, which also included the November 15th & 16th Open House Weekend, this week's Small Business Saturday and the upcoming Breakfast with Santa on Saturday, December 14th, at the Elks Lodge.
For the third consecutive year, the staff from WGTO Good Time Oldies will join the Master of Ceremonies at the viewing stand to broadcast the event live from the downtown. Families parked in their vehicles along Depot Drive will be able to hear the broadcast, while staying warm within their vehicles.
Along with Ascension Borgess-Lee Hospital, Dowagiac's four-part holiday celebration is underwritten by:
The Business Center of Southwestern Michigan
Clark Chapel of Starks Funeral Homes
Cass County Council on Aging
Deck the Halls
Dowagiac Area Federal Credit Union
Dowagiac Area History Museum
Edward Jones office of Kim MacGregor
Imperial Furniture
John A. Vylonis Custom Building
Mahar Insurance
The Timbers of Cass County
Vincent J. Jewelers
A private donor