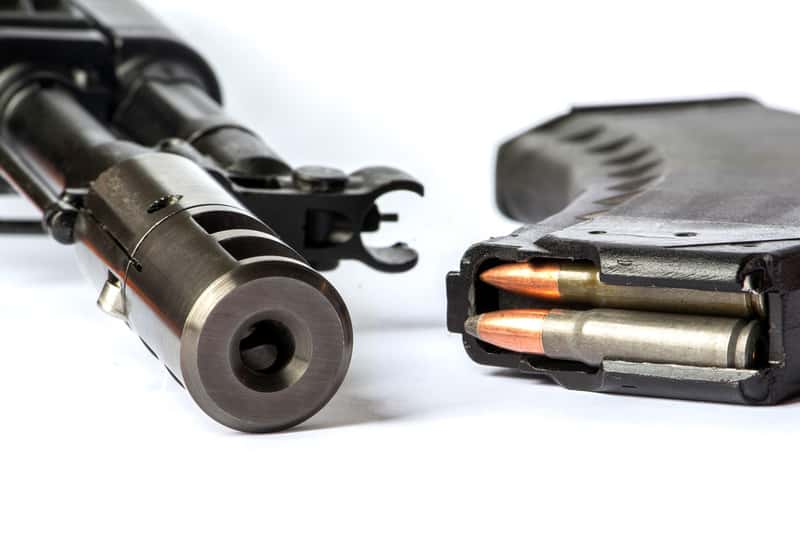 The man who rained chaos outside of the Beeson Street Bar in Dowagiac last summer will spend at least the next 43 years behind bars following a guilty plea today in the Cass County Court system.
Cass County Prosecutor Victor Fitz tells us that 25-year old Rolandis Russel entered his guilty plea this morning at 11am, to a charge of second degree murder with a binding minimum sentence of 43 years in prison.
At his plea, Russell admitted leaving the Beeson Street Bar in Dowagiac in the early morning hours of July 29th, 2018, walking to his SUV and taking out a loaded AK-47 rifle. He also acknowledged shooting 13 times at an individual he had been verbally sparring with, and inadvertently hitting and killing a bystander, Fabian Wesaw. He also acknowledged that Wesaw died from the gunshot injuries he had inflicted upon him.
Russell's plea included the dismissal of the original first-degree murder count as well as charges of assault with intent to murder, carrying a weapon with unlawful intent, possession of a loaded firearm in a motor vehicle, and four felony firearm counts.
Under Michigan's Truth in Sentencing Law, Rolandis Russell will not be eligible for parole consideration until he has actually served 43 years in prison.
Prosecutor Fitz says, "This plea insures that the defendant pays an extremely serious penalty for the taking of a human life," and adds, "The Wesaw family is comforted that justice is being done."
Sentencing has been scheduled for October 25th, 2019 at 8:30 am in front of Cass County Circuit Judge Mark Herman.
Things turned ugly at the Beeson Street Bar in Dowagiac early that morning last summer, spilling into the streets and resulting in one man dead in the mayhem.
Dowagiac Police say they were dispatched to the Beeson Street Bar for a large fight in progress at approximately 2:29 am that day. While enroute officers heard several gunshots coming from the area around Beeson Street. It was at that time that officers were told that one man had been shot.
Upon arrival on the scene authorities encountered a large crowd of people and what they characterized as a chaotic scene. Officers found Wesaw dead from a gunshot wound.
Police were told that the man responsible for the shooting had taken off running northbound from the parking lot behind the Beeson Street Bar, which is where they began their search and where they eventually located Russell on West Telegraph Street. After a short foot chase he was was taken into custody without incident.
Police say that the entire event stemmed from an altercation inside of the bar that spilled out into the parking lot behind the bar. Russell had gone to his vehicle and retrieved an AK-47 style rifle and attempted to load it. He was being followed by several others that he had the original confrontation with and ran northbound through the parking lot.
According to witnesses, Russell was successful in getting the weapon loaded and then ran back toward the others who were following him and opened fire. He reportedly fired several shots, but missed his intended target. Instead, he struck Wesaw, who was with the group following him and Wesaw died instantly in the incident. Officers located the weapon and several pieces of evidence from the scene.
Dowagiac Police were assisted by the Cass County Sheriff's Office, Pokagon Tribal Police Department, Niles Police Department, Dowagiac Fire Department and Pride Care EMS.