With a creative name like Chili Chili Bang Bang, they may have had a solid head start in last Friday's 11th Annual Lake Michigan College Chili Cook-Off, but whatever else may have come into play, they emerged victorious with the First Place Gold Medals from among a total of 52 students from four area high schools engaged in the competition at the Mendel Center in Benton Harbor.
The participating teams representing St. Joseph, Benton Harbor, Dowagiac, and River Valley high schools prepared a chili recipe on-site for a panel of judges with awards for both the chili itself and the presentation or tablescape.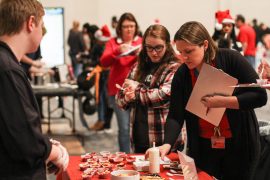 Chris Woodruff, the inimitable Chair of the Hospitality Management Program at Lake Michigan College, says, "This is a great event where our local high school students can showcase their talents," adding, "The students practice time management, organization, and overcoming obstacles, all talents that are needed today. We have many stars who, in a short time, will be leaders in Southwest Michigan's ever-growing hospitality industry."
The Dowagiac High School team Chili Chili Bang Bang took first for chili and placed third for their tablescape, while Dowagiac's Chili Dawgs took first for their tablescape and fourth in the chili category.
River Valley's Mustang White Chili was second, St. Joseph's The Pumpkin Spice Girls was third, and Benton Harbor's Holiday Chili Stars were fifth in the chili category. In the tablescape category, it was The Pumpkin Spice Girls taking second with the Holiday Chili Stars fourth and Dowagiac's Chil-Chil team placing fifth.
Teams were coached by teachers Lauri Berry  at St. Joseph, Julie Crimmins at River Valley, Gennifer Gunter at Benton Harbor, and Andy Kruger at Dowagiac.
Woodruff says, "The teachers are so great, and we are lucky to have them in Southwest Michigan." He notes, "The time and leadership they provide for these young people will make a lasting impact on all their lives."
At the event, Director of ProStart, Jake Osburn, and COO of the Michigan Restaurant & Lodging Association, Amanda Smith, also shared information about their organizations, both of which helps high school students prepare for culinary and hospitality careers.
LMC's Kari Cheevers, and Rita Whise, meanwhile, presented information about LMC admissions and the Early/Middle College program.
The photo of Dowagiac's Chili Chili Bang Bang Team is courtesy of Lake Michigan College.