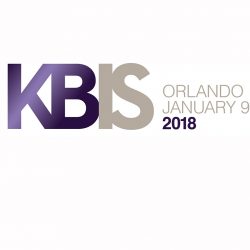 Whirlpool's award-winning design engineers are eagerly awaiting responses on multiple fronts this week as the appliance giant has dispatched employees to several major trade shows to showcase dozens of new products from one end of the country to the other. Yesterday, it was compatibility with the Apple Watch drawing huge reactions at the massive CES show in Las Vegas, and today design teams from the Benton Harbor manufacturer are delivering to the opening of Design & Construction Week in Orlando, Florida for a combined industry trade show there.
As the world's leading manufacturer of major home appliances, Whirlpool is spotlighting dozens of its newest products during Design & Construction Week (DCW), featuring consumer-focused breakthroughs in technology, design and sustainability.
DCW, which runs from today through January 11th at the Orange County Convention Center, is the co-location of the National Association for Home Builders' International Builders Show (IBS) and the Kitchen & Bath Industry Show (KBIS). The event attracts more than 80,000 professionals for the largest annual gathering of the residential design and construction industry anywhere in the nation.
Attendees can find Whirlpool Corporation products in several locations around the show, and visit the company's booth (P18) in the Outdoor Exhibits area, outside behind the West Building of the Orange County Convention Center.
New Whirlpool Corporation products include a WiFi-enabled refrigerator with a pantry-inspired layout, a groundbreaking food recycler, an induction wok and an all-in-one washer-dryer combination.
Bob Bergeth, General Manager of Contract Builder Sales at Whirlpool says, "Consumers are paying more attention to home design than ever before, and we're proud to craft our appliances with their preferences in mind." He notes, "Our builder partners can be confident that working with Whirlpool Corporation means you get appliances that anticipate consumers' changing needs. From fingerprint-resistant stainless steel and Sunset Bronze finishes to connected features that make families' lives easier, we're pleased to bring products that reflect these consumer preferences at the show."
In addition to featuring Whirlpool brand products in four homes in the Show Village neighborhood, Whirlpool Corporation is also showcasing Jenn-Air brand products in Miralis (KBIS booth S5031D), KitchenAid brand products in Parkview Cabinets (KBIS booth W101), and Whirlpool and KitchenAid brand products in the Meritage reNEWable Living concept home.
Featured products include:
Whirlpool Smart Counter Depth French Door-within-Door Refrigerator: The industry-exclusive proximity lighting provides visibility and easy access to frequently used ingredients without opening the main refrigerator, saving time when looking for a snack or the right ingredient.With the industry's first door-within-door active cooling system, this groundbreaking refrigerator shelving system also stores 30-percent more in its class with a pantry-inspired layout. This WiFi-enabled model with smart features and mobile app lets families care smarter with control from anywhere.
Zera Food Recycler: This one-of-a-kind food recycler can break down a week's worth of the average family's food waste within 24 hours and 95-percent of a typical family's food waste overall. The Zera  system utilizes oxygen, moisture, heat, a plant-based additive, and an agitator to expedite decomposition of food scraps, reducing its volume by two-thirds within 24 hours.
Jenn-Air 15'' Induction Wok: This modular induction wok gives one the ability to benefit from the speed and power of induction cooking with a design that supports a round bottom wok. The 15-inch module also features glass-touch electronic controls to complement a low-profile design that provides a minimal look or near-flush installation with the countertop.
Whirlpool Smart All-in-One Care Washer and Dryer Combo: With features such as Transfer-Free and Compact Washing and Drying and Load & Go Bulk Dispensing, each feature of the washer and dryer combo is designed to save time, remove guesswork and help families get the job done.
KitchenAid 36'' 4 Burner with Griddle, Gas Rangetop, Commercial-Style: This 36-inch rangetop has commercial styling and four burners including two 20K Ultra Power Dual-Flame Burners and a simmer/melt burner that is an ideal choice for keeping sauces warm.
Christopher Gregory, a senior industrial designer in the Whirlpool Corporation Global Brand Studio, will also be at the show discussing the future of home design and how Whirlpool Corporation innovations fit into that vision. For more information on all Whirlpool Corporation products and additional resources for building professionals, you can visit WhirlpoolPro.com.