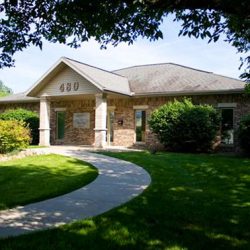 A globe trotting Dentist is settling in to his new position in Michigan's Great Southwest as a new associate in the dental practice of Dr. David Ronto DDS.
After many applicants and years of interviews Dr. Ronto has hired Dr. David Haddad as a new associate to join his practice. Recognizing that Dr. Haddad brings the best combination for the team, he has welcomed the good Doctor who is now, himself, welcoming new patients at their office on Ansley Drive in St. Joseph.
Dr. Haddad is very familiar with the extremely high tech dentistry that the office provides, having graduated from the Loma Linda University School of Dentistry and had the privilege of obtaining implant training and certification through the American Academy of Implant Dentistry, along with hundreds of hours of continuing education in esthetic dentistry.
Dr. Haddad brings a global experience to the local practice, having served communities around the world in missionary fields from Fiji to Nicaragua as well as in Mexico and many other regions of the world on a monthly basis while in school.
Dr. Haddad says he is "enthused to be a part of service to the community." His philosophy is very much in alignment with Dr. Ronto's conservative and compassionate approach, addressing dental needs for each individual thoroughly with recommended procedures.
The dental office of Doctors David Ronto and David Haddad is located at 480 Ansley Drive in St. Joseph, just off of Niles Road near I-94. The office is open every Monday through Thursday from 8am to 5pm and on Fridays from 9am to 3pm with expanded hours coming soon.
You can reach the office by phone to schedule appointments or consultations at 269-428-4700, and you can find the practice online at the link below.
The photo accompanying this story on Moody on the Market.com is courtesy of Dr. Ronto's office in St. Joe.