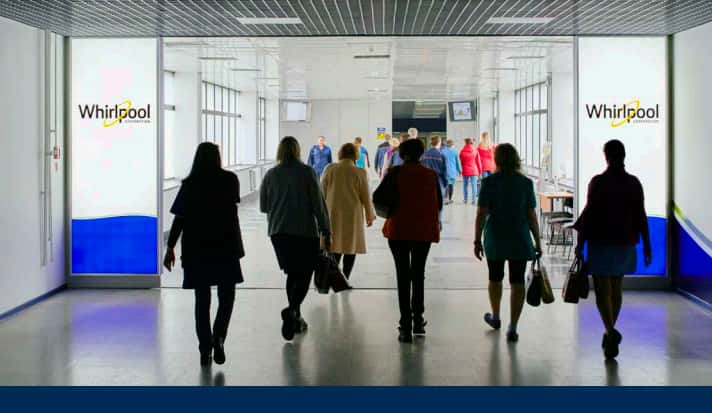 The engineers and innovators working the halls, offices and labs of Whirlpool properties all across Michigan's Great Southwest continue to log great progress on the sustainability front, particularly when it comes to reducing the amount of natural resources required to manufacture their award-winning global suite of major appliances.
The Benton Harbor-based appliance giant has released their 2018 Corporate Sustainability Report, highlighting the company's progress and accomplishments across the 2018 operational year, with particularly strong results in those efforts to reduce the natural resources required in the manufacturing process. Whirlpool's sustainability agenda encompasses stakeholder engagement, executive accountability and science-based methodology to focus on actions that drive absolute and positive environmental and social impact.
Chairman of the Board & CEO Marc Bitzer says, "In 2018, we continued to reduce the amount of water and energy used by our products, accelerated our progress toward the goal of zero waste to landfill across the enterprise, and maintained strong connections in our communities through social responsibility and volunteerism." He adds, "2019 marks nearly 50 years of Whirlpool Corporation's commitment to sustainability, and we're proud that our experience and results prove that sound corporate citizenship and environmental performance are good business."
Milestones and progress outlined in the 2018 Corporate Sustainability Report Summary include:
Sustainable Plants
World Class Manufacturing: This program brings a strong focus to the environmental and energy usage in Whirlpool Corporation's manufacturing facilities. Through the program, the company addresses, prioritizes and tracks efficiency improvements, helping contribute to a greenhouse gas emissions reduction of seven percent from 2017 to 2018 in Whirlpool plants. That seven percent is the equivalent of emissions from nearly 10,000 homes' electricity use for one year.
Zero Waste to Landfill: Throughout Whirlpool's operations, progress has accelerated toward the goal of zero waste to landfill across the enterprise, with eight manufacturing facilities in multiple regions already achieving zero-waste status. As a result, some 2,128 tons of waste were diverted from landfills in 2018 alone.
Sustainable Products 
Global Emissions Management System: To improve transparency about product emissions, Whirlpool has developed a new global emissions management system. The system determines a global footprint for the company's products, unifying over 12 unique systems into one global reporting capability. This system will track data from a baseline year of 2016, greatly improving the ability to act strategically to lower the footprint of the company's product portfolio. The significantly improved system will lead to the potential for improved science-based goal setting in 2019.
Resource Efficiency: Whirlpool's emphasis on resource efficiency has led the company to develop design-for-environment tools to deliver more sustainable products that use more recycled content. These capabilities will help fulfill the commitment to use 100 percent recycled content on major plastic components in Whirlpool-made European products by 2025, as well as to use a majority of recycled-content steel.
Sustainable Practices 
Water Reduction: Whirlpool's collective work, improved processes, and technology have resulted in a reduction in water consumption of nearly 10-percent from 2017 to 2018 in the company's manufacturing facilities. That's enough to run 56 million dishwasher loads, 14 million loads of laundry, or fill 240 Olympic swimming pools.
Investing in Communities: For two decades, Whirlpool has partnered with Habitat for Humanity, with total cash and in-kind donations totaling more than $107-million and over 197,300 ranges and refrigerators to new Habitat homes in the U.S. and Canada.
Volunteerism: In 2018, Whirlpool employees contributed 268,000 volunteer hours.
Ron Voglewede is Whirlpool's Director of Global Sustainability. He says, "At Whirlpool Corporation, we think of sustainability as an investment and responsibility to all our stakeholders, from consumers, to employees, to the planet," and notes, "Our employees take that responsibility seriously and played an enormous role in creating more sustainable products and facilities in 2018."
For more information on Whirlpool Corporation's public sustainability commitments, priorities and progress, you can visit the full 78-page report online by clicking the link below:
Whirlpool-Corporation-2018-Sustainability-Report
The photo accompanying this story on Moody on the Market is courtesy of Whirlpool Corporation's 2018 Sustainability Report.