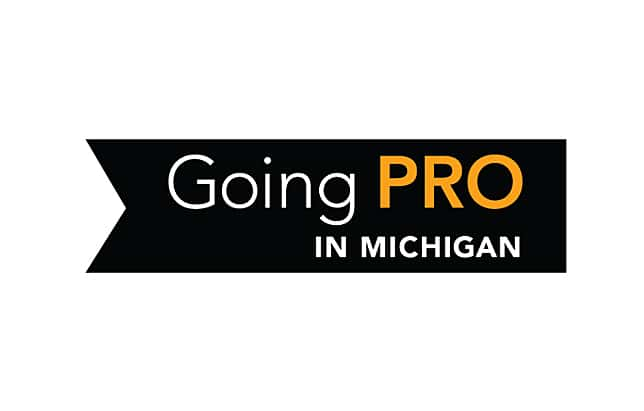 The business community in Michigan's Great Southwest is rapidly learning that the world of work is evolving. It changes seemingly every day. New processes, faster technology, the need to learn new equipment and machinery. It can all be daunting, but the team at Michigan Works! for Berrien, Cass & Van Buren Counties wants those same companies to know they have an immediate and highly effective ally in the team from the Kinexus Group. Especially now that Going Pro Season is in full-tilt action mode.
Michigan Works! reminds employers all across the reagion that it's Going Pro Season in Southwest Michigan. Employers will once again be eligible for the popular Going Pro program, a competitive grant that provides funds to local companies for training, developing, and in some cases retaining employees.
As the world of work continues to make sweeping changes,  Southwest Michigan businesses need to invest in their teams.  Going Pro Season is an excellent opportunity to access grant funding to help make sure your team comes out on top. Whether it's building the skills of your existing workforce, improving your company's culture, or retaining the people you already have, Michigan Works! stands ready to help your team win.
Going Pro allows employers to apply for funds to train new and existing employees. The types of training programs eligible for funding include classroom training, which prepares individuals with the skill set required to meet the employer's needs and diversify the skill sets of current employees.  Employers can also receive onsite job training reimbursement for wages paid while training a new or existing employee on a new process. Apprenticeships are also supported through Going Pro funds.
Raghu Murthy is Director of Compliance at LECO in St. Joseph. Murthy says, "When we heard about Going Pro in 2018, we were interested but we really had no idea how much it would impact us until we received the training," adding, "We offered CAD software training to all of our Mechanical Engineers and Mechanical Detailers.  In addition to serving as a refresher training, it also exposed many employees to additional modules and features of the software. Our engineers and detailers are now able to design and generate more robust and detailed CAD models thanks to Going Pro funding. We have seen an increase in efficiency as well as a more consistent approach to modeling due to the training session."
Last year, 45 companies in Berrien, Cass, and Van Buren Counties were awarded funds to hire and train 1,907 employees. There were 90 different training providers conducting 392 trainings with that critical funding. Michigan Works! Berrien, Cass, Van Buren was the third highest awarded region in the state, with $2.1 million funds. The average amount of money awarded to regional employers was $46,800.
Jeff Hannan is Director of Business Solutions for the Kinexus Group. He says, "If you're an employer who's on the fence about applying for Going Pro funds come talk to us," noting, "It's not something you'll be doing alone. If you're eligible, our team will work closely with you to complete your application and determine trainings that would fit your needs. This funding has helped manufacturers, wineries, healthcare providers, breweries, gyms, coffee shops, and many other industries in southwest Michigan."
If you want to submit an application for Going Pro funds, contact Director of Business Solutions, Jeff Hannan at (800) 285-WORKS, x1171 or stop into the Benton Harbor Michigan Works! Service Center located at 499 West Main Street. The deadline to submit an application is October 2nd. For more information about Going Pro or for a full list of 2019 awardees , click the link below:
http://www.miworks.org/training-funds
Michigan Works! of Berrien, Cass, Van Buren is part of a statewide network of workforce development boards. They specialize in educating, training, and employing individuals of all ages. They work every day with local businesses to find out what keeps them up at night and help them tackle the most pressing challenges they may face, including attracting and retaining talent. For more information, visit www.miworks.org.