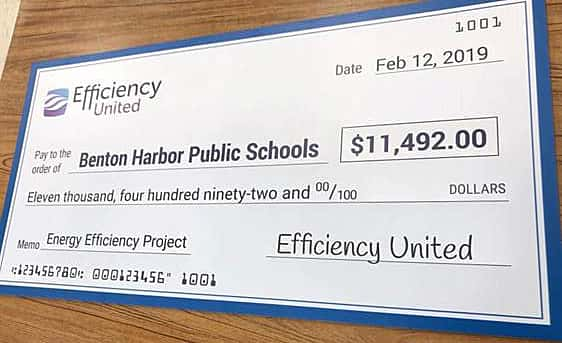 Lot's of people hear only the tough news out of the Benton Harbor Area Schools, but today, we share some great news about how decisions to be increasingly energy efficient are paying a nice dividend to the public school system.
Efficiency United and Michigan Gas Utilities recently recognized Benton Harbor Public Schools for implementing energy efficiency upgrades. Upgrades completed at Benton Harbor Public Schools' facilities have already resulted in a total rebate of $11,492 from the Efficiency United and Michigan Gas Utilities' rebate program that helps businesses reduce their energy use and costs. Such upgrades not only make the schools more environmentally friendly; they free up additional funds for classroom investment.
Paul Brown is Senior Program Manager with Efficiency United. He says, "Helping businesses save energy and reduce their energy expenses allows us to help the entire community," and adds, "Projects like Benton Harbor School's combine the power of new technologies with existing equipment. Retrofitting equipment is only one way to take advantage of our rebate programs."
Benton Harbor Public Schools completed energy efficiency upgrades that included a boiler replacement, boiler tune-ups and steam trap assessment and repair. Efficiency United energy engineers determined the project will lower usage by more than 39,000 therms annually, reducing carbon dioxide emissions equivalent to 25 homes' electricity use for one year according to the Environmental Protection Agency.
For more information on Efficiency United and Michigan Gas Utilities' energy efficiency programs, you can visit online at efficiencyunited.com.
Efficiency UNITED consists of sixteen Michigan energy providers, working in offering energy conservation, efficiency, and optimization services, in accordance with Michigan Public Act 295, to help residential, commercial and industrial customers reduce their natural gas and electric usage and save money on their utility bills. In addition, SEMCO Energy Gas Company works in collaboration with Efficiency United for the implementation of their respective energy optimization programs.
Efficiency United and Michigan Gas Utilities presented Benton Harbor Public Schools with a $11,492 rebate for energy efficiency improvements in their facilities. The check was delivered to Chief Operating Officer Troy Boone, CEO & Superintendent Dr. Robert Herrera and Patricia Robinson, who serves as Assistant Superintendent for the Benton Harbor Area Schools.