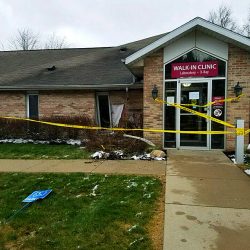 An errant driver nearly turned a Stevensville walk-in clinic into a drive-thru late this afternoon. After careening through a handicapped parking designation sign, over a stretch of lawn, past the front sidewalk, and through the foundation plantings, the driver plowed through a brick wall and slammed into a waiting room inside the Southwestern Medical Clinic's Walk-In section along Cleveland Avenue before finally coming to a halt.
Lincoln Charter Township Firefighters responded to the scene of the incident logged at 4:45pm, but report there were no major injuries sustained in the collision which involved a single car according to their Facebook posting this evening.
The Clinic at 5515 Cleveland Avenue is typically a busy place, but fortunately the misfortune avoided much other than a substantial amount of damage to the front of the building. The exterior doesn't show nearly the impact that the interior shots show as indicated below.
The fire team was not available this evening for comment beyond what they had shared on their Facebook page, and the name, age, and condition of the driver who caused the damage remains unknown as well as why the vehicle careened out of control.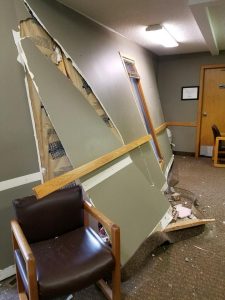 Photos courtesy of Lincoln Charter Township Fire Department.