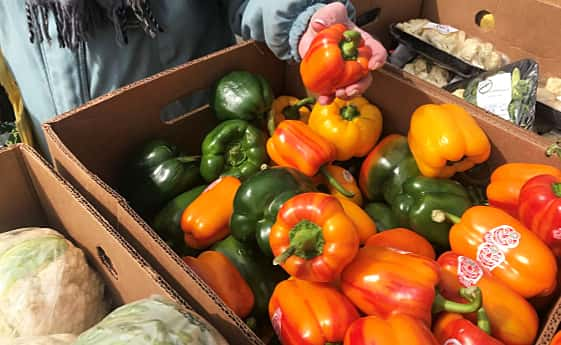 Often referred to as "food deserts," because there is so little access to healthy, nutritious, farm-fresh foods for miles around, Benton Harbor and other communities like it end up relying on the resources of teams like that of Feeding America West Michigan for access to fresh crops and healthy alternatives to junk food, fast food, and less nutritious options. Now, Feeding America wants to find resolution of that locally through the potential creation of a local food center called Plate Place.
This month, the crew at Feeding America West Michigan, in partnership with Public Policy Associates, will host two town hall meetings in Benton Harbor to explore the possibility of launching such a community food center in the city. Residents are encouraged to attend one of the meetings to learn more about the community food center, voice their opinions, and ask questions. The Michigan Health Endowment Fund provided a grant to Feeding America West Michigan in order to research the viability of the initiative.
In partnership with Public Policy Associates, the two open forums will be used to assess public interest in the food center, to be called Plate Place through town hall meetings. Town halls will be held October 18th from 5:30pm – 7:00pm at the Benton Harbor Public Library located at 213 E. Wall Street and again on October 30th from 5:30pm – 7:00pm at Kinexus – Michigan Works! which is located at 499 W. Main Street.
Benton Harbor and the surrounding areas are characterized by high rates of food insecurity, low household income, high numbers of households receiving SNAP benefits, and high rates of obesity and diabetes.
To address the high need in Benton Harbor, Feeding America West Michigan, Be Healthy Berrien, and numerous other organizations will collaborate in the creation of Plate Place. This partnership is based around five pillars:
Shared community vision
Evidence-based decision-making
Community engagement
Collaborative action
Investment & sustainability
At its core, Plate Place will be a food club with wrap-around services for residents of Benton Harbor. Residents will pass through a referral system or pass a food insecurity evaluation to use the food club and services. Qualifying residents will pay a small membership fee to support facility operations. Members then shop in a 'grocery store' setting, where items are priced on a point system that incentivizes healthy options. The food center's emphasis will be increased access to fruits, vegetables, and whole grains.
Plate Place will also offer wrap-around services, which could include cooking classes, health screenings, and other classes teaching health-related topics. While the classes and grocery shopping will act as the framework of the food center, the space is ultimately a space for community building, empowerment, and involvement. The community's voice will be crucial in deciding what classes to host, types of food to be stocked, and how the Plate Place can serve Benton Harbor residents best.
Services at Plate Place will increase residents' knowledge of personal health and lifestyle choices that improve health, as well as improve their understanding of the value of whole foods and a healthy diet. Plate Place will increase access to affordable fresh fruits, veggies and whole grains, as well as provide resources for improving mental and physical health.
Feeding America West Michigan and its partners are committed to understanding the community's needs related to health, and to providing the necessary services to meet those needs while fostering community ownership and sustainable development.
To learn more about the Community Food Center and to share your thoughts and ideas you can visit online at www.facebook.com/BentonHarborCommunityFoodCenter and join the upcoming town-hall meetings.
Serving local families in need since 1981, Feeding America West Michigan reclaims safe surplus food from farmers, manufacturers, distributors and retailers. They then distribute that food through a network of approximately 900 food pantries, youth programs, and other hunger-relief agencies in 40 counties from the Indiana border through the Upper Peninsula. Each year, neighbors included in the nearly half million residents in the service area receive food from Feeding America West Michigan. For more information, visit feedwm.org.