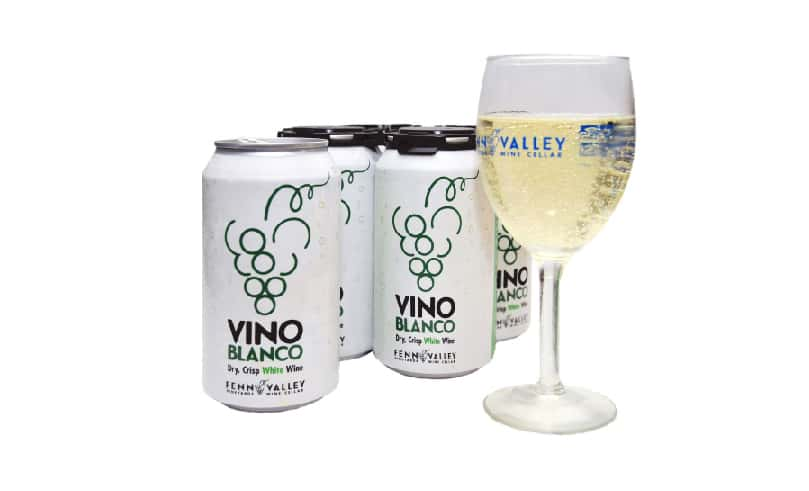 They've been producing world-class wines from grapes grown along the Lake Michigan shoreline for nearly 50 years, and operate a 3rd generation winery in Michigan's Great Southwest. Now, the crew at Fenn Valley Vineyards of Fennville is the first in Michigan to produce canned wines on the Lake Michigan Shore Wine Trail, for people on the move.
Founded by the Welsch family in 1973, Fenn Valley Vineyards has added state-of-the-art canning equipment to support production of canned wine as they launch their first ever canned wine product – "Vino Blanco."
The Fenn Valley estate is a 240 acre farm located five miles from Lake Michigan just south of Holland. The site was chosen after reviewing weather, climate, and soil survey maps. Unlike farmers who already own farm land and then begin to grow grapes, the Welsch family migrated from the Chicago area and were therefore free to select the most desirable site for viticulture based on the available data. By hand selecting their site, they've long held the goal to produce world-class wines.
Beyond bottling and canning their own wines and ciders, Fenn Valley provides production services to clients across the Midwest. The winery offers everything from custom crush operations to co-packaging tailored to the specific needs of each client.
Today, canned wine is a $28 million industry reported by Market Watch.
Brian Lesperance is Vice President at Fenn Valley. He says, "Within the last year, we have noticed a tremendous increase in canned wine, both in terms of production and customer requests." He adds, "As a progressive estate winery, we knew we needed to jump on this trend, and are now the first winery in Michigan to offer equipment to support the production of canned wine."
"Vino Blanco" was inspired by the famous Portuguese "Vinho Verde," as a result of the Welsch family's love of the rich history and intrigue of Portuguese wine culture. Vino Blanco is a dry white wine that boasts a crisp and refreshing taste. The new 375ml can equates to about two and a half glasses of wine. Vino Blanco will initially be distributed in Michigan and Illinois at select retailers for $14.99 for a four-pack and $3.99 by individual sale.
In making the announcement of the new canning operations, Lesperance says, "We're thrilled that this investment will open the door for wider distribution of Vino Blanco that we have been bottling for several years but are now able to offer in convenient and portable packaging." He notes, "It's an exciting time for us to be able to support other wine labels in the 375ml can format as well."
Today, Fenn Valley continues to be a leader in the industry, constantly in search of better ways to produce quality wines. They were the first in Michigan to utilize sterile bottling to avoid the use of pasteurization or preservatives, and the first to make German style wines by stopping the fermentation rather than adding sugar. The winery will also soon add the capability to support canning still wines, in addition to sparkling wine and cider, at their Fennville facility.
Fenn Valley Vineyards is a family owned business which has won hundreds of awards since production started in 1973. Fenn Valley's full-service packaging capabilities include bottling custom wine, canning wine (375ml) and canning hard cider (12 oz. and 16 oz.) To learn more, you can click the link below:
Photo courtesy of Fenn Valley Vineyards