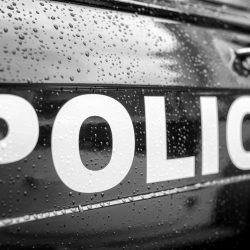 The decision to run over a fleeing man in a commercial business driveway with his squad car has resulted in felony charges and termination for a Patrol Officer with the Benton Harbor Department of Public Safety. Berrien County Prosecutor Michael Sepic reports this morning that 51-year old Officer Steven Johnson, originally from Sturgis, has been arraigned on charges of assault with a dangerous weapon following an incident in Benton Harbor back on May 10th.
Sepic says that on that early May morning, officers from the Benton Harbor Department of Public Safety responded to a dispatch call at 1:45 am of a man with a lawn mower. Wanting to investigate the possibility of a stolen lawn mower, officers came upon a man on a bike without a head light, a state law and city ordinance violation. The man refused to speak to officers and rode away. Officers attempted to stop the man on the bike with their vehicles by cordoning off an escape path when the man dropped the bike and began running. At that time, patrol officer Steven Johnson, driving a Department of Public Safety squad car, turned into a business driveway/alley in the 100 block of North Fair Avenue after the man ran in that direction. The squad car video reveals that after the man was in the squad car camera view for several seconds, Johnson ran over the man with his vehicle. Despite being struck, the man, Ronald Glover, Jr., continued to run and was subdued by other officers several feet away.
After the incident was brought to the attention of Public Safety Director Dan McGinnis, he requested an independent investigation by the Michigan State Police. Troopers from the 5th District Headquarters in Paw Paw then conducted the investigation and submitted the reports, squad car video and body-worn camera video to the prosecutor's office.
Because it is alleged Johnson ran the man over purposefully, he is charged with assault with a dangerous weapon, a four year felony. The 25 year old Glover, from Benton Harbor, was transported to Lakeland, treated and released. He had been on parole at the time and later entered a guilty plea to resisting and obstructing a police officer and possession of marijuana with intent to deliver stemming from that incident.  He was sentenced on June 25th to 1 year in the Berrien County Jail.
Officer Johnson has since been terminated by the Benton Harbor Department of Public Safety, and was arraigned yesterday. A personal recognizance bond of $1,500.00 was set. A pre-exam conference has been scheduled for July 20th with a preliminary exam hearing set for July 26th, both at 8:30 am in St. Joseph.
Sepic reminds that the charges are merely accusations and the defendant is presumed innocent until and unless proven guilty.