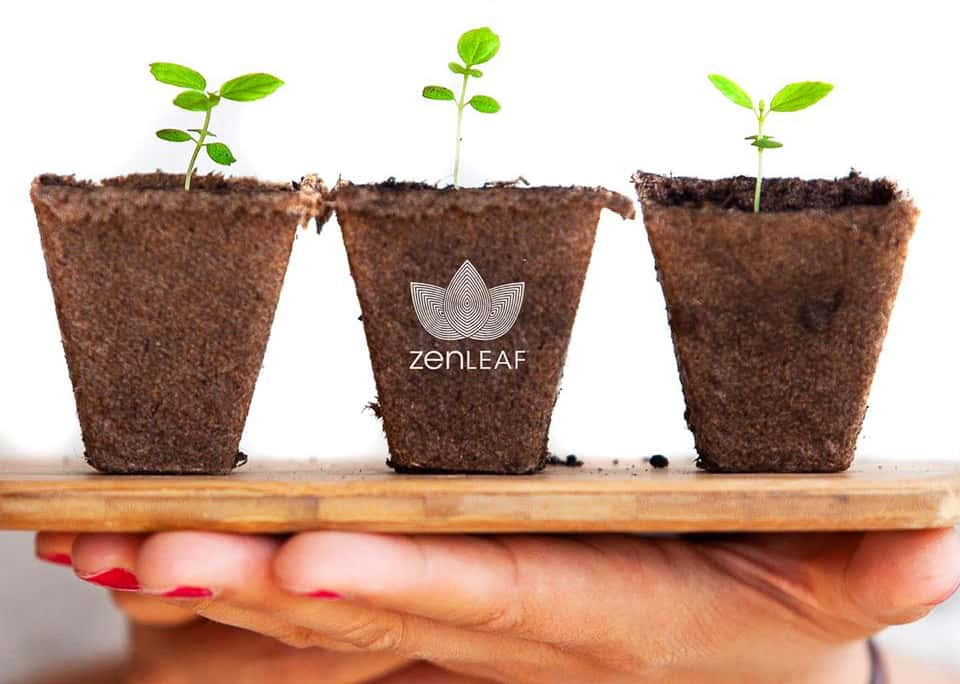 The first ever licensed medical cannabis provisioning center in the region…and the only one within a 65-mile radius…will open its doors this weekend with an Open House, which for the curious among us will be the only opportunity to go see the facility before the actual cannabis arrives on site. Once that happens, only those with registered access will even be able to enter the facility. It's the new Zen Leaf Provisioning Center, and it's in the central business district of downtown Buchanan.
Company operators and municipal dignitaries will be on hand for the Open House and formal Ribbon Cutting ceremonies this weekend on Saturday, May 18th from 11am until 4pm at 259 E. Front Street in downtown Buchanan, with the actual ribbon cutting slated for 11:30am.
Zen Leaf Provisioning Center Facility Manager William Breen will be joined by Buchanan Mayor Patricia Moore and Zoning Manager Debra Patzer, while Chamber of Commerce Executive Director Carol Carroll and President Jerry Flenar will assist with the ribbon cutting.
Adding to the festivities, radio station LIVE 99.9 will broadcast live from Zen Leaf from noon until 2 pm featuring interviews with Zen Leaf management and guests attending the Open House.
Breen says, "We invite everyone to attend our Zen Leaf Open House Saturday May 18th for the exclusive opportunity to tour our facility and meet our team. Once cannabis is on site, access will be limited solely to medical cannabis registered card holders." He notes, "This is a great opportunity for those who are curious about medical cannabis and haven't been inside a cannabis provisioning center to learn all about it."
To ensure smooth operations and the best facility possible for Buchanan, new employees have been working closely with a team of seasoned medical cannabis professionals, who have extensive expertise in creating medical cannabis centers that have won the respect of medical professionals, cannabis patients, employees and the communities in which they do business.  Originally named Treehouse Compassion Center, it will operate under the Zen Leaf national brand.
The new center is creating some 10 to 12 jobs for local residents of the Buchanan region, and Breen says, "We look forward to answering everyone's questions as part of our ongoing efforts to educate people about medical cannabis and share cannabis' ability to positively impact health and wellness." He adds, "We are proud to show our beautifully renovated facility themed after a vintage apothecary that blends perfectly with our historic downtown, but don't let the vintage look fool you – this facility has state of the art technology and security systems to streamline patient records and transactions and ensure safety and security for our customers, employees and products."
During the Open House you will have your only chance to see inside without being a registered patient, enjoy refreshments including free pulled pork sliders, baked goods and beverages, as well as giveaways for all how attend and a photo backdrop for selfie-takers.
A week later, Zen Leaf will host its Grand Opening, on Friday, May 24th at 12:30 pm, when they officially open for business, and when the sales area admission is reserved exclusively for registered patients only.
Breen is highly appreciative of the assistance provided by the community, saying, "Throughout the process of developing the facility, we've worked closely with City Manager Bill Marx, Zoning Manager Debra Patzer,  and state, county and local regulators to ensure that we are addressing all the concerns that have been brought to them by area residents and will be an asset to Buchanan."
Breen also issued a message of thanks for the tremendous support from elected  and local officials, the Chamber of Commerce, residents and investors, patients suffering from chronic pain, epilepsy, cancer and other conditions "Who no longer have to turn to dangerous and addictive opioids or the black market because Zen Leaf will provide a brighter way for patients and their caregivers to access the highest quality, pure, laboratory tested cannabis medicines for qualified medical conditions."
Zen Leaf Provisioning Center is a medical cannabis retail facility, "Dedicated to improving lives by providing safe access to effective, pure cannabis products and jobs for the communities which it serves."  Company officials say, "Zen Leaf facilities ensure an exceptional shopping experience with unparalleled customer service and satisfaction for registered cannabis patients. Zen Leaf offers cannabis concentrates, edibles, extracts, flower and topicals, many in precision-dosed THC and CBD formulations, from trusted premium producers."
For more information you can visit online at the link below:
https://zenleafdispensaries.com/locations/
The photo accompanying this story on Moody on the Market is courtesy of Zen Leaf Provisioning Center.