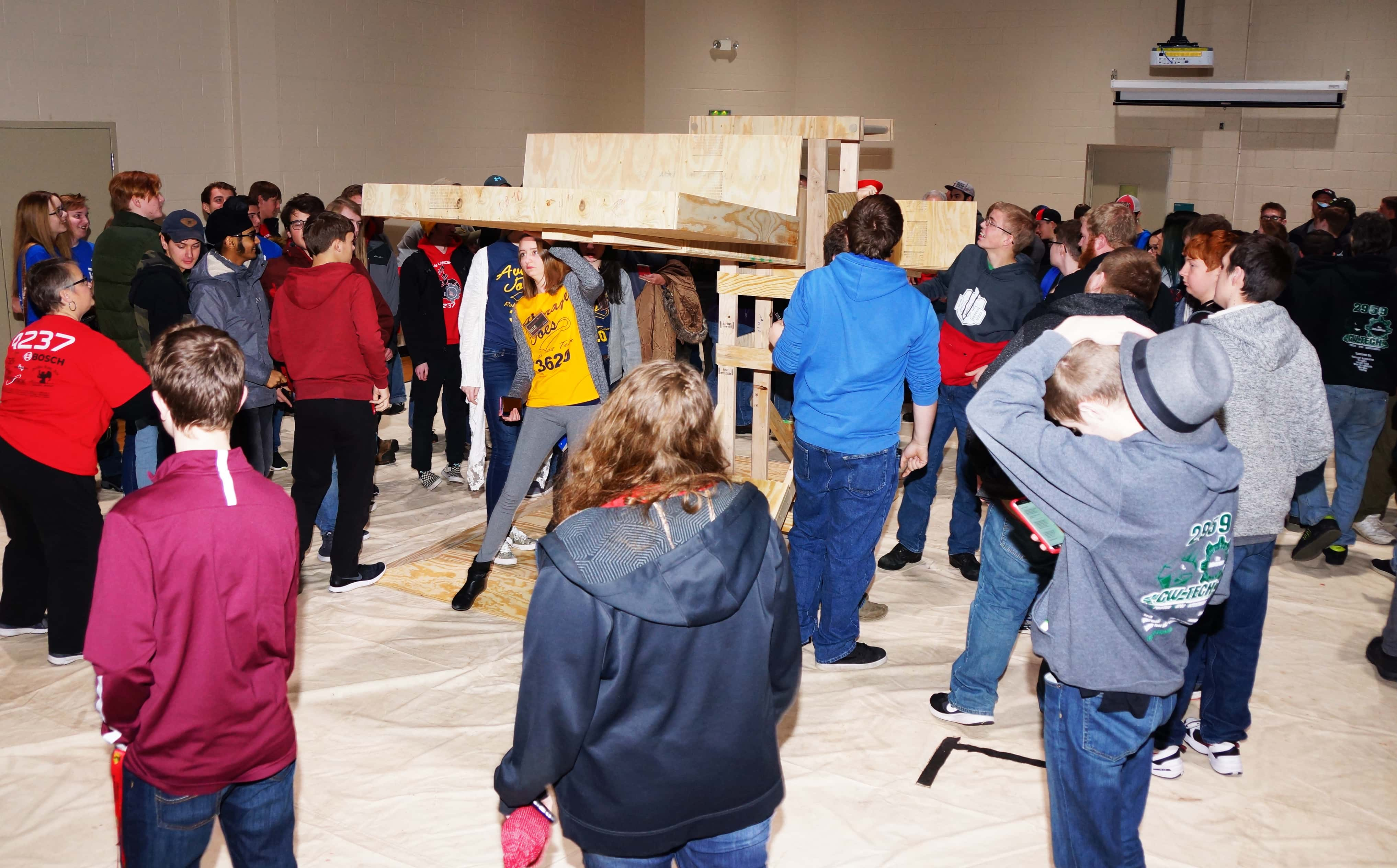 The following article has been written for Moody on the Market by Mikhayla Dunaj, a Journalism student at Western Michigan University, and the News Editor at The Western Herald. She is a lifelong native of St. Joseph who is passionate about telling people's stories.
By Mikhayla Dunaj
Approximately 300 eager-eyed mentors and high school students from 20 FIRST Robotics teams made the trek to Lake Michigan College's Grand Upton Hall early this morning, Saturday, January 6, 2018, despite the recent lake effect coating of the roads. The teams attended the annual FIRST Robotics Competition Kickoff hosted by the college to find out the rules and goals of this year's game having been teased by the only previously released information of the games name, FIRST Power-Up.
After teams checked in, they were welcomed to mingle in a "classic car show" styled array of tables where previous robots and team projects were displayed for viewing and interaction. Mixed in with these teams was an ROTC recruitment table led by St. Joseph High school and 3620 Average Joe alum Nick Morauske.
"Robotics taught me how to be a leader and work better with others," Morauske said. "It brought me towards the engineering which brought me to Michigan Tech and looking at ROTC and Air Force specifically. I'm actually trying to pilot."
A Sunset Coast Robotics Alliance table and LMC recruitment table were also in the mix.
Once everyone was present, the event began with co-coordinator Tim Dunaj, a FIRST in Michigan senior judge advisor, expressing the importance of networking that the program promotes. He then asked for everyone in the room who gained a job or apprenticeship through connections made via FIRST to raise their hands, and many in the room did.
"Being a part of this environment, you never know who will help you down the road," Dunaj said.
LMC President Trevor Kubatzke then welcomed everyone to the facility and spoke on the influence of FIRST in southwest Michigan.
"What you're embarking on is so important for not only yourselves, but our society too," Kubatzke said.
Assistant to Congressman Fred Upton,  Mike Ryan then spoke about FIRST specifically in Michigan, which has more teams than any other state or country in the world. To put it into perspective, Dunaj explained, the country of Israel has six competitions in total, and Michigan alone has 26 competitions with an additional championship that hosts 60 teams. This state boasts approximately 14 percent of all FRC teams in the world. Ryan finished by telling the teams to work hard as a team, but most of all have fun.
Amelia Ayers, senior team member of team 4325 the RoboRangers of Cassopolis, spoke about how she found her path to a future career by joining FIRST and the personal influence it has had on her life.
"When I joined robotics, it really sparked this interest," Ayers said. "I could see the things coming to life before my eyes and it felt like it finally applied what I had learned all through high school to something real and physical that I could see."
After Ayers spoke, a question and answer session took place with the following panel members:
Amber Layman- Business and Marketing Account Executive of Johnson Rauhoff
Ann St. Amand- Owner of Phycotech Inc.
Matthew Doornbos- Vice President of Operations and Information Technology for the Kendall Group
Ken Flowers- Dean Career and Workforce Education at LMC
John Proos- Michigan State Senator
Rick Blake – Owner of Edgewater Automation
Students and mentors led the question portion and received professional feedback from the different fields represented. Questions varied from qualifications each panel member would look for in a future employee and any adversity the female members have faced in their careers to what each of their favorite video games growing up was—a reflection of the retro theme of the game.
Dunaj then congratulated team 3452 Greengineerz of Berrien Springs on their winning first place on Tesla field at the 2017 World Competition in St. Louis. This placed them in the top 48 internationally overall. A live stream from FIRST headquarters in Manchester, New Hampshire was then started, which featured an eight-bit animation of clues to the game this year, hosted by FIRST founder Dean Kamen.
This year's game centers around the idea that the robots are trapped inside an arcade video game with the goal of getting out. To do so, an alliance of three competes with another alliance to gain points by moving "power cubes" onto scales, switches, and by climbing and hanging at the end of the match. A team wins the game by having the most points and therefore defeating the "boss" of the game to escape. A video explaining the game in greater depth can be found here: https://www.youtube.com/watch?v=HZbdwYiCY74.
"Teamwork and strategy is definitely going to be very important," Madeline Dale, co-captain of team 4237 The Lance-A-Bots of Lakeshore High School, said. " Communication is going to be key. It's going to be very important to know what's going on when."
The teams have six weeks to build their robot before "bag and tag day" which is when they are allotted only six additional hours before and between each district competition to work on the robot. Competitions begin the weekend of March 2 with the St. Joseph District Event taking place at St. Joseph High School the following weekend.
Additionally, half of the World competition has been scheduled for 2018-2020 to take place at Cobo Hall in Detroit with the opening and closing ceremonies taking place at Ford Field. This year's world competition will take place the last weekend in April.
For more information on local robotics, you can listen to Robotics Roundtable on 94.9 WSJM.
In the photo accompanying this story on Moody on the Market.com, students, mentors and coaches get their first look at key parts of the playing field for the FIRST Robotics Competition of 2018 as displayed at LMC this morning.