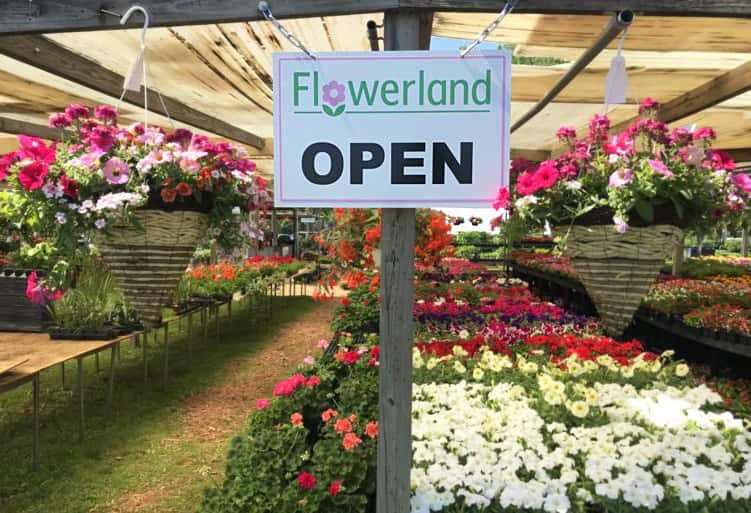 ---

---
Forty years ago this month in 1979 Bob and Linda Wagner decided to open a roadside fruit stand in Michigan's Great Southwest along Napier Avenue in Benton Harbor. They also decided that first year to sell a few flats of flowers in addition to the fruit on display. Sadly, the fruit turned rotten far faster than they would have liked, but the flowers sold exceptionally well. The result? Easy decision — ditch the fruit and focus on flowers. They've never looked back, celebrating their 40th Anniversary Year of "Flourishing Flowers and Plants at Flowerland."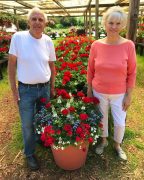 Flowerland eventually moved to their current location on Napier across from the Napier entrance to the Orchards Mall, and the Wagner family says, "We couldn't be more proud than to be celebrating 40 years of owning and operating one of the longest running floral centers in all of Southwest Michigan — Flowerland." The 40th Anniversary season officially steps off this Friday, May 3rd, 2019.
Once they made the decision to focus solely on flowers and plants, Bob & Linda discovered they had a knack for finding beautiful and unique flowers and plants you would be hard-pressed to find anywhere else in the area.
A few years after moving their family to a new home, the Wagners elected to tear down their old home on Napier in order to expand their flower business. Utilizing that space, they decided to provide an even bigger selection of flowers and plants to a loyal customer base, turning it into a true "land of flowers," thus the aptly named Flowerland. The original sign for the business was designed by Linda's mom, Junia Becht who also worked with the Wagners at the shop.
To this very day, Flowerland has survived and thrived at the same location, having expanded in several phases over the years. In fact, in the last few years, they've added greenhouses and a larger parking lot behind the center on Leeds Avenue, allowing them to offer an even more impressive variety of flourishing flowers and plants.  Bob & Linda continue to surprise new and old customers alike when they stop because most folks realize once they get out of their car it's difficult to begin to take in the full scope of what's there while simply driving by.
The Wagners will be the first to admit that their largest source of pride in making it to Flowerland's 40th Anniversary is that they are still 100-percent family owned and operated to this day. Their three children, Lindsay, Adam, and Chase have literally grown up in the business, and as adults, they still work at Flowerland. They still remember their son Adam as a young boy shocking customers with his math skills when helping to check them out. Having worked at Flowerland for 30+ years all 3 of their children continuously impress customers with their knowledge of flowers and plants.  Today, you can also be sure to spot Bob and Linda's 4 grandkids helping out and having some fun among the flowers.
In addition to decades of knowledge that is tough to beat, Flowerland owes 40 years of their success to an uncompromising adherence to high standards. Through rigorous inspection, they hand-select the best flowers and plants for you so you can be assured that you won't have to weed through flowers or plants that fail to meet your standards or theirs.
Again this year you will find a broad array of flowers and plants on site including:
Annuals
Perennials
Succulents
Vegetables
Herbs
Pond plants
Unique specialty plants
One of the largest selections of Proven Winners in the area.
Actually, while their name remains Flowerland, new customers are pleasantly surprised to see they have aisle after aisle of hundreds of vegetables and herbs. Avid vegetable gardeners come in year after year because of their unique vegetable and herb selection that, much like their flowers, you can't find anywhere else.
Another great trait at Flowerland is the source from which they draw inventory for you. The Wagners aggregate their flower and plant selection from trusted, premium wholesalers they've been going to for decades. Their main criteria for selecting quality flowers and plants are:
Does this fit the standard of quality our customers have come to expect?
Is this distinctively beautiful or something that's difficult to find elsewhere in our area?
They love when customers ask, "What is this?" because that means they've found something out of the ordinary for them.
At Flowerland, one of the favorite compliments received from loyal customers is that their flowers just seem to last longer than flowers from anywhere else. So if you're not sure how to care for it, just ask, and the Wagner family is happy to help you have a garden that surpasses all of your neighbors.
Bob & Linda are the first to admit, too, that this is truly their favorite time of year because they get to work together side-by-side every day to bring you the most beautiful and unique flowers and plants in Southwest Michigan. They invite everyone to stop by beginning Friday, May 3rd to help them kick off their 40th year in business at Flowerland.
You'll find Flowerland open daily from 9:30am-to-7pm Monday through Saturday and from 10am to 6pm on Sundays. They are located on 1261 E. Napier Avenue in Benton Harbor right across from the Orchards Mall entrance.
If you want to see what they have in stock, even before you go,  just like them on Facebook or Instagram, as they frequently update their customers with photos of new arrivals.
---

---