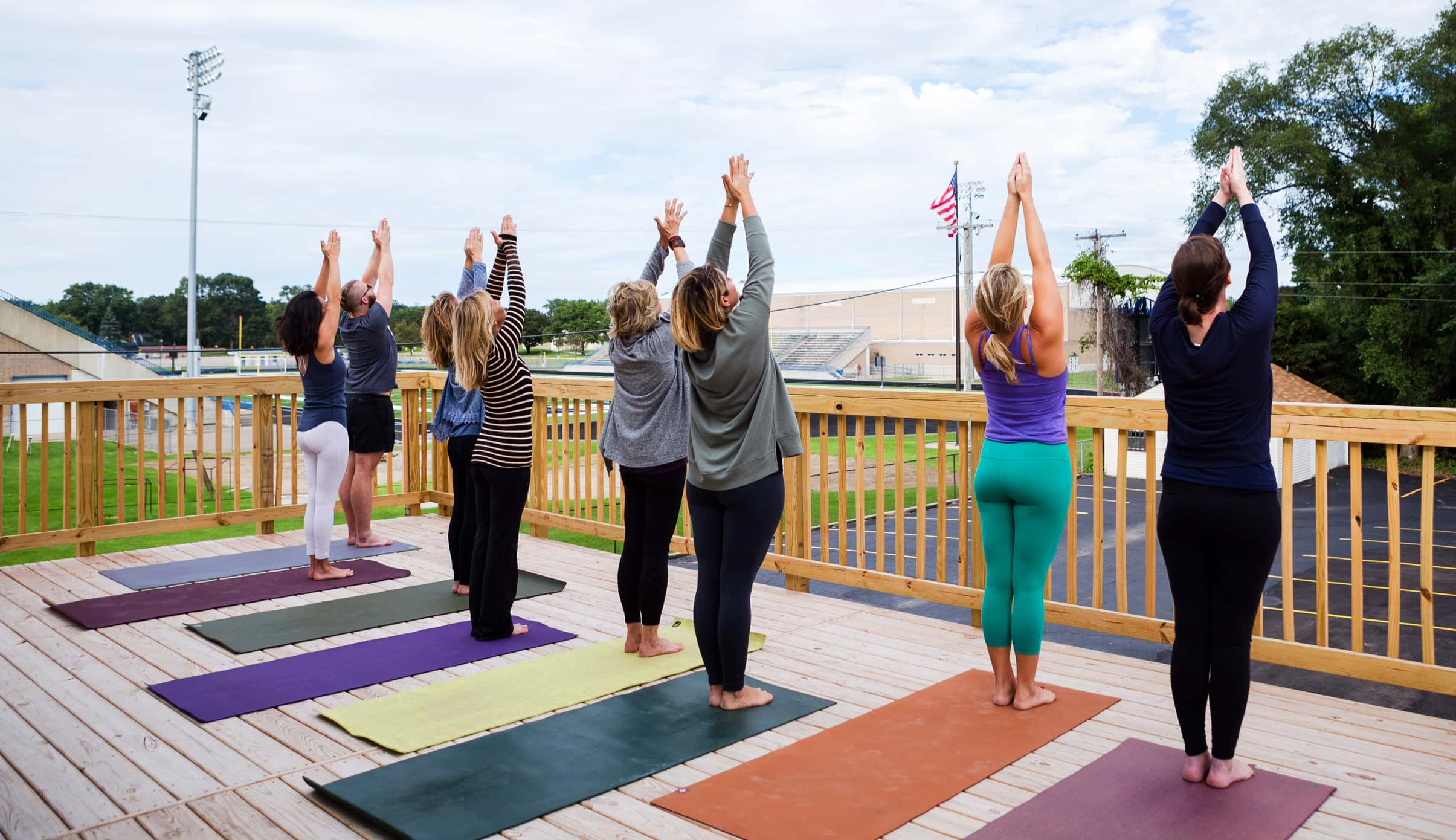 A dedicated year long journey of idea generation, hard work, and considerable renovation all comes to fruition tomorrow, Wednesday, September 19th, when Yoga Life formally relocates to their sprawling new headquarters at 2629 Cleveland Avenue between Kelly's Bowl and Dickinson Stadium, football home to the St. Joseph Bears.
Yoga Life  has been anchored above 221 Main Restaurant & Cocktail House in downtown St. Joe since being founded by Owner & Instructor Brooke Margherone, but tomorrow her blood, sweat and tears will inaugurate the new site at the intersection of Cleveland and Lakeshore Drive in the shadow of the grandstands.
The growing popularity of yoga and it's proven health benefits necessitated the need for a larger studio, and Brooke says, "After a year, the renovations are finally complete!"
The new space comprises two studios (upper and lower level) spanning more than 1,000 square feet each. Brooke says, "We can now offer more classes that will accommodate different individuals with different needs." By way of example, Yoga Life can now offer classes including Chair Yoga, a Yoga for Healthy Aging program, Children's Yoga and Restorative Yoga. There is even a room designed for meditation and breath awareness practices. As Brooke tells it, "Whether you're looking to start yoga for the first time or want to expand your current practice, there will literally be a class for anyone."
Yoga Life is also partnering with the neighboring St. Joe High School, to bring free yoga through the school's Phys Ed and Strength and Conditioning programs. High school students will be eligible to attend the free after-school Yoga Club every Wednesday from 3:15-4:15pm.
In fact, thanks to the scope and scale of the newly renovated Yoga Life building, the new studio space will have more than 35 different classes weekly, including teacher trainings and workshops. Brooke is also offering an introductory special for new students: 2 weeks of unlimited yoga and meditation for just $25. That will allow new students the opportunity to try various classes and find the ones they like before purchasing class passes.
The newly designed facility houses both men's and women's locker rooms fully equipped with showers, lockers and private changing areas. The decor and atmosphere gives a spa-like feel that Brooke promises "Will energize the start to your day or help wind down the end of a long work day."
Out front, Yoga Life has a lounge area for relaxing and community gatherings along with a retail boutique filled with Yoga Life clothing, incense, mats and various yoga essentials. The on-site apothecary will introduce Ceres Botanicals + Minerals, a company based in Southwest Michigan, that combines ancient wisdom and modern science to bring you the next generation of natural skin care and aromatherapy products. Their core ingredients consist of herbs and nutritional minerals, but their innovation and uniqueness stems from gemstone enhancement within their products to energetically restore mind-body balance. Their full product line will be available exclusively at Yoga Life.
Information on hours, pricing, class schedules and descriptions are all available by clicking the link below: