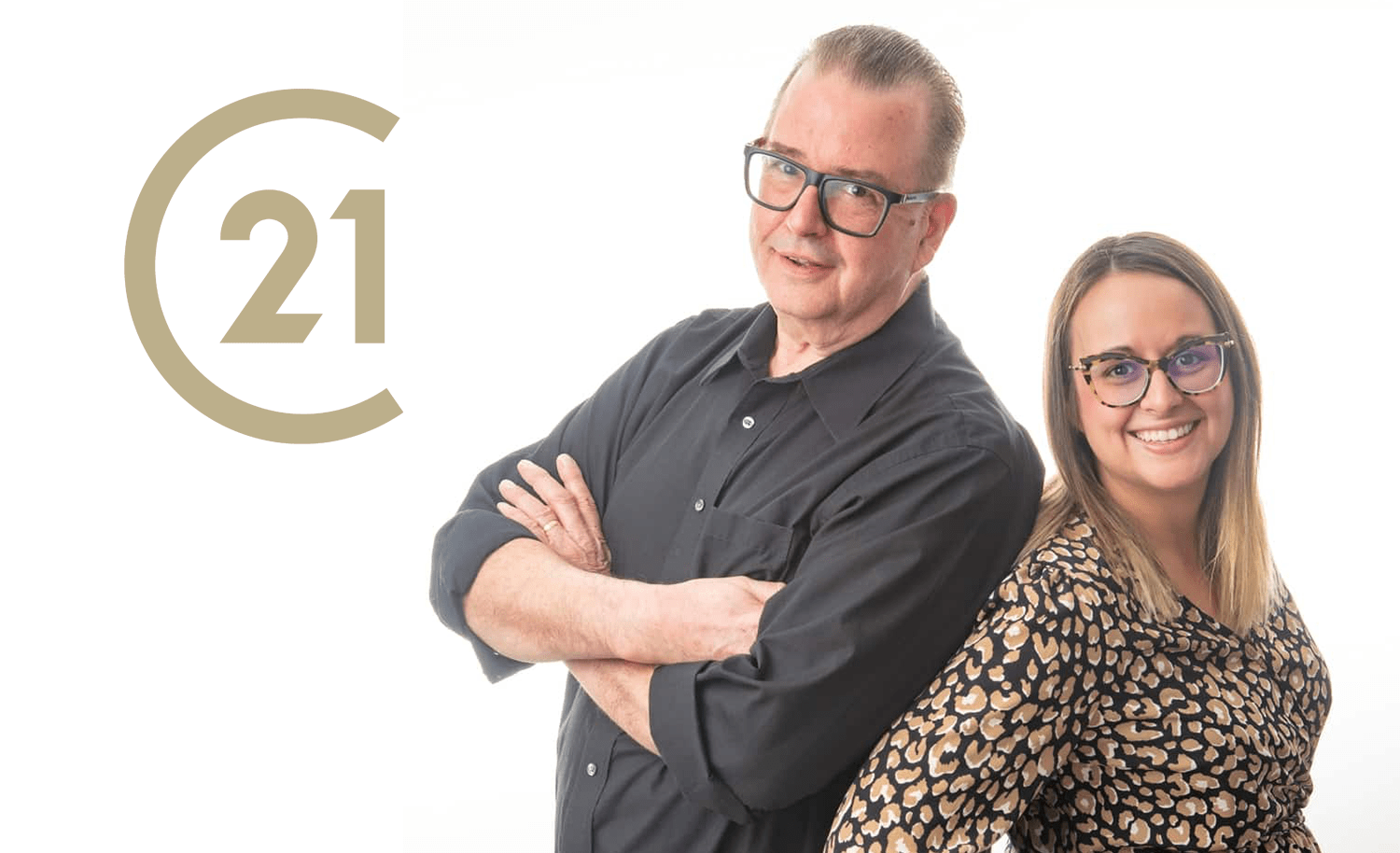 ---

---
If you're in the market to buy or sell a home in Michigan's Great Southwest, and you'll pardon a bit of irreverence and parody, an emerging real estate team in the market is offering you the chance to "get your Schmidts together," and get the job done.
It's not uncommon across the real estate landscape to find husband-wife Realtor teams, but the recent alliance of Aubrey Schmidt and her father Robert have introduced an entirely new dynamic to the trade that is already paying huge dividends for successful buyers and sellers in the region.
Jokingly offering up the sentiment that with the Schmidt team Century 21 Affiliated located in St Joseph, "We don't give you one Schmidt, we give you two," the uniquely qualified father-daughter team is making a mark by offering a wide range of talent to clients every day.
How the Schmidt's arrived at the threshold of the real estate industry is a story in and of itself.
Aubrey was a board-certified optician and continued that trade until last October when she made the decision to seek out her real estate license. She had been thinking about it for some time, and after a sudden family situation altered her ability to continue in her current job, she recalls, "I just said, you know what? I'm just going to quit and I took my real estate test that week."
Robert Schmidt had spent his lifetime in the steel industry. Along with seemingly the rest of the world, Robert's life changed dramatically when, on March 9th of 2020 they told him he had to stay at home due to the pandemic. He says, "I would leave the house just about every day for the past 40 years, and here they were telling me, 'You have to stay home,' and they issued me a facial recognition laptop, so they knew whenever I was there. So, the minute Aubrey said I think I'm going to try to get my real estate license, I said, maybe I should do that, too. I have a general knowledge of the building trades." He quickly adds, "But, of course, that was the wrong thing to say, because Aubrey then immediately said we could be a team, and it all just started, between Christmas and New Year's."
If it's possible to change the course of one's life in a short time span like that, the Schmidts certainly made that happen. As Aubrey says, "We both just decided to do it and go for it. I then got my license on November 3rd. For a while, to make ends meet, I delivered groceries, in the middle of the pandemic before I made my first couple of real estate sales and we have done pretty well so far. For our first-year I think we've probably already hit almost $3-million in sales thus far, and we really enjoy it."
It's the true definition of a team, inasmuch as both have strengths that they bring to the table and where one is weak the other is strong and vice versa which just helps balance things out and makes it easier for everybody involved in the real estate transaction. By way of example, Robert says, I can help her out wherever she needs an assist, and if she's busy with something else, I can handle things like showings for her. It really helps our clients because there are two of us and if they can't get ahold of one of us, they can always get ahold of the other." Further, he notes, "When we go on showings as a team, I typically head into the basement to check out the mechanicals first thing, to see that the furnace looks good and the water heater, and I always check the roof when we can, so I think we're a good combination."
Although their original roots are from Northwest Indiana, the two love Southwest Michigan as a base of operations after more than a decade here for each of them, and they're focused largely on the St. Joe- Benton Harbor, Stevensville-Bridgman markets for now. The overarching office of Century 21 Affiliated located in St Joseph does, however, have licensed agents for Indiana, allowing the Schmidt team to assist with cases along the Michigan-Indiana border through referrals.
If somebody were to ask — because a lot of people these days shop for virtually everything thanks to online opportunities — "Why should I enlist the Schmidt team?" They go back to their team concept.
Aubrey reports, "We're a good story, this father-daughter team, and there aren't many of us. I would hope that a daughter and father can get along to the point where they can work together, and I would see people as considering that to be beneficial. We bring great flexibility to the transaction being both gender and age diverse. For some people, he gets along better and some people get along better with me, so we're good either way," while Robert adds, "We have a lot of people in their 60s that are looking to move to Michigan now because they're getting close to retirement or they can work from home and I think they're comfortable with both of us. We can relate to just about anybody, yet I can tell them my experiences of both building and buying and we both know the area really well."
What is special about the Schmidt team is their personality of being truly 'people's people,' who like to talk and draw out the interests in a bid to find the ideal property for you. It's what people want when choosing a realtor that is so important, to know that someone really is listening and cares about what you're doing.
The Schmidts are extremely responsive to texts, emails and phone calls. With Aubrey having four kids, if she's in the middle of something, her dad can return the phone call right away. That's extremely important in these days of a very tight real estate market where people looking to see a home on their list typically want to do so as soon as possible because offers are flying left and right and frequently creeping well beyond the actual asking price in many cases.
They also have solid relationships with many of the other Realtors in the region, and point to a client that Aubrey had shown two houses to but wanted to look at another but needed help through a Spanish-speaking interpreter, so Aubrey referred her to a Spanish-speaking Realtor out of their office, and he wrote an offer for the deal. Aubrey says that while she can converse in Spanish, she had been tied up that day, and the other Realtor was a lot easier and more comfortable for the client, and suggests, "In the long run when you're doing a deal with someone you need to address title insurance and lots of other things, so it's easier when they both know that you can address issues in their native tongue."
More and more people in the region can say, "We weren't really sure who to pick for our real estate team, until we finally got our Schmidt's together — both Aubrey and Robert!" You can enjoy that same level of satisfaction by simply clicking this link:
---
You can also contact The Schmidt Team directly by filling out the form below:
---

---