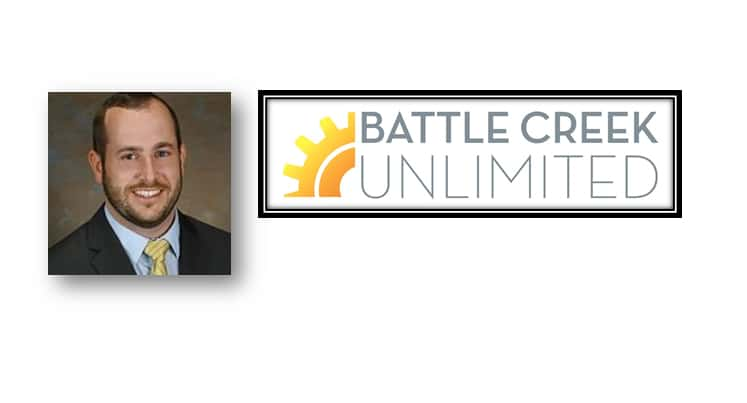 The pace of success continues to escalate for former Berrien County economic developer Joe Sobieralski following a new three year contract extension with the team at Battle Creek Unlimited which should keep him at the top of the organization through June of 2022.
Sobieralski, who departed the Southwestern Michigan Economic Growth Alliance in Niles (SMEGA) four years ago to join Battle Creek Unlimited, has enjoyed a solid career in the Cereal City ever since heading east.
He joined BCU in December of 2015 as Vice President of the organization, but half a year later he was appointed Interim President & CEO in July of 2016. Barely three months later the Board of Directors at the Battle Creek economic development team removed the interim title in October of 2016 and he's been steering the ship ever since.
Last week the Battle Creek Unlimited Board announced a contract extension for Sobieralski in appreciation for his outstanding work there.
Under Sobieralski's leadership, BCU has led numerous successful initiatives including:
A new five-year strategic plan for BCU
Renovation of the Frederick R. Brydges Customs Cargo Center
Assistance in securing the capital stack for The Milton
Implementation of the downtown Real Estate Improvement Fund
Both a brewery and a restaurant request for proposals
Multiple downtown development projects
Secured multiple grants totaling over $2,700,000
Formation of a task force on unmanned aircraft systems.
In addition, for the fiscal year ending 2018-2019, BCU assisted in the creation of 185 new jobs paying an average of $17 per hour with benefits and $56,710,000 in capital investment in Battle Creek.
John Gallagher, who serves as the BCU Board Chair, says, "The BCU Board has given Joe high marks for his many accomplishments over the past 12-18 months. He has brought together and maintained a winning team that is delivering on our strategic plan. Joe's energy, enthusiasm, and creativity are helping to close deals and move Battle Creek forward. With Joe's leadership and that of his team, BCU is poised for another strong year in generating investment and job creation in our community."
For his part, Sobieralski says, "I have the pleasure of leading a dynamic and talented team and working for a tremendous Board that has given us the tools and resources to execute on the mission and vision."
Sobieralski's contract has been extended thru June 2022.
Joe's experience goes well beyond his work at SMEGA in Niles. He worked to shepherd the Berrien County Manufacturer's Council, a stint as Project Manager for SMEGA from June of 2009 to March of 2011, some 8-months as City Manager of Bangor in Van Buren County from June of 2012 to January of 2013 and Village Manager of Stevensville from March of 2011 to June of 2012.
Sobieralski began his municipal career immediately after earning his Masters of Public Administration Degree in Local Government from Western Michigan University in 2012, and his Bachelors Degree in Public Administration & Public Policy from Michigan State University in 2009.
Joe's role at SMEGA was critical to enhancing a 30-year reputation for working with manufacturers who were making capital improvement investments, resulting in retained employment and new job creation. The organization also served as a successful grant writing agency for special projects for infrastructure and community improvements in southern Berrien County.
Established in 1972, Sobieralski's Battle Creek Unlimited is a private, non-profit corporation which serves as the economic development arm for the City of Battle Creek and manages the Fort Custer Industrial Park. The Fort Custer Industrial Park is home to more than 80 businesses, including 25 international companies, and employs over 13,000 people. BCU's mission is to build a strong community by driving strategic investment and job creation.