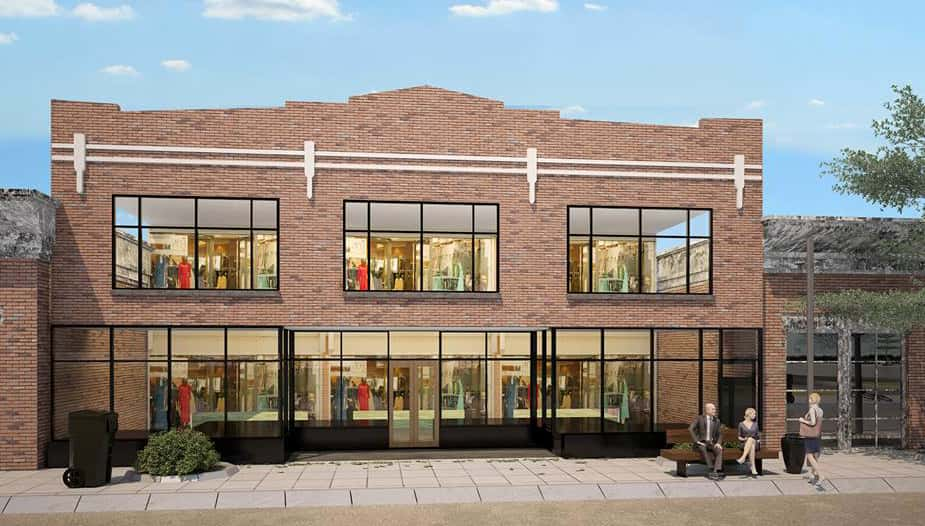 An historic building first built 133 years ago that became the long time home to a JCPenney department store will take a bow on Monday as the new Lumberman Lofts in downtown Allegan with a formal ribbon cutting ceremony featuring numerous local, state and federal officials including Congressman Fred Upton.
The celebration of the completion of the ambitious Lumberman Lofts project gets underway on Monday afternoon, April 15th, 2019 at 2:30pm. Following the ribbon cutting, an open house will feature tours of the dramatically renovated building.
The building located at 118 Locust Street was formerly a JCPenney department store that sat vacant and was a drain on the downtown area for two decades.
Now, the 15,000 square foot building contains four commercial spaces on the ground floor and seven one- and two-bedroom loft style apartments on the second floor, with large windows providing panoramic views of the cities central business district. The $1.5-million dollar project has resulted in several other building owners in the pre-development phase of creating additional residential units in downtown Allegan.
Michelle Miersma is the developer and owner of the Lumberman Lofts project. She says, "As we were looking around for a property to develop, the investment Allegan had made to its riverfront area attracted us to the community." She adds, "When we found the former JCPenney building, I formed an immediate attachment to it and had a vision of what it could become.
Miersma says the impetus came from the city's groundwork, noting, "The investments the city has been making in the community gave us the confidence to invest as well. We have already bought two more buildings that we have begun renovating." Miersma adds, "The City of Allegan and the Michigan Economic Development Corporation have been great partners in helping to make this project happen."
Joel Dye is Allegan City Manager. He says, "The investment like Michelle is making is exactly what the city was envisioning when we undertook the Riverfront Redevelopment Initiative. She has created living places you would expect to find in downtown Kalamazoo or Grand Rapids. Interest in real estate investment opportunities has seen a significant uptick since we began the Riverfront project and we expect to see several projects like the Lumberman Lofts come on line over the next year." Dye points out, "With the renovation of another downtown building as our new City Hall and the streetscape project we are planning, this is just the tip of the iceberg in terms of interest and investment in our community."
The general public is welcome to attend the ribbon cutting and tour the recently completed building.
Miersma says the renovations of both the JC Penney building and the former Tripp's Department Store in downtown Allegan are exciting investments. The JCPenney building has been a part of Allegan since 1886.
The photo accompanying this story on Moody on the Market shows the architectural rendering of the Lumberman Lofts project, courtesy of the projects developers.