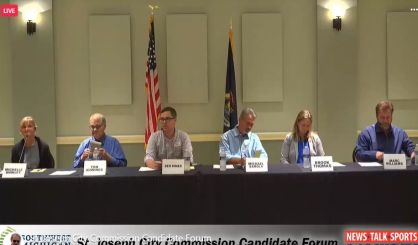 The six candidates running for three positions on the St. Joseph City Commission in the November 2 election met for a forum on Wednesday night. With the city set to receive about $870,000 in federal money through the ARPA program, they were asked how it should be used. A few items from their wish lists came up. Marc Williams was thinking recreation.
"We need to focus on outdoor spaces to encourage people to come downtown, encourage people to ride and walk downtown," Williams said. "That would help alleviate some of our parking problems. Monies are set aside for infrastructure. I know this is additional money, but I really would like to see this money being used to make our city look more vibrant."
Tom Jennings is interested in setting up a shuttle to reduce downtown parking problems. Brook Thomas said funds should be used to promote the downtown business scene.
"It's beautiful, it can be more beautiful if we really invest in that," Thomas said. "Adding bike lanes, adding different ways of parking. If we have bike racks instead of more parking spaces, we can get more people into our downtown area."
Michael Sarola said it would benefit the city to get more traffic, and foot traffic, on the east side of Main Street.
"The big question becomes how to we move families safely across M-63? After living here my whole life, I just realized there's a stairway on the south side of the M-63 bridge that goes underneath and connects down to the beautiful park down there, but it's a narrow stairway. It needs to be expanded, and we need to put in a ramp for strollers and wheelchairs."
Ben Rimes had a top priority for the ARPA funds.
"What we've been doing in schools is first address remediation of any costs that were incurred due to COVID," Rimes said. "I'm not familiar if the city had any significant costs, but I would definitely want to look at that first."
Michelle Binkley said the city should take its time and discuss how the funds should be used after being sure it will get them. In the coming days, we'll check back in with candidate answers to more forum questions to get to know all of them.