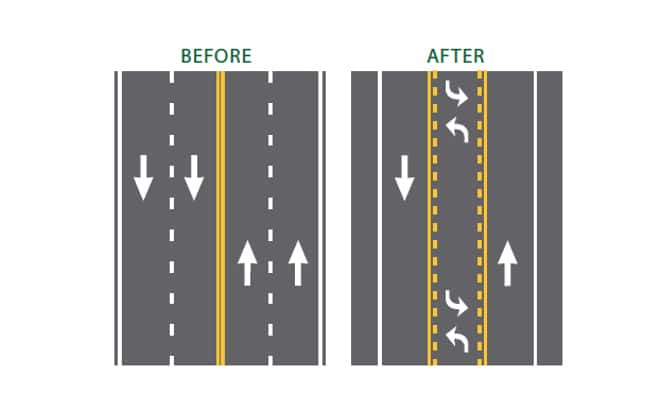 For most people, a diet is an intimate thing largely between the person seeking change and his or her doctor, nutritionist or other healthcare provider. There's another type of diet in the news in recent years across Michigan's Great Southwest that becomes a far more public affair because it involves reducing a four lane roadway to three, sometimes causing confusion, and consternation. There are, however, those in the public realm who rally behind road diet planning, one of which is active in our area in the form of the group known as Friends of Berrien County Trails.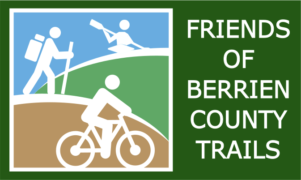 Founding members J.B. Hoyt and Gary Wood are asking that the proposed US-12 road diet from the intersection at Red Arrow Highway through to the Indiana State Line be given fair consideration by encouraging residents to "be patient with this process for the next 30 to 60 days so the proper data can be gathered, analyzed and presented to them (MDOT) and to the public."
The encouragement stems from the current "demonstration project" which has changed lane markings temporarily to mimic the proposed diet in order to get feedback from everybody impacted by the change.
To help understand the situation, Hoyt and Wood have assembled several points including how whole plan got started. Here's what they are reporting:
History…MDOT Planning
Highway US-12 from the intersection at Red Arrow Highway (north of the City of New Buffalo) through to the Indiana State Line is a State highway and the responsibility of the Michigan Department of Transportation (MDOT). As part of their normal review of roadways, they assessed this section of US-12 to determine what maintenance and improvements are  required.  Clearly the road needs to be repaved.
This route is the original highway from Detroit to Chicago; it was constructed as a four-lane road because of its role as a primary trunkline. Today, that long distance traffic travels on Interstate 94. Consequently, the traffic volumes on US-12 are far below the requirement for a four-lane highway. MDOT has determined that a three lane roadway can handle the traffic volume, would provide a significantly safer roadway and has a lower-cost of on-going maintenance.
Three Lane vs. Four Lane
Some people are less familiar with the nature and benefits of a three-lane roadway. Often plans for such a roadway are greeted with concern.  However, there are three clear known facts about three-lane roads:
They are significantly safer than four-lane highways because of the reduced speeds, greater visibility and easier left turns.
Data from a number of studies across the country have shown that a three-lane road has 19-percent to 47-percent fewer crashes than on a four-lane highway.
Emergency response times are actually faster on a three-lane road as the center left turn lane can be a clear route for emergency vehicles.
Several roadways in Berrien County and across Southwestern Michigan have been reduced from four lanes to three quite successfully. These include Lakeshore Drive from Stevensville to St Joseph, Broadway/Business Route 196 in South Haven and many others.
Early June Bad Start
In reviewing with local municipalities the plans to convert this road to a three-lane highway, New Buffalo Township officials expressed concern about how this might work and what the impact would be on the local community. As a result of those concerns MDOT offered to do a demonstration project this year whereby the road would remain as is, but would be re-striped as three lanes.
MDOT began this demonstration project in late May. Unfortunately, that effort was not well executed, leading to confusion, uncertainty, near-misses and understandable consternation on the part of residents. After review, MDOT understood those concerns and has since greatly improved the demonstration project from the New Buffalo City Limits to the Indiana State Line. These improvements include clear blockage of the fourth lane and signage indicating the shift from four lanes to three. Because a number of residents have expressed their concerns to New Buffalo Township officials, those officials are understandably uncomfortable with the MDOT demonstration project.
Next Steps/Need for July Test Data
Now that the demonstration project has been improved to a true three-lane highway, it is imperative that data be gathered on this pilot project. During the last week of July, MDOT plans to study the roadway traffic both during the week and on a weekend. The study will include:
Any changes in traffic volume
The number of trucks utilizing US-12
Wait times for left turns on to US-12
Determining the need for a traffic signal at Grand Beach Road.
Only once this data is provided and compared to data from previous years can the value of the three-lane road be demonstrated to residents and Township officials alike.
Impact to Taxpayers
Friends of Berrien County Trails strongly urge New Buffalo Township residents and officials to be patient with this process for the next 30 to 60 days so the proper data can be gathered, analyzed and presented to them and to the public. Should this data show the anticipated improvements in traffic safety and traffic volumes then Township officials should provide their full support to MDOT for execution of a repave and reconfiguration as a three-lane roadway during 2021.
Added Benefit…Marquette Greenway
Should the stretch of US-12 from the New Buffalo City Limits to the Indiana State Line become a three-lane road as shown in the current demonstration project, there will be numerous benefits to taxpayers:
There is a lower cost of maintenance on an annual basis for pothole repair, snow plowing, and repaving (many years into the future).
Probably the most important benefit will be reduced crashes, reduced injuries, a likely reduction of heavy truck traffic and data-based analysis of the opportunity for a traffic light at Grand Beach Road.
Additionally, a three-lane roadway would facilitate the development of the Marquette Greenway.  That is a non-motorized trail which is being developed from Chicago through Indiana to New Buffalo.
The extension of the Marquette Greenway into New Buffalo and eventually through Berrien County would lead to substantial economic development for communities along this route. Many studies have shown that non-motorized trails bring visitors, visitors who like to spend time in the area, visit restaurants, brew pubs, gift shops, hotels and other businesses in the area. Throughout Michigan there are a number of non-motorized trails such as the one proposed for New Buffalo Township. There is a network of trails that extends along the western side of the state to the Mackinac Bridge with a few gaps. Trails development for many of these gaps are being worked on today and a sound plan is needed for closing the gap through Berrien County.
The primary reasons for the road diet, of course, are safety and ongoing maintenance costs. However, major community benefit would be allowing space for the Marquette Greenway to come through New Buffalo Township, connecting to a planned trail from New Buffalo Township up to the City of Bridgman and eventually beyond. This will be a vital link in the ultimate goal of a non-motorized trail from downtown Chicago to the Mackinac Bridge.