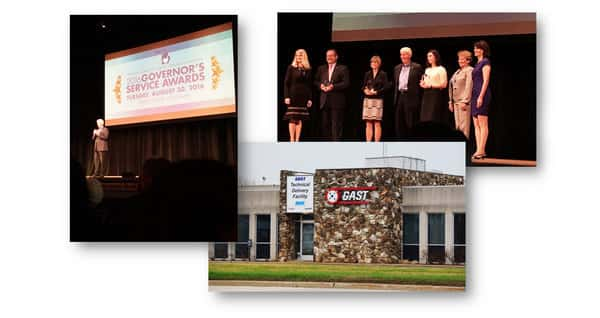 Gast Manufacturing has been a key cog in the manufacturing arena in Berrien County for decades, but tonight might well be one of their proudest moments as a member of not only the business community, but the community at large. Tonight, they were presented the Governor's Service Award in the category of Corporate Community Leader by Governor Rick Snyder himself.
Nominated by United Way of Southwest Michigan, Gast Manufacturing was welcomed to The Temple Theater in Saginaw this evening, and cited for excellence in community involvement, with demonstrated excellence in corporate citizenship by giving back to the community in a host of ways. The award honors corporations and businesses with 100 or more employees who achieve that excellence. Two other winners in addition to Gast were The Bank of Ann Arbor and Dow Chemical Company. Governor Snyder told those in attendance tonight, "We should treat each other as if we were one big family."
Nermina Kamenic is Global Human Resources Director for Gast. She says, "We're excited to receive this award because it has created a great impact in our community." She adds, "It was our team's pleasure to help out and we take pride in making a difference in the community where we live and work. Our team cares about giving back and we're passionate about helping others in need. It's a part of who we are as an organization and being recognized for our work means a lot."
Gast Manufacturing is a long time supporter of United Way through the workplace campaign. In 2015 their employees decided it was time to step out of the box and do something bigger. A group of Gast employees decided to visit several United Way Funded Agency's to get a first hand look at the work being done in our community. When they arrived at the Men's Shelter in the Salvation Army of Benton Harbor, which on average houses around 50 residents at a time, it was clear they needed to take
action.
The company was able to secure a $10,000 grant from their corporate foundation to remodel the Men's Shelter. The projects included, installing counter tops, appliances and window treatments, painting the main living spaces of the shelter and above all, replaced the entire roof of the Salvation Army building. It is safe to say that the humble employees of Gast Manufacturing are very deserving of this recognition.
United Way of Southwest Michigan President Anna Murphy says, "We are fortunate to have a United Way Corporate Partner like Gast Manufacturing in our community." She notes, "The work they put into the Men's Shelter is a testament of their dedication to improving the lives of those in need and we couldn't be more grateful for their generosity."
United Way staff members Charlotte Rogers and Catie Brown attended the ceremonies in Saginaw this evening and shared the photos from the Temple Theater accompanying this story on Moody on the Market.com
For more information on the work of Gast Manufacturing in the community please contact Charlotte Rogers (269) 982-1700 extension 21 or by email charlotte.rogers@uwsm.org. Information on how you or your company can be a part of the UWSM mission 'to improve lives by mobilizing the caring power of communities to advance the common good', can be found on their website www.uwsm.org.
Nermina Kamenic (l) from Gast is joined by Charlotte Rogers (r) from United Way