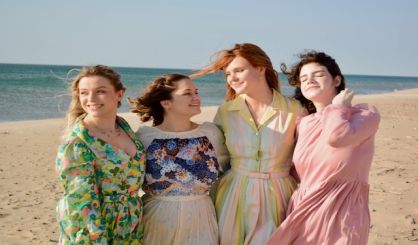 The GhostLight Theatre ("GhostLight"), Southwest Michigan's premier performing arts organization in the burgeoning Benton Harbor Arts District, opens their 2022 Summer Season with the musical "Little Women" based on the semi-autobiographical novel by Louisa May Alcott. The show debuts on Thursday, May 19 and runs through Sunday May 29 with evening performances Thursday through Saturday at 7:30 pm and matinee on Sunday at 3:00 pm.
Originally written to chronicle the lives of four sisters in the aftermath of the Civil War, GhostLight's director David Ferrell sets the production during the Vietnam era in the wake of the Women's Right's Movement in America. It's the story of Meg, Jo, Beth and Amy March, and their beloved mother Marmee, at home in Concord, Massachusetts, while their father is away serving in the military. "Little Women" a fabled tale for the whole family, features a touching score and vignettes in which the women's lives unfold within the short stories Jo writes in her attic studio, that will resonate with anyone who has ever longed for something greater, to be something more than themselves and to know what it is like to feel bound by the norms of society, but still overcome.
"What is so incredible about the story of Little Women is that it is timeless", said director David Ferrell. "It can be set in any time and in any place. These women are real people and are based on real stories. I chose the 70s to base our production because it was an era that women started to predominantly move forward in society, breaking free from traditional norms, and, seeking happiness in the foundations of what they were creating. The women of which our story takes place; these characters are changing the world in their own ways and should be reflections of all women who have come before them. When envisioning how I wanted to portray these characters, these women, their triumphs, and struggles; I was reminded of a poem by Rupi Kaur which begins 'let it go, let it leave, let it happen' and those moments rang true in what our heroine 'Jo' March aspires to do for herself, her career, and for her family. She sets out to follow her dreams, realizes simple truths about love and loss, and overcomes. In doing so, she creates more beauty in the world!"
The popular "First Friday" AfterGlow parties will again be held this summer at the Bread+Bar thanks to Tim Foley and his team at the restaurant, starting on May 20 after the performance of Little Women. Bit of Swiss desserts and small bites will be available to celebrate along with the cast and crew of the show.
Tickets: GhostLight – Little Women | Eventbrite $12-$28
Summer Camps
GhostLight is also hosting educational camps throughout the summer including: CircEsteem Kids (June 20-24) a day camp designed to build self-esteem & mutual respect through the practice & performance of circus arts; Discovering Your Voice By Learning to Write Like Shakespeare (July 25-29) with Ken Smith, PhD; and, BEST Camp-Building Excellence through Summer Theater (June 27-July 1), a collaboration with The Citadel Dance & Music Center.