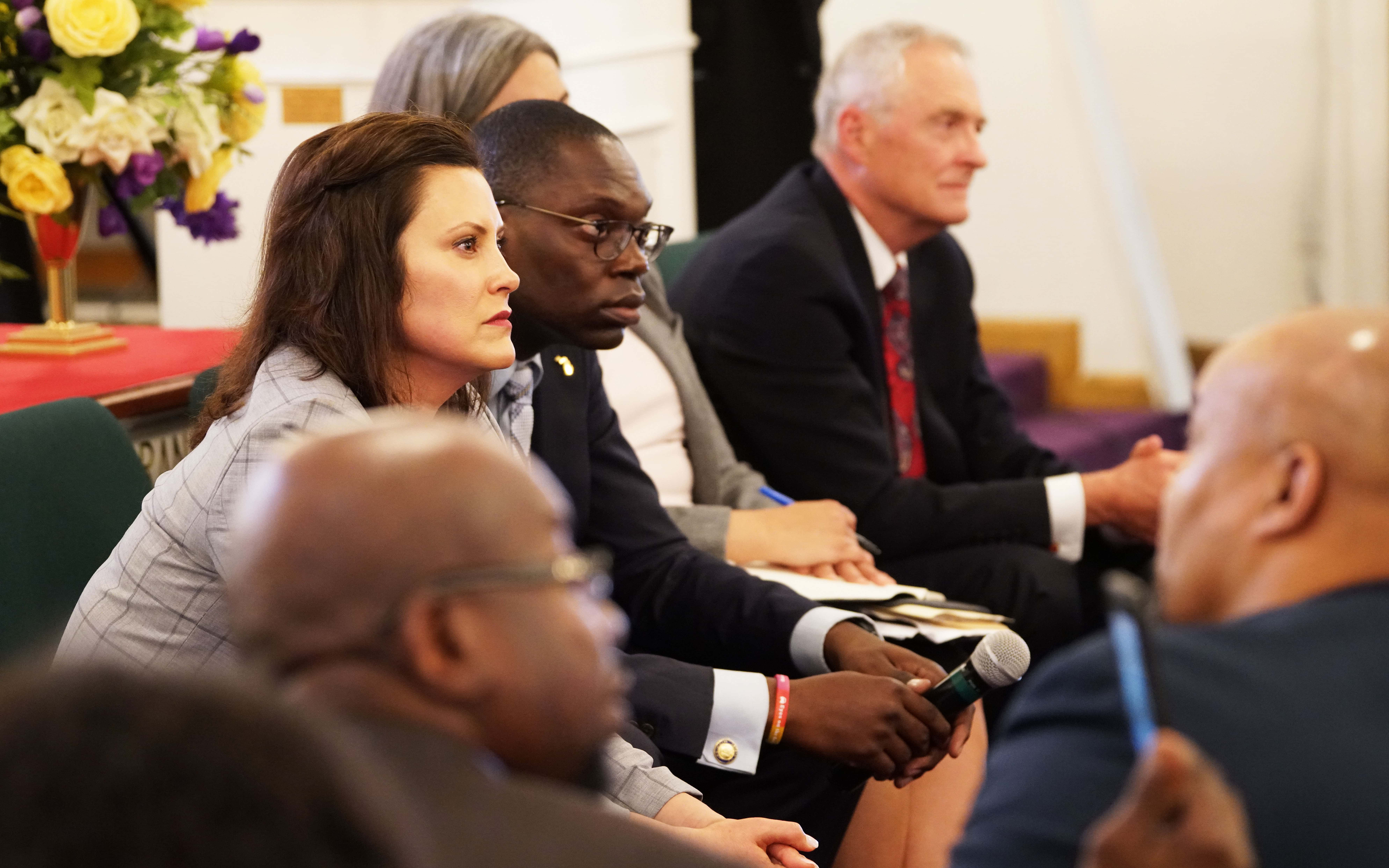 The tension was thick and the mood somber and sometimes combative as some 200 parents, students, teachers, ministers and other residents of the Benton Harbor Area Schools District confronted Michigan Gov. Gretchen Whitmer, often times excoriating her and her administration for threatening the very nature of the community's high school, and the students who go there. In the end, however, she left the door open for additional community input in a plan of their own.
A contentious crowd began interrupting the Governor even as she was making her opening comments, and often drew cheers from one another while working to drive home points they felt needed to be made in their passionate drive to keep the school system intact in the face of Whitmer's proposed changes to suspend operations at the high school and disperse some students to a new option at Lake Michigan College and others to surrounding community school districts starting in the 2020 school year.
The crowd clearly wanted her to know that the plan was not only unacceptable, but unconscionable and would not be tolerated as the cry went up for the plan to be shredded and work begin anew on some sort of compromise.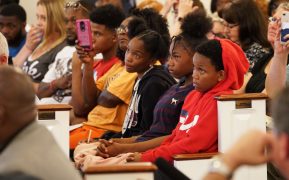 In the long run, the community did garner a win in the form of a one-week reprieve during which they will have to produce substantive alternatives to keep any state plan from going into effect. Whitmer agreed to extend the deadline for action from this Friday, June 7th to the following Friday, June 14th.
Gov. Whitmer had barely begun to explain why the $16-million dollar debt and the academic performance of students were troublesome at best when audience members erupted saying her figures on student performance were flawed at best and untrue, demanding to know where the data came from.
The Rev. James Atterberry, whose Brotherhood of All Nation's Church of God in Christ on Emery Avenue played host to forum, was forced to ask the crowd to let her finish her opening comments before making suggestions of their own, and some in the crowd would shush others as eruptions large and small emerged throughout the course of the nearly two hour session.
When Atterberry tried to truncate the number of people who would be allowed to take the mic, he was roundly shouted down, as well, and in the end, most everyone that wanted to speak their peace got the opportunity to do so.
Some two to three long pews of students sat together and many took the opportunity to step up to the mic and speak their peace along with educators, residents, and even people from St. Joseph and other communities.
The Governor called it "tough stuff that we're talking about, and added, "In thinking about what I wanted to say, and this conversation started, I talked with people in this community. This problem that we're trying to solve was not created by anyone in this room, wasn't created by me, by your school board, wasn't created by anyone. Yet, it's a big problem we confront. Benton Harbor Schools has a proud history in serving the children of this community. But, it's facing a $16-million debt."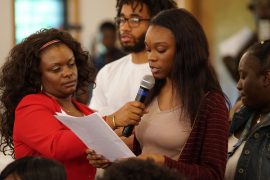 Whitmer told the crowd, "I think about the children of Benton Harbor and I worry about the future of Benton Harbor and the fate of our children, and I see these beautiful kids here in the pew and I know there's a lot of fear in this meeting and mistrust. And that's legit. Because for years we've seen the state not support the community We have an education crisis in the state, but this community is feeling it more than anyone else. That's why I worked with the Department of Treasury, the Department of Education, and the local community funders to try and find a solution, so that this community can keep a school district."
Whitmer talked about how some communities have dissolved districts and gone full charter schools, but noted, "That's not what I want for Benton Harbor. What I want for Benton Harbor is to get back on track. What I propose, yes, is a change and I know that many are worried about that. What we propose is supporting a K-8 system. We want for academics to turn around, and the board can shed the 16-million in debt."
She also said, "I want to help the district get back on its feet, but everything that we're doing is not centered on what adults want, but what's best for the children. Our children need our support. Our children need a great education."
Rev. Atterberry supported her, noting, "The governor is here to try to save our schools. It may not sound like it, but that's what she 's trying to do. But we need to listen."
Lots of people were interested in talking, though, from students and teachers to residents and other pastors in the community.
Comments like "How can you have a community without a high school?" prevailed, and one man noted, "You talk about this debt, but we trusted the state the first time. I think personally this debt came from the state."
Concerns were voiced about the money that leaves the community when other schools, including charter schools, take the kids on. There were concerns about gentrification of the community, and charges that "The data you're using regarding academics came from the state and we don't trust the state."
There was an accusation that the Harbor Shores project was established to systematically move to eventually take over the school property, however, the Governor denied that any plans are underway for the school's property to be developed as waterfront property on the St. Joe River and said that the property, regardless of what happens at the high school, remains the property of the school district always.
In fact, she responded to community activist Michael Hoyh who was one of those who raised that issue, "Development is not something that I would support, it's not something that I am promoting, it's not something that has been part of any conversation that I have had, and I would never support that. My fervent hope is that the district has phenomenal academics for K-8. We regroup the high school, we shed the debt, get academics on the right path to get the high school back as part of the plan that I put on the table. I'm not trying to sell any school property and I'm certainly not trying to dissolve the high school, what I'm trying to do is turn around the academic outputs for our kids. That property stays in the control of the Benton Harbor Area Schools."
One speaker suggested, "If you allow this board and this district one year to come up with a strategic plan, we could come up with plans to save the schools. We need you." Another was adamant that, "Transparency is the first order of concern. You have not been transparent." That man went on to say, "If this situation can be turned around, and we bring in our own superintendent in a year we could come up with a plan to bring this school around and bring our students back to academic health."
Many speakers through the night were interrupted with rambunctious applause, cheers and positive responses. Concerns were voiced that "Too many programs were taken away or discontinued that were valuable to the students, having been outsourced at a time when they needed to be resourced for the students to succeed. They closed the skill center, they closed programs, and that's just not right."
Former educator Harold Bragg boomed loudly to the crowd, "When I taught, some of the best students I had were Benton Harbor Students. The question is not about rhetoric, not about division, not about blame, it's to keep the schools open. It's not about blaming the governor who's been in office for six months."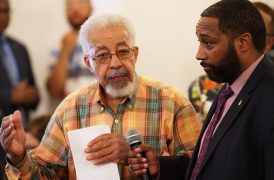 Bragg continued, " I came here 35 years ago from North Carolina and I came to teach in Coloma. Some of my best students were Benton Harbor students. I've been here for 35 years and I've heard complaints for 35 years, about Benton Harbor. That's not fair. We need to put things in perspective. We lost $22-million from the budget of Benton Harbor schools because of school's of choice. Think about that. Nobody forced those parents to take those students to other schools. Those parents did that, and they did that because they want a good education for their kids, just as you do here. I'm talking from my experience. Those parents voluntarily took their kids away, and if we want them back, we need to have some constructive work here. It's not about blaming any people who have nothing to do with this, we're trying to come up with a solution. I care about these students, I taught these students."
A former city commissioner told the Governor, "I've been in Benton harbor 82 years, I graduated from Benton Harbor…I've got 50 grandkids, and 25 great grandkids so I have a stake in Benton Harbor. I've been in the community all my life, but I respect the governor for being here, If you work hard, we can grow this problem out of Benton harbor. But we have to sit down with the governor and bring a plan to reality, where all of us can win. It has to be a win-win situation on both sides. Let's find a way to solve this problem, help our kids and move forward."
After the two hour public session, Governor Whitmer sat briefly with the media, and explained, "The Michigan Department of Education, and the State Treasury, have been working with Benton Harbor for a long time, and so has my staff. While a lot of the details became public a few weeks ago, we were doing a lot of the groundwork, and making sure that we're making decisions based on facts and science and the needs of the children in Benton Harbor. Obviously, anytime we talk about kids, it's difficult and it's emotional, and as a mom I understand how hard this conversation is, but the fact of the matter is, outcomes for kids in Benton Harbor are far behind where they need to be, and the debt that the school has incurred is crushing, and so we have been working to come up with a solution on both fronts and, short of the extreme solutions that we've seen used in other districts in the past, we're trying to make sure that this school district is on solid footing going forward, and keeping the ability to have a high school in the future is something that was important to us. This is about supporting the district and empowering them to succeed. But, most importantly it's about trying to make sure that the children have a great education and have the right opportunities so that they are successful beyond their school years."
Asked about the timing going forward, the Governor says, "We wanted the school board to respond by the end of this week, but I think it makes sense to extend that at least another week which is what they requested and that's something that made sense to me."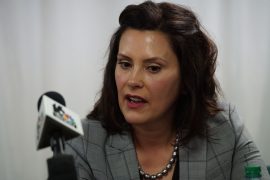 She also clarified the high school plan as "suspension, as opposed to dissolution," telling us, "Dissolution is closing, and closing down means there's no path forward, it's been done. But, suspension of a school means that there's an opportunity to reboot at some point. Giving Benton Harbor the support they need to alleviate their debt burden — $16-million is a lot of money – and the Department of Treasury is going to work closely with the school board to close that debt. Supporting a K-8 system is less expensive and a more manageable size of population to really change the outcomes for kids. Right now on state tests, unfortunately, only 3-percent of third graders are at reading level by the end of their grade, and that is the most important metric to ensure lifelong health, and lifelong wealth and we've got a lot of work to do on that front. That's why focusing on turning around the K-8 system while we give high-schoolers other options was the solution that we thought was manageable and would put them in the strongest position to be successful."
The Governor left the door open for compromise, saying, "This is the plan that I put on the table, but if there is a viable alternative that the school board wants to present in the next week, I'll obviously take a look at that, but it has to be viable, and with $16-million in debt and the outcomes for kids that we're trying to tackle…we've put a lot of work into this plan and we think that it is a way to preserve the district, and get kids the education that they need. So, if there's another viable alternative, I will take a look at it for sure. But we've got to move quickly. Not acting is not an option."
Whitmer recognizes concerns voiced about dispatching high school students elsewhere, saying, "I think that the concerns that residents have with their children going to other districts are valid. We're mindful of the need to ensure that we've got the right plan, the right training, the right processes, and that we as a state stay engaged to ensure that children really do have a fair and level educational opportunity if this plan goes through and they've got these other districts that they attend that there's a just path forward."
She added, "I understand the concerns and it absolutely is commensurate with what we know to be true when an African American child goes to a predominately white school there are a lot of racial issues that they're going to confront and that we as a society have to alleviate and I think that is something that over the course of the next year, we're going to work with the community to make sure that we've done everything that we can to keep the guard rails up so that students have every odd in their favor of success."
The ball is now in the Benton Harbor School Board's and community's court. They've got an extra week to piece together a viable alternative to present to Whitmer if they want to stem the tide. Stay tuned.