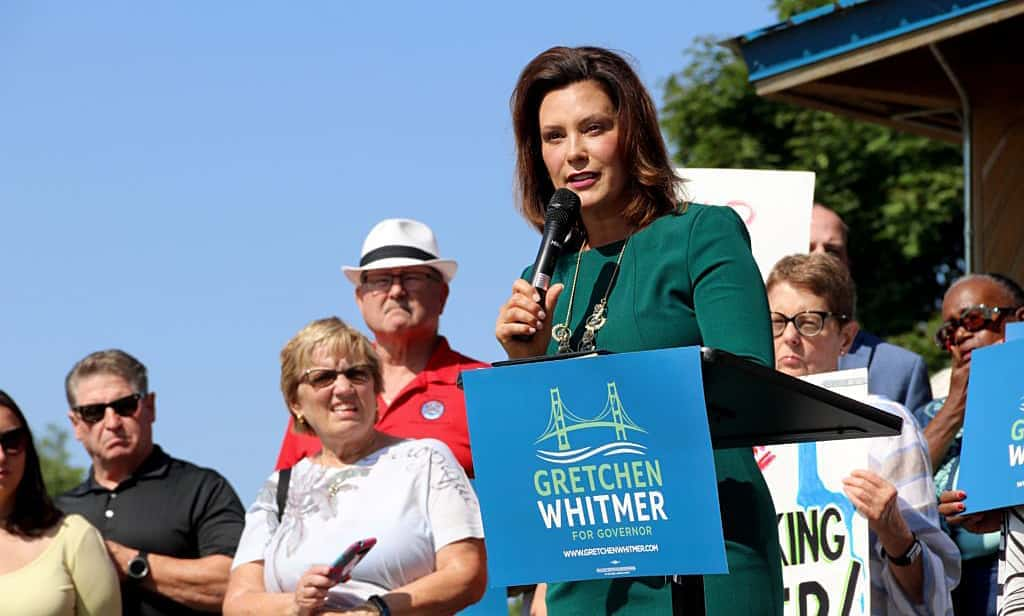 Less than a week after landmark legislation finally working to resolve Michigan's highest-in-the-nation auto insurance rates, Michigan Gov. Gretchen Whitmer capitalized on a global audience at the Mackinac Policy Conference this morning to sign the bill into law. Interesting place for the signing inasmuch as automobiles are not even allowed on Mackinac Island where the conference is taking place. The bi-partisan bill will lower auto insurance rates at long last as Whitmer joined Republican leaders in getting the job done.
As she wielded the pen, Whitmer said, "By signing this legislation, we are providing relief to millions of drivers across the state and guaranteeing a better auto insurance system for everyone," and adds, This historic deal shows that, when we put party aside, we can find common ground on our state's toughest issues to provide realistic and affordable coverage options for drivers across Michigan."
State Sen. Aric Nesbitt from Lawton, who sponsored the bill, issued the following statement after the Governor signed the no-fault reforms into law:
"After a lot of hard work, I am happy to see the governor sign into law reforms that are long overdue.
"This bipartisan effort will end the outdated system that has burdened Michigan drivers for decades. Families, seniors and all drivers will finally be able to choose their auto insurance coverage after nearly 50 years. The new law will also stop the massive overcharging for care involving auto accidents and crack down on fraud and lawsuit abuse. 
"I applaud the governor's action today. Lower rates will benefit drivers from every corner of our great state."
In Niles, State Rep. Brad Paquette says,"Soon, Michigan drivers will feel the long-overdue rate relief they deserve," adding, "No longer will we lose friends and neighbors who move to Indiana for lower auto insurance rates. I'm proud to have placed my support behind this historic reform and pleased to see this plan become law today."
The Governor's office characterized Senate Bill 1 as one that "Reforms a broken auto insurance system and offers historic protections for drivers across our state" and will save drivers money. The reform begins on July 1, 2020 as it gets phased in.
The plan actually guarantees reduced rates for drivers over the next eight years, while protecting everyone's personal choice to select their own level of Personal Injury Protection options.
The legislation also sets fee scheduling for hospitals and other providers designed to preclude excessive charges for injuries related to automobile accidents, and bans companies from using factors like credit scoring, zip codes, home ownership, education levels, gender and marital demographics and other non-driving issues to establish rates in the future.
The landmark legislation also eliminates Michigan as the only state requiring drivers to purchase unlimited personal injury protection benefits with their car insurance. Instead, each driver can make the personal selection that best matches other coverages and health insurance to handle such costs.
To show how out of whack coverage costs have been, the average premium in Michigan has been running 83-percent higher than the national average.